Introduction/Booking
New LAX Star Alliance Lounge/Tom Bradley International Terminal
Singapore A380 Suites, Los Angeles to Tokyo-Narita
ANA Suite Lounge (Satellite 4) and United Club, Tokyo-Narita
Singapore A380 Suites, Tokyo-Narita to Singapore
Singapore Changi Ambassador Transit Hotel, Terminal 3
Singapore Airlines Private Room (and a day in Singapore)
Singapore Airlines NEW Boeing 777-300ER First Class, Singapore to Mumbai
---
Changi Airport has a ton of options available for travelers, but when you have an onward First Class boarding pass, it's only proper that you have breakfast in the Singapore Airlines Private Room. I woke up at about 7am in the Terminal 3 transit hotel – I was meeting others at about 8am, so I decided to have breakfast in The Private Room. I made my way to the SilverKris lounge entrance, where an agent greeted me and took me past the business class lounge to the first class lounge, where another agent greeted me as we passed the first class lounge and made our way to the Private Room, where another agent greeted me and escorted me to the dining room, where a waiter greeted me and offered a menu and drink.  For a place called The Private Room, you sure do get greeted by a lot of Singapore agents :P.
The Private Room is meant for Singapore Airlines Suites and First Class passengers. Partner First Class passengers (as well as certain Singapore Airlines elite members) get access to the First Class side of the SilverKris lounge.  And of course, Business Class passengers go to the Business lounge.  Unfortunately, Star Gold passengers in Economy get access to the Krisflyer Gold lounges, which aren't as great (they don't even have restrooms within them).
I especially loved the private rooms within The Private Room.
Within The Private Room is a sit-down dining area.
I ordered the Roti Prata for breakfast – spicy and delicious. Just as I like it. A great way to start the day.
In the afternoon, I mainly hung around the Orchard Road area shopping malls, before taking the MRT to Chinatown and walking down to Maxwell Hawker Centre for some Tian Tian Hainanese Chicken.  The line was much longer than the last time I was there!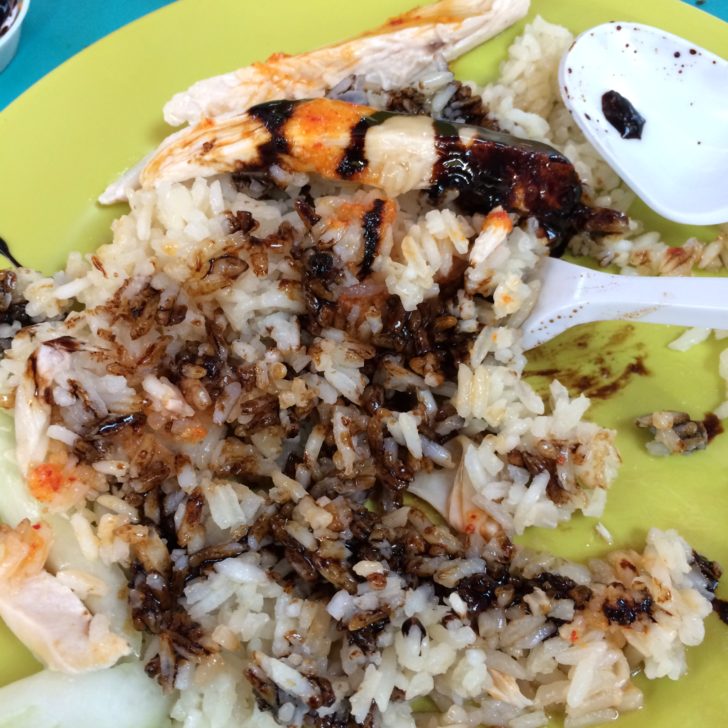 At about 4pm, I caught a taxi from Chinatown to Changi, with quite possibly one of the best cab drivers I've ever had anywhere.  He was impressed I knew specifically about the hawker centre and once he learned I was from California, even popped in a CD of a live recording of the Eagles performing Hotel California.  We took the new Marina Coastal Expressway to Changi, bypassing most of the city.
I asked him to drop me off at Terminal 3 First Class Check-In (and even made up that I was on a US-bound flight since India flights go out of T2 and cab drivers will take you there instead).
At Terminal 3 First Class check-in, I was greeted by several agents who were confused that I only had a backpack with me, though I explained I was in transit to India and had left luggage in T3 so needed to come here first.  The Singapore agent with another gem of a line: "It's just we don't get many transit passengers here."  Probably because unlike Lufthansa, Singapore doesn't allow many partner awards …..
I already had my boarding passes from LAX, so the agent checked on the status of my checked bag I was sending to India and escorted me to First Class immigration (another perk of this check-in area, since there was no line).  You're dropped off almost directly opposite the SilverKris lounge.
I went to retrieve my roller bag at left luggage and collected my S$20 shopping voucher for transiting Changi on SQ ticket stock (free money for transiting a great airport!). 
Passengers departing some other countries even get S$40!
I then made my way to the SilverKris lounge and did the whole agent escort thing all the way to the Private Room. A server came by to offer some champagne to drink, and I asked for a cup of TWG Vanilla Bourbon tea, my favorite flavor on offer in the SilverKris Lounge (but nowhere to be found in The Private Room). The server came back with a small teapot and commented that this was the first time in her short time working with SQ that someone had ordered a specific tea. I'd say the presentation was good.
I recharged both myself and my gadgets in the Private Room, and even made a call to United over Skype to fix my return ticket I was in the process of booking (I found Lufthansa First space on Munich-LAX that wasn't phantom!).
About 2 hours before my flight, I headed over to the dining room to have something to eat. I ended up ordering satay and a bite of ice cream, even though I knew I was going to get more satay on my flight in a few hours.  Who doesn't love satay?!
After my early dinner, I used the shower rooms, located within the Private Room restrooms.  I like them slightly better than the Business Class lounge shower rooms.
After my shower, I made my way to the Terminal 2 SkyTrain, which only took a few minutes to drop me off in the older terminal. I went to the TWG boutique to use my S$20 voucher toward a S$21.50 box of teabags.
I've visited the Business side of the SKL in T2 before and wanted to see what the First Class side was like. Wow, what a departure from the T3 lounge (not even the Private Room, just the T3 First Class lounge). If I were a First Class passenger departing Terminal 2, I'd make the trek to the Termianl 3 lounge over this.
I grabbed a water bottle and quickly headed to gate F58, about a 10 minute walk toward the end of the concourse (SQ always puts the Mumbai/Delhi flights at F58/F60, even when there are barely any other flights in the terminal – they sure love making us Indians walk!).
Security was at the gate and my bag was filled to the brim with pajamas and things I'd picked up in Singapore.  Fortunately the security agent turned a blind eye when I handed over my Suites-branded boarding pass (since LAX didn't have the First Class stock) and even commented that I could have shopped more :P.
I headed into the gate area and let out an "OMG YES" when I saw "WU" on the plane's front landing gear cover. Boarding was called a few seconds later and I made my way onboard 9V-SWU and the new 777-300ER First Class.