Hi everyone. Please welcome my good friend, Bob Miller, back to the blog. Bob recently redeemed some United MileagePlus miles for a trip to Zurich and I asked him to share his experience flying Lufthansa A380 Business Class with you all. I'll talk more about Bob below the post but for now, please enjoy his trip report.
I am fortunate to have some very close friends (practically family) in Switzerland and I like to visit them every two or three years. Since I live in San Antonio (we only have two seasons:  hot and hotter) and I miss seeing autumnal foliage, I started planning for this trip in early January 2015, scheduling it for the first week in November 2015. Using the award calendar on United.com, I found Star Alliance partner availability for the outbound and United BusinessFirst award space on the return.
My original routing for the outbound was through Montreal to Zurich in SWISS Business Class on one of my favorite aircraft, the Airbus A333 and the return was through Frankfurt to Houston on one of United's brand new Boeing 789s in BusinessFirst. However, due to some major schedule changes and the Lufthansa cabin crew strike, my itinerary changed several times over the months and I ended up with the following itinerary instead:
SAT- IAH in United First Class, A319
IAH – FRA in Lufthansa Business Class, upper deck on the A380
FRA – ZRH in Lufthansa Business Class, B733
ZRH – GVA in SWISS Business Class, A320 (paid revenue flight)
GVA – EWR in United BusinessFirst, B763
EWR – IAH in United First, B752 with lie-flat seats
IAH – SAT in United First, B738
My trip was booked using 127.5K United Airlines MileagePlus miles (70K miles for the outbound and 57.5K miles for the return) and approximately $100 in taxes and fees.
Lufthansa A380 Business Class Review
Flight: LH441
Aircraft: Airbus A380-800 D-AIMB aka "Munchen"
Houston (IAH) to Frankfurt (FRA)
Depart: 4:10 PM on Tuesday, gate D12
Arrive: 8:50 AM next day (9:12 AM actual), gate B26A
Duration: 10hrs 2mns
Seat: 12K Business Class (upper deck)
Lufthansa does not have their own lounge at IAH. Instead, they contract with the Executive Club Lounge. Located by gate D4, the Executive Club Lounge is nice and offers a good buffet spread of both hot and cold dishes but does not have other amenities such as bathrooms and showers. Because I wanted a quick shower, I walked over to the United Club located in terminal E for a shower and some snacks before making my way to the Executive Club Lounge.
Not wanting to spoil my appetite for the meal onboard, I had a couple glasses of champagne and hung out in the lounge for about 20 minutes before boarding was announced. I gathered my belongings and made my way to gate D12 for my flight to Frankfurt. Once I arrived at gate D12, there were queues in the various economy boarding lanes for the main deck, but there was no wait at all for the First and Business Class gate. As I walked up, the gate agent smiled, said "Welcome!" and scanned my Bordkarte.
Unfortunately, due to the configuration at the gate, it was pretty much impossible to get a good close-up photo of the A380 at D12, however, I snapped these photos as I was walking down the jet bridge.
Since this was a special trip and my first time flying the Lufthansa A380 Business Class product, I made some special tags to attach to the two packages of truffles for the Lufthansa crew. The purser was amazed and thanked me for the truffles.  (On the "bag tags" I made for the truffles, I wrote by hand "Dear Lufthansa crew, thanks for my first A380 flight!  Vielen lieben Dank! ❤ Bob in 12K")
The positive energy and excitement on board the A380 just made it even more special for me. There were some passengers like me who had never flown on an A380 before, and there were others (like my seatmate) who have flown on this magnificent bird countless times before. Regardless, everyone was in good spirits and ready for our flight to Frankfurt.
Lufthansa A380 Business Class is located on the upper deck behind the first class cabin and runs the entire length of the A380. The lower level is comprised of all Premium Economy and Economy Class seats. On some A380s, the last mini cabin upstairs has been converted from Business Class seats to Economy Class seats. All of Lufthansa's A380s have been retrofitted with the new Business Class seats featuring true lie-flat seats in a 2 X 2 X 2 configuration. However, these Lufthansa A380 Business Class seats are slightly different than the ones found on their other aircraft.
Unlike on the Boeing 747-8s, the two outside rows of Business Class seats of the A380s are not staggered in a "V" formation where your feet and your seatmates' feet are angled towards each other. Instead, both seats are angled away from the aisle thus giving each person a bit more privacy and space. However, the middle row of seats are the normal seats with the feet angled towards each other. Here's a seat map to give you a better idea.
As I entered the Business Class cabin, I found the cabin to be bright and beautiful. I love the timeless color palette Lufthansa uses for a consistent image and branding. The calming interior is professional, spacious and very tasteful. There was plenty of storage space in the overhead bins and I was able to store my belongings and take my seat.
Waiting at my seat were a pillow, blanket, Bose headphones and an amenity kit (but no slippers). I always like the Lufthansa headphones…and I found these Bose headphones on the A380 to be superior to the usual Sennheiser headphones.
Inside the amenity kit, there were the usual Lufthansa items: eye mask, ear plugs, tooth brush, tooth paste, socks, pen, comb and small tubes of Korres branded lotion and lip balm. As an avgeek, my only complaint about the new Reisenthel branded amenity kit is that it didn't feature "Lufthansa Business Class" anywhere on the outside like the previous generations. In the Business Class lavs, I appreciate that Lufthansa has mouthwash and generously-sized moist towelettes for our use.
I really love the new Lufthansa A380 Business Class seats: they are easy to use, I love the massage feature, and the rear-illuminated control panel looks stylish in a dark cabin. The seat beds are long enough for me (I'm 6'6" tall and they're decently wide (19.7"), plus in addition to the massage, you could adjust the firmness of the cushion.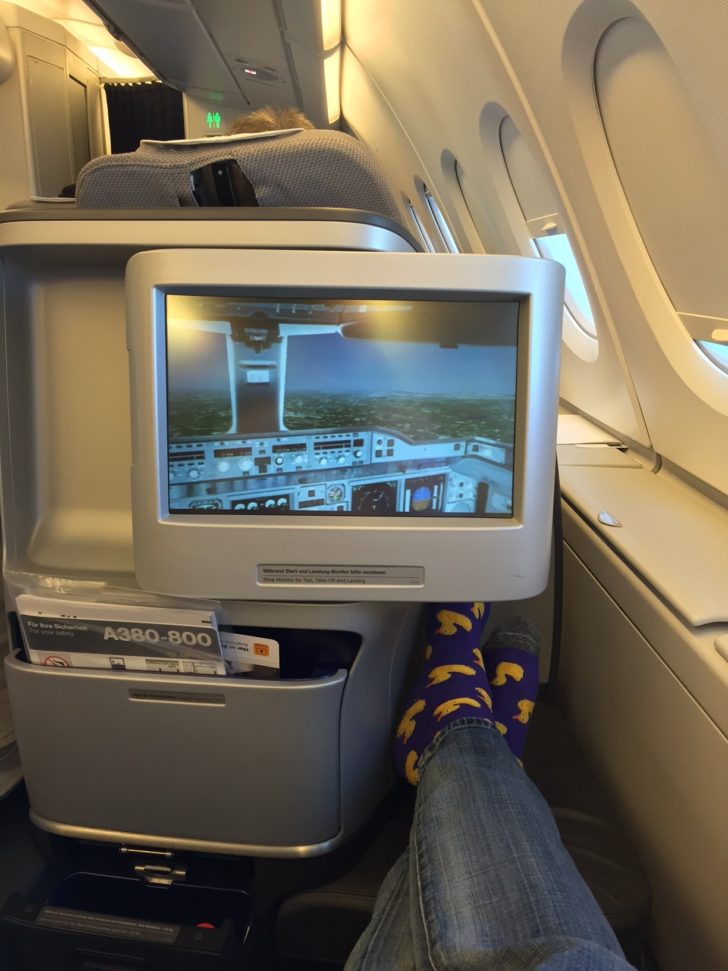 (You may notice I found some Lufthansa First Class-inspired socks to wear on this flight. The crew loved them!)
I had seat 12K, a window seat on the right side of the plane. One extra benefit to the window seat on the upper deck of the A380 is that you get a very spacious storage compartment with a lid that closes. There was an adjacent compartment for my seatmate, but he didn't use it. We both had electrical outlets to charge our devices. I don't recall if there were USB ports as I only needed to plug in my iPhone.
There were some nooks for smaller, personal items like a phone, but because I take so many photos, I always keep my phone on the armrest or in my lap most of the time. Due to the spaciousness of the seats, I was easily able to step over my seatmate (even when he was asleep with his chair in flatbed mode) with ease and without disturbing him.
As I was taking some pictures, one of the flights attendants came by and offered me a pre-departure beverage. We were offered Champagne (Duval-Leroy Brut Réserve), orange juice or still water from a tray. I chose a glass of Champagne. A few minutes later, another flight attendant came by and menu books were distributed.
I was impressed with how quickly the A380 can be boarded. For such a large aircraft, it's impressive how quickly the crew got everyone onboard and the aircraft ready to go. We pushed back on time and made our way through the afternoon traffic on the ground at IAH. Once we got to the runway, we stopped and waited for maybe five seconds, then the true impressive magic happened. For being the heaviest commercial airliner out there, rotation and take-off were so exceptionally quiet and smooth…and we were airborne in no time.
I'm sure it was something like 25 seconds, but I could not believe how quickly we took off. I've watched countless A380 take-off videos online, but until you experience the A380, you have no idea the power, the efficiency, the by-design features and amenities, the silence…the true majesty of this peerless aircraft. I have some friends who are strict "If it ain't Boeing, I ain't going" people. I feel sorry for them because they will miss out on this experience.
Once we reached cruising altitude, the cabin crew quickly sprang to action with the first in-flight beverage service and ramekins of warm nuts. I chose the following from the menu:
Appetizer: Smoky rosemary shrimp with black-eyed peas salad and cilantro vinaigrette. I chose a laugenbrötchen (pretzel bread) which was a little wrinkly from the steam oven, but still tasty nonetheless. It was presented without a bread plate.
Salad: Seasonal salad with shaved fennel, tomato and Parmesan cheese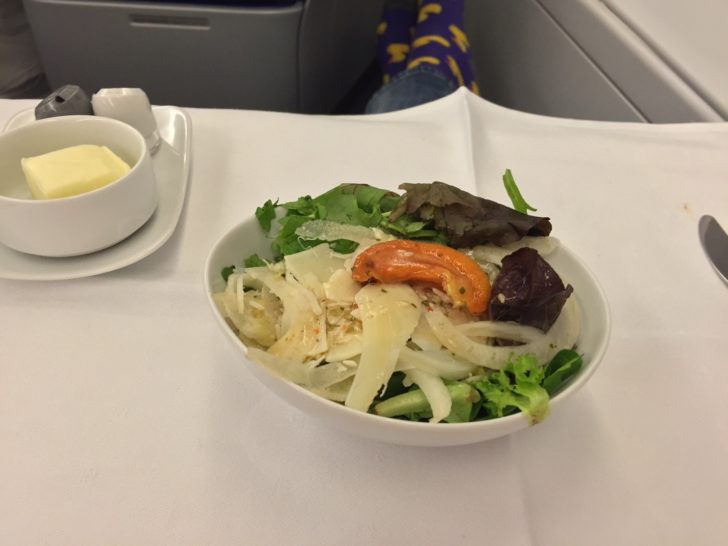 Main course: Sautéed grouper, crawfish tails and crab with Creole sauce, corn and tomato succotash and farro risotto
Dessert: I chose the fruit salad since I was so full, but the pumpkin cheesecake with caramel sauce looked absolutely sublime and decadent. While Lufthansa recommends a Port wine with dessert, I always select their Cognac, which is Lhéraud VSOP. Ironically, I like the Cognac on Lufthansa far better than I like the Cognac on Air France.
Dinner service was paced perfectly and no one was rushed. I really like that Lufthansa has switched from a trolley service to restaurant style service. The friendly crew allowed us to take our time and cleared plates in an equally wonderful pace. Various attendants stopped by throughout the evening to ask if we would like additional drinks. They were warm and pleasant crew members on this flight, and several stopped by to thank me for the truffles.
One of my favorite things to do on longhaul flights is sit back in the recline position, watch the flight progression channel (which was extra cool on the A380 – also showing virtual cabin views out over our position), listen to the lounge music channel and sip a few Cognacs. I know Lufthansa has a vast array of IFE, but I stick to the flight progression channel. I enjoyed very much the option of the tail camera during take-off and landing.
I can always sleep on planes, and this flight was no exception. It was particularly blissful to be able to sleep on the A380 because it was so quiet. There was a decent selection of snack items in the galley area in between meals, but I was so full from dinner that I didn't select anything
After a few hours of sleep, we were already over western Ireland and I awoke to the aroma of breakfast in the cabin: orange juice, fresh fruit, salami, turkey breast, Brie, omelette with mushroom ragout, tomato concassée and potato cake with bacon. Breakfast was presented on a single tray after the crew asked which breakfast we would prefer.
We had a perfect, soft and smooth landing in a cloudy and foggy Frankfurt.  Once again, even with the brakes and reverse thrust in use, the cabin was blissfully quiet.
I had about three hours of connection time in FRA, so after passing passport control and security, I went to one of the Lufthansa Business Class lounges in Pier A where I had some sparkling water, an espresso, some fruit…and the special Lufthansa gummy airplanes after taking a shower.
Lufthansa A380 Business Class Bottom Line
As you can tell, I enjoyed every moment of my experience on the Lufthansa A380 and I look forward to having the opportunity to fly it again sometime in the future. Kudos to the Lufthansa team for another exceptional and high-quality flight. I love United, but I also enjoy spending the extra miles to experience other Star Alliance carriers – including the A380 – for longhaul flights. I receive consistently wonderful service on United and on Lufthansa, so I can't say that I like one more than the other – I like them both equally.
Special thanks to my good friend James as he invited me back to share this trip report with you. Thank you for reading it!
If you liked this trip report, you can check out my previous trip report on Austrian Airlines' business class from Washington DC to Vienna by clicking here.
More about Bob Miller:
Now based in San Antonio, Texas, Bob developed a passion for airplanes, airports and flying long before his first flight in June 1994, a United DC-10 from CLE to ORD. A self-proclaimed miles guru, Bob follows the mantra of George Clooney's character Ryan Bingham in Up In the Air, "I don't spend a nickel, if I can help it, unless it somehow benefits my mileage account." Bob's first of countless trips to Europe came in December 1995 when he spent the holidays in Switzerland with some very close friends. When he's not traveling or planning future travel, he enjoys iPhone photography and is an over-the-top doggie daddy.