Alaska Airlines is finally allowing Mileage Plan members to redeem flights on partner Aer Lingus. Aer Lingus and Alaska Airlines have been global partners since the late spring/early summer of 2018 and it has taken an entire year for Alaska Airlines to implement award travel on Aer Lingus. The announcement came last week and allows for redemptions to Europe or within Europe on Aer Lingus.
Aer Lingus Award Travel costs
Alaska Airlines is introducing dynamic pricing for partner Aer Lingus meaning travel costs vary depending on the day. The cheapest fares will be 30,000 miles to Europe in economy. Buyer beware though, because it can fluctuate to 80,000 miles. The same is for Business class tickets which start at just 60,000 miles.
| | |
| --- | --- |
| Aer Lingus                                                                                                         | Each way |
| Contiguous US and Canada (including Alaska) | |
|    Economy | 30,000 – 80,000 |
|    Business | 60,000 – 280,000 |
| Intra-Europe | |
|    Economy | 8,000 – 30,000 |
One of the best deals will be intra-Europe travel which starts at just 8,000 miles each direction. Partner Finnair also always for intra-europe travel but flights start at 12,500 miles each way. Also remember, at this time Aer Lingus does not offer business class within Europe.
Aer Lingus award price point is fairly good. The award pricing is similar to what Alaska Airlines charges for British Airways. However, this is only if you can snag a saver fare at the lowest level. The other good news is that Alaska Airlines is not collecting fuel surcharges on Aer Lingus' flights. Parent company IAG owns both Aer Lingus and British Airways, and on BA flights Alaska Airlines collects fuel surcharges which can easily top $500 round trip!
Book Aer Lingus Awards
Award flights on Aer Lingus can easily be booked on Alaska Airlines' website. I flew Aer Lingus Business class from Dublin to Seattle and thoroughly enjoyed it. The main Dublin lounge isn't that exciting, but the international lounge is better. Not to mention, the inflight experience is great and so is the seat! With that said, booking flights are easy! Just search on Alaska Air's website or call an agent. Although the call center sees the same availability as you do, so it may be faster to just book online.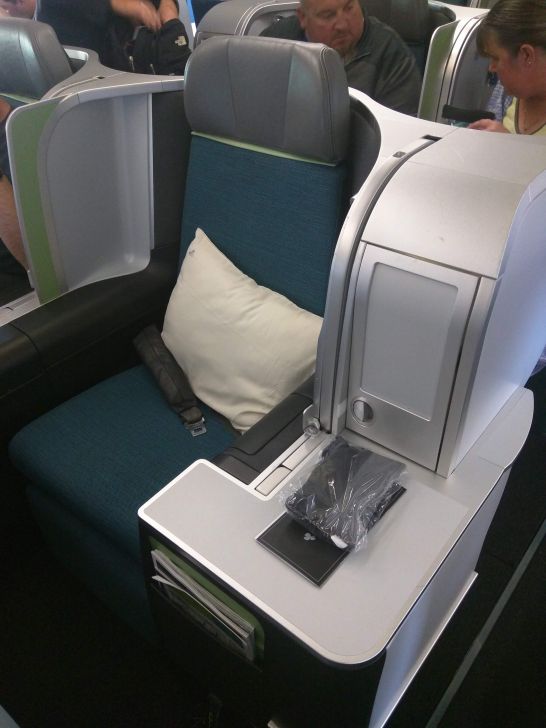 Aer Lingus route network to the United States includes 13 key gateways such as Seattle, San Francisco, Los Angeles, New York, Chicago, Boston Miami and more. All flights go to Dublin with a couple of transatlantic options to Shannon. From Ireland, it is easy to connect to most major cities in Western and Central Europe. This includes vacation hot spots such as the Canary Islands and Ibeza!
Wanna Get Away?
It's great to see that Alaska Airlines is FINALLY allowing miles to be redeemed for travel to Europe with Aer Lingus. With the loss of partners Delta, KLM, and Air France, transatlantic award space is tough to find. Aer Lingus awards are not the problem solver, nor makes up for other losses, but it sure is a win. Because I've flown Alaska Airlines other TATL partner Iceland Air in Business class, and it wasn't all that fun or restful.
Low level awards are not easy to find, especially during peak travel times. With that said, I'm just happy to see that Aer Lingus is now a full fledge global partner, and not an earn but no burn partner. Now if only Alaska would get the TAM is LATAM and Singapore Airlines onboard!