This was a trip that almost never happened, though it did go off mostly smoothly.  One of my goals is to try the "premium" transcontinental services of all the domestic airlines.  Delta One checked in as my third product, following United "p.s." and jetBlue Mint.  Although Delta's 767s receive mixed reviews, I looked forward to this flight, especially given Delta's superior reputation for service.  You can read more about how I booked this flight here.  But in summary, I used 22,500 Virgin Atlantic Flying Club miles, by first transferring 18,000 Membership Rewards points.  If paying cash, advance purchase, off-peak rates start around $550 each way.
See also:  Rohan's Transatlantic Delta One experience from London to Atlanta.
Delta Air Lines (DL) Flight 431
Saturday, March 3, 2018
Depart: New York – John F. Kennedy International Airport (JFK), Terminal 4, Gate B34, 11:35, 1 hr 40 min late
Arrive: Los Angeles International Airport (LAX), Terminal 2, Gate 26, 14:22, 1 hr 7 min late
Duration: 5 hours 47 minutes
Equipment: Boeing 767-400
Seat: 9A
Check-In and Boarding
After a (very) late arrival to my hotel, morning came way too early.  I already had a notification of a 40-minute delay when I woke up, but decided to head over on the 7:30 shuttle anyway.  I figured JFK would resemble a zoo because of all the canceled flights the day before.  Surprisingly, though, I found a completely deserted check-in and security area in Terminal 2.  (Yes, my flight departed from Terminal 4, but after reading about Matthew's disaster, decided T2 was the better choice.)  The whole process with Pre-Check took less than 5 minutes.  That gave me time to check out both the T2 and T4 Sky Lounges before heading to the gate.  I'll have reviews of both lounges in future posts.
Due to all the cancellations the previous day, the standby list was insanely large – 53 passengers if I recall.  Yikes.  Boarding ended up not starting until about 10:20.  And the fustercluck for that was just as insane.
I had to fight my way to the priority lane once the agent called SkyPriority passengers.  We boarded through door 1L, and a friendly FA directed me to 9A, my home for the next 6 hours.
Once onboard, we sat through an annoying creeping delay.  Departure time crept to 10:55, then 11:15, then 11:25, and finally 11:35, with no communication at all the last 25 minutes.  By this time, I started sweating my connection at LAX, since I had to switch to Southwest.  We finally pushed back at 11:35, but to my surprise, took off pretty much immediately.  I guess Delta decided to take the ATC delay at the gate, rather than waiting on the taxiway.
Delta One B767-400 – Seating and Interior
Delta configures its 767-400s with staggered Thomson Vantage 1-2-1 seating in Delta One.  The cabin consists of 40 seats spread over 10 rows.  All seats include direct aisle access; however, window seats alternate between "window close" (odd rows) and "aisle close" (even), as Rohan puts it.  Though approaching 20 years of age, the interior seemed clean and well-maintained.  The high-slung center overheads also made the cabin feel more spacious.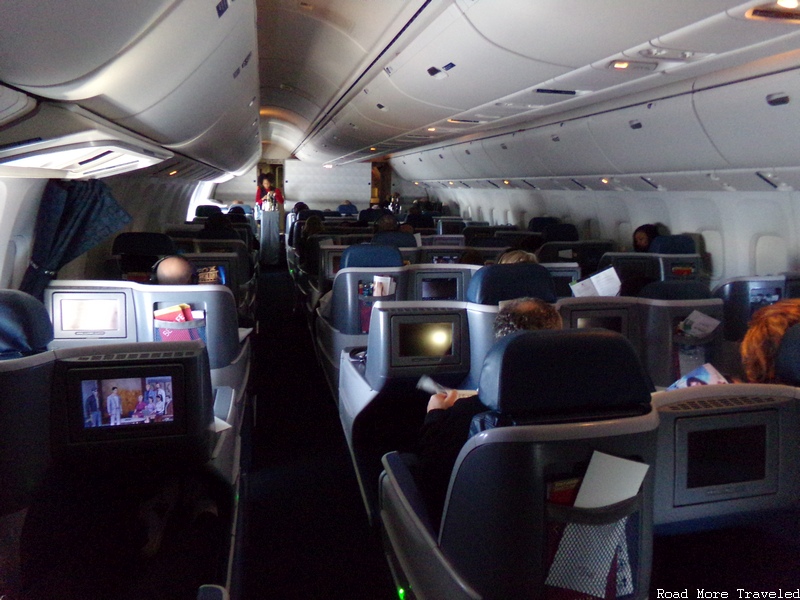 The seat on the 764 generates mixed reviews, with a tight footwell the main complaint.  So footspace was the first thing I set out to inspect.  The verdict?  I found it fine, both for sitting, and later for sleeping.  However, I'm also really small.  I imagine anyone of above average height or weight would fine foot space constrained.
With that out of the way, I explored the rest of the seat.  The Delta blues give the seat a nice, clean look.  Also waiting at the seat were LSTN headphones, water, and a Tumi amenity kit.  Other features include a pillow and Westin Heavenly duvet (sorry, forgot to take a photo).
I'm not much of an amenity kit geek, but I like the sleek Tumi "19 Degree" mini-case.  The kit comes nicely equipped, with socks, an eye mask, ear plugs, and several travel-sized items.  I'll review this kit in-depth in a future post.
As you can see, the "true" window seats provide an ample workspace between the seat and the aisle.  If you value privacy, these are definitely the seats you want.  Much like the United Polaris seats, the window seats close to the aisle deal with considerable foot traffic, and the noise that comes with it.
One aspect I didn't like was the narrow egress to the aisle.  This made it somewhat difficult to get in and out without grabbing the seat shell in front.  Especially if you've had…ahem…a couple too many adult beverages.
As for seat comfort, in the full upright position, posterior padding felt a little lacking.  I thought this would make it an uncomfortable ride.  However, reclining the seat a little took care of that problem.
Seat controls are simple and easy to use, and found on the shelf.  Helpfully, the control panel also also includes a push button to release the tray table.  In addition, the massage function is nice, though I never could figure out what pushing the arrows accomplished.  I always got the massage in the same place.  One other niggle – the seats really show their age when it comes to adjusting positions.  With all the shaking and rattling going on, I seriously thought I might break it.
Behind the storage area were the 110V power port, USB port, and a "snake" reading light.
With the tray table out, you have a fairly generous laptop storage area, combined with the shelf.  Even with a laptop and phone plugged in, you can easily sit both on the shelf when leaving your seat.  Unlike some tray table designs, the "half extended" position leaves most of the seat open when you need to get up.
Later on in the flight, I tried out the bed mode.  Delta One's seats are fully lie-flat, stretching out to between 6 feet 5 and 6 feet 9 inches.
I found the bed quite comfortable for a nap, especially with the good quality pillow.  After lunch, I slept for a good two hours.  At 5'7″, I found no issues with the bed length, even at the feet.  As mentioned earlier, taller passengers may find the footwells constraining.  The slightly tapered seat shell, though, does make the bed feel narrow at the shoulders.  It was acceptable for me, but those with wide shoulders might find it too tight.
You might also notice the general lack of storage space, which is probably this seat's main flaw.  Aside from the roomy armrest, there just aren't many spots to stash things.
Delta One B767-400 – In-Flight Entertainment
Transcontinental Delta One flights feature the same "Delta Studio" entertainment system as other domestic flights.  You can watch either on the in-seat screen, or via streaming from your own device.  If using your own device, make sure to download the "GoGo Inflight" app before boarding.
In this area, I find both jetBlue and United offer better options.  jetBlue's DirecTV is hard to beat, but I thought United offered a better selection of TV programs on its transcontinental "p.s." service.  (I think Delta offers live TV on some flights, but I guess it wasn't working on this one.  Either that or I looked in the wrong place.) Still, it's fine for a flight of this length.  You should find enough to entertain you on a daytime flight.
As mentioned at the beginning, Delta One passengers receive a pair of LSTN headphones for in-flight use.  They look great, but I concur with other opinions – they're just not very good.  The 764 is a noisy plane to begin with, and these headphones do little to block out ambient noise.  Bring your own if that's important to you.
Delta also offers GoGo WiFi, but unfortunately, it didn't work on this flight.  Which kinda stunk, because I actually needed to get some work done.  Oh well, it just had to wait until Sunday.
Delta One Food, Beverage, and Service
While we waited for our delayed departure, our flight attendant offered a pre-departure beverage, a choice of orange juice or sparkling wine.  Naturally, I took the wine for the obligatory PDB selfie.  (Honestly, I'm not much into champagne or sparkling wine, and can't really tell the difference between a good and bad one.  But this one seemed not that great.)
One minor problem – because all passengers boarded through 1L, it took forever for the FA to get through the cabin.  Inevitably, backups from the coach cabin stopped the FA from making it back.
As we enjoyed our beverages, the FA also handed out the food & beverage menu for the flight.
Shortly after reaching 10,000 feet, the FAs offered mixed nuts, along with another beverage.  This time, I decided to try the signature cocktail, the "Delta Sunrise".  Though an initially medicine-y note quickly subsided, the drink is too sweet for my taste.  I preferred the "Silver Horizon" offered on my last Delta Comfort+ flight.  The mixed nuts were fine, though I didn't care for the spice rub.
Next came the appetizer, a "Tuscan kale salad" and "English pea tartare with crispy prosciutto".
I'm not a big kale person, but this salad was pretty tasty.  The dressing did a good job cutting the bitterness of the kale, and of course, big chunks of fried cheese make pretty much anything awesome.  As for the appetizer itself, using the term "tartare" on a vegetable is kind of pretentious.  But it tasted decent, with the ricotta providing a nice dose of creamy sweetness.  It was a little too salty for my tastes, though.
The FA then offered soup, a potato and garlic soup in this case.
It needed a little heat, but had good flavors.  There was just enough garlic to enhance the flavor, but not so much to overpower the dish.
Next came the main course; I ordered the baked cavatelli pasta with broccoli rabe and English peas.  The FA also offered grated parmesan, a nice touch.
Not sure what Delta's obsession is with English peas this month, but aside from a little oil separation from reheating, the pasta was very good.  Airplane pasta often comes out overcooked to the point of being mushy.  This pasta, though, was nicely cooked, with a rich though not overly heavy cream sauce.  Like the appetizer, though, the dish was a little too salty for my tastes.  (Granted, I go pretty easy on the salt in general, so YMMV.)
To drink, I switched to white wine, the sauvignon blanc.  It complemented the pasta nicely, with a not too sweet-not too bitter body that maintained consistency throughout the meal.
Finally, time for desert.  I love cheese, so I opted for the cheese plate.
Kudos to Delta for sourcing cheeses from Vermont craft creameries.  But I really wished I had asked what type of cheese this was before ordering.  I love cheese, but one bite gave away the unmistakable taste of goat cheese.  And I HATE goat cheese.  I hoped the rhubarb preserves would mask the overpowering taste of goat milk, but no dice.  I picked at it for a minute or two, then just ate the preserves and crackers and left the cheese.  That's a black mark on me, though, not Delta.
For an aperitif, I requested a Woodford Reserve.  Perhaps sensing my long day the day before, the FA provided an…ahem…generous pour.  Hence the two hour nap immediately following.  The entire meal service took just about two hours to complete – a drawn out affair needless to say.  For a westbound daytime flight, this was just fine.  Hopefully they're a little more efficient on redeyes, though.
Overall, I would rate service above average, though not exceptional.  The FA serving our side of the aisle was cheerful, addressing all passengers by name and delivering service with a smile.  Delta also added some little things that enhanced the experience, such as offering freshly grated cheese with the pasta.  I wouldn't call the service particularly proactive, though.  What we received made it a solid 4 out of 5, but it didn't feel as polished as, say, jetBlue Mint.  On the other hand, it was far better than what I received on my most recent American domestic First flight.
Flightseeing
You thought you'd escape one of my flight reviews without some window seat porn?  Guess again 🙂 This was the first time I've flown a transcon during the day, so I looked forward to scanning the ground below.  With JFK a significant Delta hub, we started off with several Delta planes out the window, including this 737-900.
Shortly after takeoff, a sharp turn to the west-southwest took us right over Coney Island.  Hard to believe a Nor'easter had blown through yesterday, considering this beautiful morning.
Then, we angled a little more southwest, passing close to the (in)famous Jersey Shore.
About an hour later, we flew over Virginia's historic Shenandoah Valley, and then what looked like a ski area near the Virginia/West Virginia border.
About an hour later, just as meal service wrapped up, we made a fly-by of St. Louis.  I tried zooming way in to try and get a picture of the Arch, but had no luck with that.
Not long after, as we approached Kansas, the Woodford Reserve kicked in, and I woke up about two hours later over Arizona.  As we began our descent into Los Angeles, we passed near Palm Springs and Mount San Jacinto.  I've passed this spot many times before, but never with the big mountain completely surrounded by clouds to the west.
And finally, a somewhat cloudy but beautiful approach into LAX from the east.
Thankfully, there was no taxi delay or wait for a gate at LAX.  We ended up making up 35 minutes of the delay, arriving just after 2:20.  That gave me about an hour and 45 minutes to head over to T1 and catch my Southwest flight home.  Plenty of time to comfortably make the connection, but unfortunately not enough to figure out how to find the SkyClub.  (Not like I really needed another drink by that point, anyway…)
Final Thoughts
I think Matthew from Live and Let's Fly's Delta One experience sums mine up pretty well, too.  I can't really point to anything exceptional about my flight, but I enjoyed a consistently very good all-around experience.  Delta One provided a comfortable seat and bed, friendly service, decent food and drinks, and quality amenities like the Tumi kit and Westin Heavenly bedding.  (I give Delta a pass for the delay given the chaos of the day before.)  Though I found jetBlue Mint a little better, I wouldn't hesitate to recommend Delta One for transcontinental flights.