I'm just gonna get to the point and say that the new United Polaris Lounge San Francisco is fantastic! It is a total game changer for the U.S. based airlines and I would even go so far as to say it's the best business class lounge in the entire Star Alliance network. That's right. I said it. THE UNITED POLARIS LOUNGE IS THE BEST BUSINESS CLASS LOUNGE IN THE ENTIRE STAR ALLIANCE NETWORK. My favorite lounge used to be the Star Alliance Lounge at LAX but this Polaris Lounge blows everything else out of the water. The lounge is spacious, beautifully decorated and offers passengers a host of wonderful pre-flight amenities.
The United Polaris Lounge San Francisco is located in the G concourse of the international terminal (closest to gate G92) and is only open to Star Alliance premium cabin passengers. Additionally, passengers must be traveling on a long-haul international flight. Flights to Canada, Mexico or the Caribbean do not qualify for access. Star Alliance Gold members traveling in economy class will also be denied access. Those who do not qualify for access will be directed to the United Club nearby. This is a shame for us Gold members but for those traveling in business or first class, this will be a welcomed reprieve.
The two-story, United Polaris Lounge San Francisco is massive, 28, 210 square feet to be exact, with great spaces for passengers to rest, relax and recharge before flight. If you're looking for some peace and quiet, the first floor of the lounge was designed for you. Here, you'll find a spacious seating area with a variety of seating options from plush leather armchairs to these sleek new Polaris Signature Lounge seats.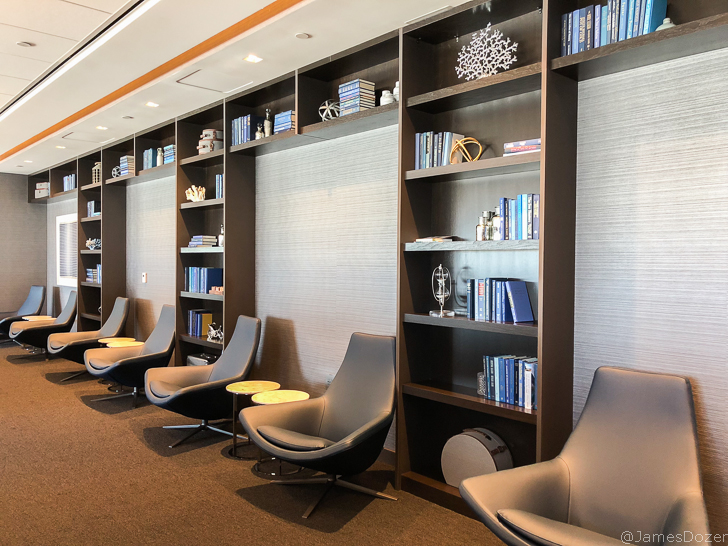 There are over 19 different seating options located throughout the new United Polaris Lounge but trust me, you're gonna want to snag one of these babies. They are wide, comfortable and offer a perfect space to dine or be productive. Each Polaris Signature Lounge seat offers two USB ports, two electrical outlets, a personal reading lamp and a large table.
There aren't any hot food options located on the first floor but there is a beverage station with water, coffee, tea and some light snacks.
The first floor is also where you'll find five day rooms and eight shower suites.
The day rooms feature a semi-private space with a lounge chair, bedding provided by Saks Fifth Avenue and other amenities such as eye masks, slippers and sound machines to drown out the ambient noise. The best part of this service is the warm blanket. When you are checked-in for your day room, the attendant will escort you to your room and present you with a warm blanket, which will feel really nice as the room is kept a little on the cool side.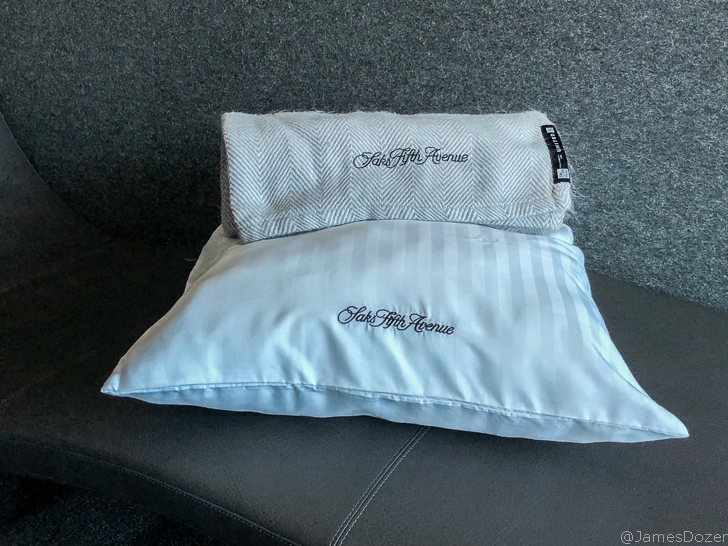 I loved the day room but I did have two complaints. First, I wish the room was darker and secondly, I wished the lounge chair was a flat bed instead. I found the surface to be relatively comfortable but a little on the hard side. A softer flat bed would have been perfect.
If you need to freshen up, you can reserve a shower room from the attendant. The shower suites are clean and modern with rainfall showerheads and feature Cowshed bath and beauty products, Saks Fifth Avenue towels and a clothes-pressing service.
Upstairs, you'll find an even more impressive space with plenty of seating, dining options and workspaces to fill your bellies and send those last minute emails. But let's just take a minute to appreciate how modern and elegant this new lounge is. The space truly is calming and can only be described as a breath of fresh air.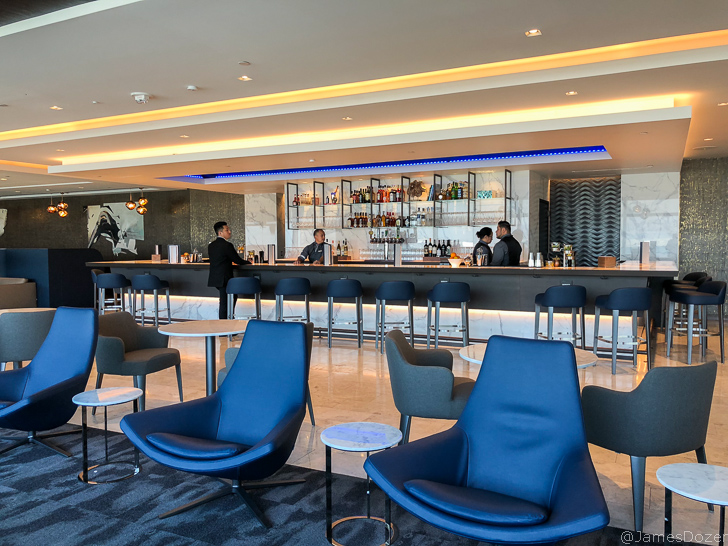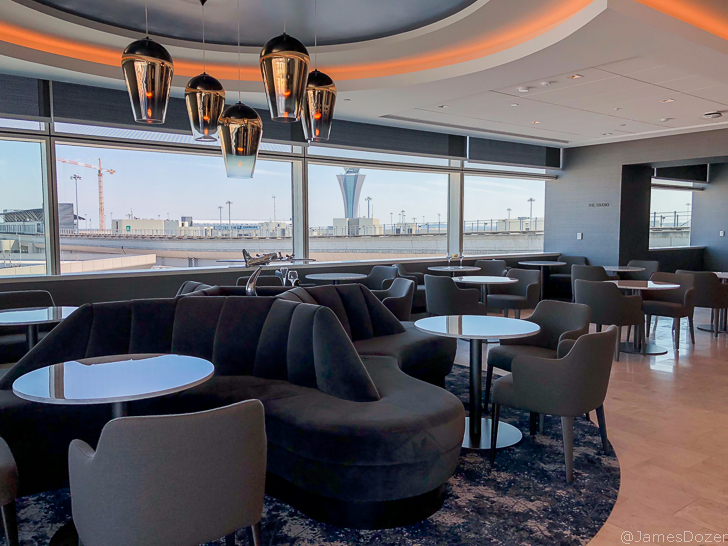 And there's plenty of natural lighting to make the space feel open and inviting with views of both the ramp and runway.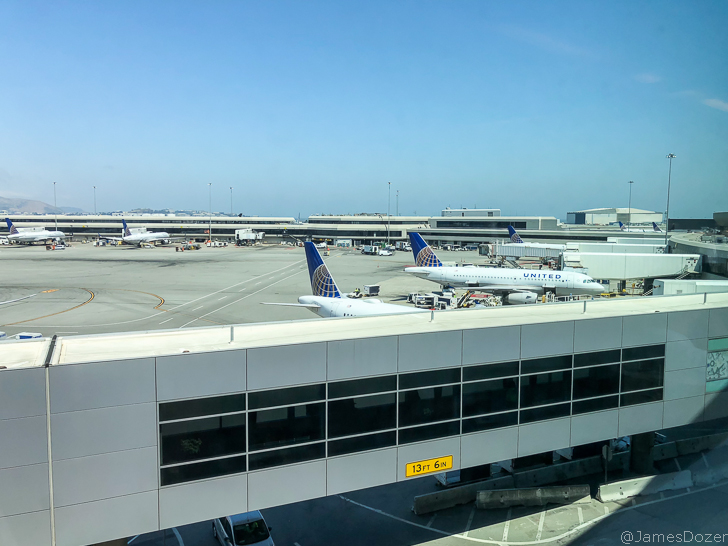 If you need a quiet space to work or make a phone call, there are glass-enclosed workrooms located up by the customer service desk.
To the left of the reception desk, there are more seating areas. Yes, more. Seriously, this lounge is huge and you won't have a problem finding an open seat or table here.
And to the right of the reception desk, you'll find more seating and all your food and beverage options, including this beautiful bar with made to order craft cocktails and coffee beverages.
Then there's another seating and dining area, followed by the self-serve buffet bar. Here, you'll find a variety of hot and cold items such as chicken, pasta, salads and desserts; and to celebrate their San Francisco heritage, a make-your-own noodle bar.
But why eat from a buffet when there's a private dining room with waiter service and an a la carte menu? If you have a little bit of time, I would definitely recommend eating here. The menu is limited but everything served was delicious. Trust me, I tried almost everything (for research, of course).
Here's the menu.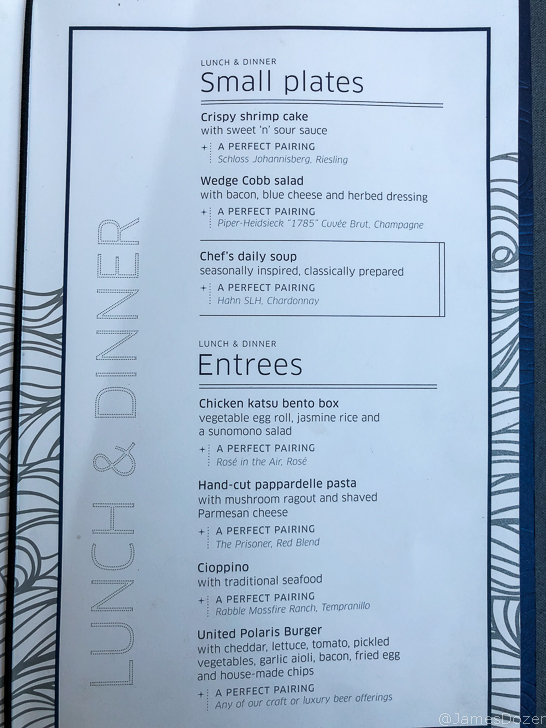 I had the Cobb salad and shrimp cakes to start. Both were wonderful but the shrimp cakes were amazing! They were lightly breaded, cooked perfectly and paired with a delicious sweet and sour sauce. These will be a total hit with travelers. Once word gets around, I can see them being as popular as the Qantas First Class Lounge salt and pepper calamari.
For my main meal, I went with the chicken bento box. It was delicious and contained the perfect amount of food. I would have gone with another dish but I was wanted to save room for dessert…
For dessert, I had both the Tiramisu espresso cup and the profiteroles. Clearly, I was on my vacation diet. . .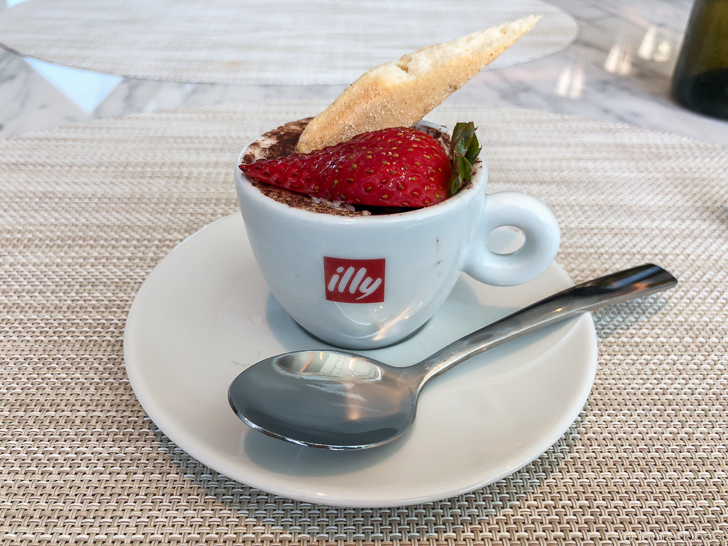 Both were delicious. The espresso cup was a nice size. It had a good flavor and the perfect amount of sweetness to satisfy that sweet tooth. The profiterole, on the other hand, was gigantic. It was tasty but way too much to eat for one person.  I was expecting a small cream puff but it was more of a giant ice cream sandwich.
Service-wise, all the employees were great. The lounge was kept clean and the buffet area was kept fully stocked. The employees were friendly and attentive and during my three-hour stay, I never felt rushed or the lounge get crowded or loud.
United Polaris Lounge San Francisco Bottom Line
The United Polaris Lounge San Francisco is an incredible lounge. With its massive footprint, thoughtfully designed spaces, wonderful amenities and a fantastic a la carte menu, the United Polaris Lounge will set a high bar for others to compete with. I was completely blown away by this lounge and I can't wait for my next visit. Good job, United!
What do you guys think? Have you visited the new United Polaris Lounge San Francisco? If so, please share your thoughts with us in the comments section below. Thanks for reading!
The other related trip reports in this series: