I wanted to like LOT Polish Airlines Business Class a lot but unfortunately, I found the entire experience to be slightly disappointing. They don't have the best hard product and their soft product leaves much to be desired. From their lounge offerings to their onboard amenities, LOT Polish Airlines Business Class wasn't anything special and didn't do much to deliver a memorable or unique experience. Don't' get me wrong. It wasn't a terrible experience but it was definitely fitting of their 3-star Skytrax rating
LOT Polish Business Class Ground Experience
At their main hub in Warsaw, LOT Polish Airlines operates a dedicated check-in area for their business class passengers, HON Circle and Star Alliance Gold members. The premium check-in area is located to the far right of the terminal, by the E counters. When I arrived at 1:00 PM for my 4:45 PM flight, there was only one other person in line. It took me five minutes to check-in and drop off my bags. I was handed my boarded pass and directed to the Gold Fast Track security lane for expedited clearance.
The Gold Fast Track lane was quick and easy but unfortunately did not expedite passengers through passport control. Instead, it dropped me out into the Schengen area of the airport. Seeing that the passport control line was fairly long, I skipped the LOT Polish Polonez Lounge in the Schengen area and proceeded through passport control. The passport control process took me about 20 minutes. I then made my way to the smaller LOT Polish Mazurek Lounge located in the non-Schengen area for a bite to eat and to get some work done.
This lounge is brand new but it wasn't the best. It was small, crowded and lacked usable spaces for travelers to rest, relax and be productive before a long-haul flight.
LOT Polish Busines Class, Warsaw to Los Angeles
Flight: LO23
Aircraft: Boeing 787-8 Dreamliner
Warsaw (WAW) to Los Angeles (LAX)
Depart: 4:45 PM on Friday
Arrive: 7:40 PM same day
Duration: 11hrs 55mns
Seat: 3E Business Class
At approximately 4:00 PM, I left the lounge and made my way to gate 13N, where my bird was waiting. I took a couple pictures of the Dreamliner and grabbed a seat with everyone else. The gate area was rather chaotic and the agents didn't do much to communicate with passengers or organize any queues. Boarding was delayed approximately 30 minutes.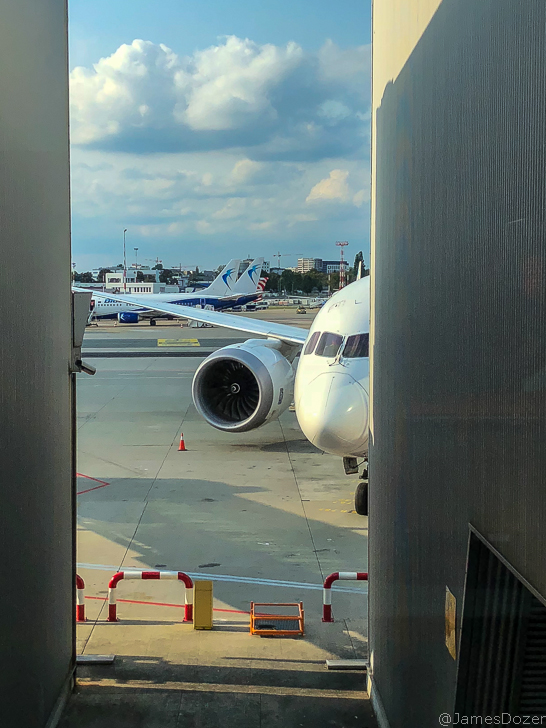 Boarding started with business class passengers, HON Circle and Star Alliance Gold members. All passengers boarded through door 2L. As I walked down the jetway and presented my boarding pass to the flight attendant, I was directed to my seat in the forward business class cabin. My initial impression of the LOT Polish Business Class cabin was that it felt very open and spacious but also very exposed and lacking in privacy.
On their Boeing 787-8 fleet, LOT Polish operates a very small business class cabin of just 18 forward-facing, lie-flat seats. There are three rows of seats configured in a 2-2-2 layout. These seats measure 23 inches in width and provide 78 inches of pitch. On this flight, I was seated in seat 3F, a window seat located on the right side of the aircraft.
If these seats look familiar to you, they are the same seats used by Air India (Boeing 787) and Air China (Airbus A330). Turkish Airlines used to have these seats many, many years ago but they have since upgraded to a newer version with increased storage and better ergonomics.
Each seat is configured with a personal in-flight entertainment (IFE) system along with two reading lamps, a USB port, universal electrical outlet, coat hook and overhead air vents. WiFi was not provided on this flight.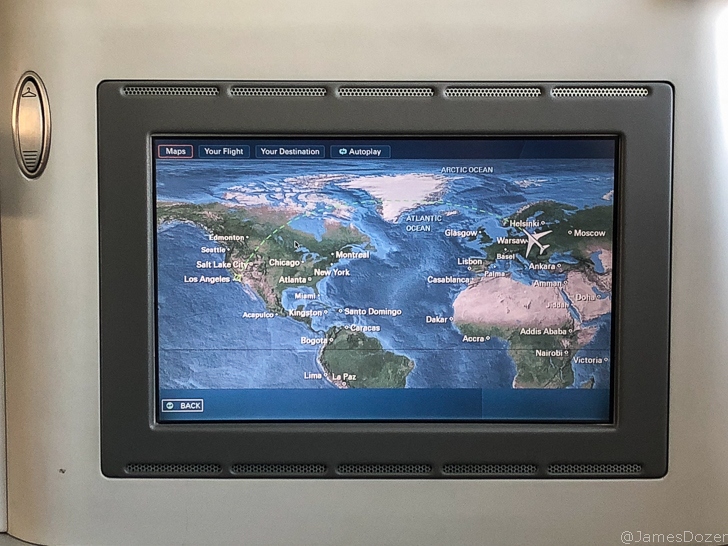 Storage and privacy-wise, these seats are not the best. They are very open and exposed. They lack privacy and usable storage spaces. Your small carry-ons can fit underneath the ottoman but there are no pockets at the seat to secure any of your personal items. There are no places to secure your laptop, glasses, cell phones, etc. The inside armrest can be raised to create a privacy divider between you and your seatmate but it's pretty marginal.
Passengers seated in 3C and 3D will have to use the outside overhead bins as there are no bins above these seats. Luckily, these Dreamline bins are massive and storage was never an issue on this flight, even with an almost full cabin.
Waiting at our seats were a bottle of water, facial wipe, pillow, blanket, bedsheet, amenity kit and a set of headphones. No slippers were provided, which I found rather annoying.
The LOT branded amenity kit was very basic. It contained two single-use packets of foot cream, a facial wipe, dental hygiene kit, bottle of mouthwash, Emory board, comb, shoehorn, eyeshades, earplugs, and socks. I don't know about you guys but foot cream is the last thing that I need on a long haul flight. Facial hydrator? Yes. Hand cream? Yes. Foot cream and an Emory board? No.
The plastic headphones were terrible. Bring your own.
As I settled into my seat, the flight attendant came by with a pre-departure drink from a tray (choice of water, juice, champagne or Rose). My drink was served with a small amuse-bouche. I'm not sure what it was but it wasn't tasty; some sort of onion tart, maybe?
Menus were then handed out and the flight attendant later came by to take our orders.
Once all the passengers were boarded, the Captain came on the PA to make his announcements. We then made our way to the runway and departed for our journey to Los Angeles.
As we reached our cruising altitude, the seatbelt signs were turned off and the flight attendants prepared for our dinner service. Service started with a warm towel, pre-meal beverage and a ramekin of nuts.
For my starter, I chose the leek cream soup with crayfish. It was served with a side salad and a bread roll. The salad was meh but the soup was delicious. It was hearty and had a great flavor to it.
And for my main dish, I chose the beef tenderloin, served with mashed potatoes and vegetables.
My main dish was not good. The beef was dry and the vegetables were overcooked. I was rather disappointed with my main dish but what came next totally made up for it. . .
Cheese and dessert were served from a cart and we could pick anything and everything we wanted. I couldn't choose between the pannacotta or the ice cream, so I got both.
After dinner, my table was cleared and the flight attendants made a quick pass with the duty-free cart. The lights were then dimmed and the electronic windows were darkened. I'm a huge fan of these Boeing Dreamliner windows. They are large and provide excellent views outside. However, keep in mind that they don't fully block out all lighting as direct sunlight will still shine in your face.
Service-wise, I was blown away by how great this crew was. They were not overly polished but they were friendly and attentive. They were personable with every interaction, walked the cabin frequently and made sure drinks were always refilled. They were fantastic and I couldn't have asked for anything more.
After dinner, I finished watching a movie and got some work done on my laptop. Comfort-wise, these seats are decent. They are okay for relaxing but are not the most comfortable for sleeping. The bedsheet provided did not add any additional comfort (I think it's only for hygiene purposes). It was fine for sitting but in bed mode, I found the edges between the seat cushion and backrest to be very hard. It was uncomfortable for sleeping and I struggled to find a comfortable position throughout the flight.
In between meals, sandwiches, beverages, and other snacks were available in the galley.
Approximately 1.5 hours outside of Los Angeles, the cabin lights were turned on and our pre-arrival meal was served. There was only one meal option, a lemon risotto served with fruit, roast beef, and sushi. It wasn't the best meal and I just picked at it. The risotto was dry and overcooked and the sushi was unappealing. Meh.
LOT Polish Business Class Bottom Line:
Overall, LOT Polish Airlines Business Class left a lot to be desired. On one hand, I was really impressed by their attentive onboard service but everything else left me disappointed and longing for a higher quality experience. Their hard product is already outdated and their soft product failed to deliver anything special or memorable. Other than the soup and dessert, their catering was terrible. Their in-flight entertainment options were limited and the amenities provided were subpar.
LOT Polish has so much potential but they still have a long way to go before they can be recognized as a world-class airline. Like I said earlier, I wanted to like LOT Polish a lot but unfortunately, I found the entire experience underwhelming and unremarkable.
Have you flown with LOT Polish Airlines Business Class? If so, please share your thoughts with us in the comments section below. Thanks for reading!
The other related trip reports in this series: