Japan Airlines flies to many U.S. destinations but if you're redeeming Alaska Airlines Mileage Plan miles for a Japan Airlines flight, you will most likely be routed through Seattle for this flight to Tokyo. At Seattle International Airport, Japan Airlines operates one daily flight from Seattle to Tokyo Narita. The check-in counters are located in the main terminal but the flight departs from the South Satellite Terminal. Pre-departure lounge services are provided at the British Airways Terraces Lounge, located near gate S9.
This is a huge improvement for Japan Airlines passengers as previously, Japan Airlines contracted with The Club SEA for their business class passengers. For a contract lounge, The Club isn't bad but it's small, lacking in amenities and fails to compare to a traditional business class lounge. The British Airways Terraces Lounge, on the other hand, is much nicer. It's larger, offers amenities such as showers and hot food options and at the time of my arrival, the only guests in the lounge were JAL business class passengers. This made for a very pleasant experience as the lounge was kept clean and quiet for the most part.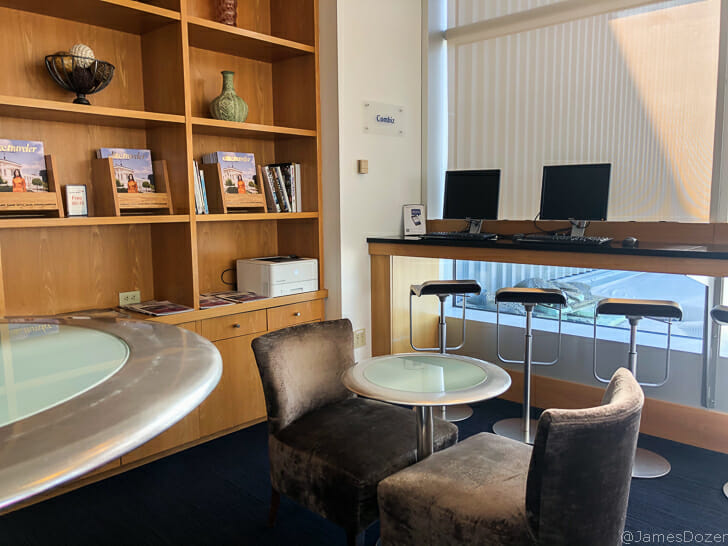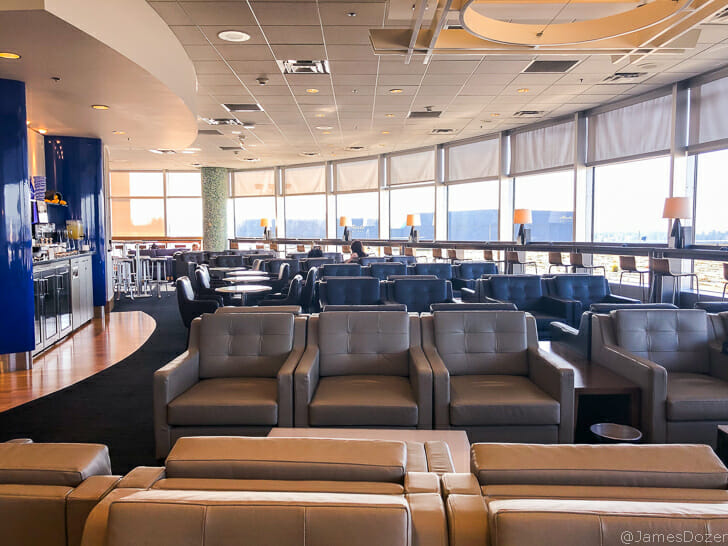 I did check out The Club just to compare and I can honestly say that this is a HUGE improvement. You are not missing out on anything over there. I left the lounge a few minutes prior to boarding time and made my way to gate S7, where my bird was waiting. I snapped a few pics of the beautiful aircraft and then waiting for boarding to be called. Boarding began at approximately 1:00 PM for our 1:30 PM flight. All passengers boarded through door 2L.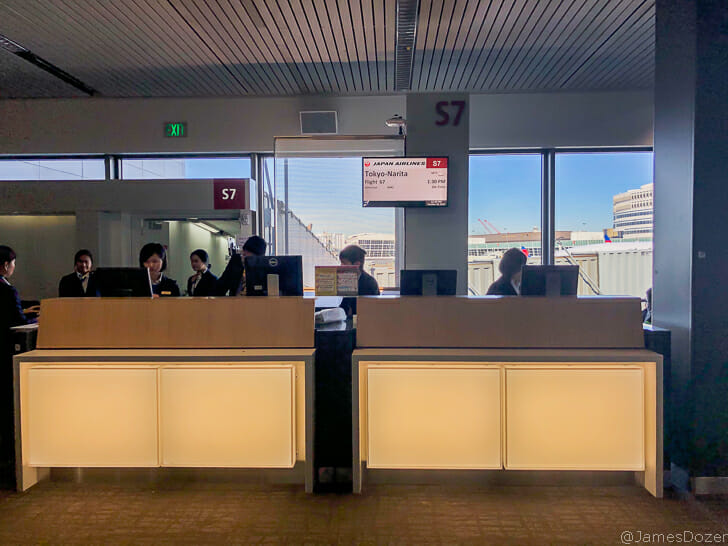 Japan Airlines Business Class Review
Flight: JL67
Aircraft: Boeing 787-8
Seattle (SEA) to Tokyo (NRT)
Depart: 1:30 PM on Monday
Arrive: 4:10 PM next day
Duration: 10hrs 40mns
Seat: 2K Business Class
My aircraft for this flight was a four-year-old, Boeing 787-8, registration JA839J. It was configured with 38 Apex "Sky Suites," business class seats in a 2-2-2, staggered forward-facing layout. Of all the business class configurations out there, I would say these Apex Suites are my second favorite. Nothing can beat a reverse-herringbone for me but these Apex suites aren't bad, especially for window seat passengers and couples traveling together.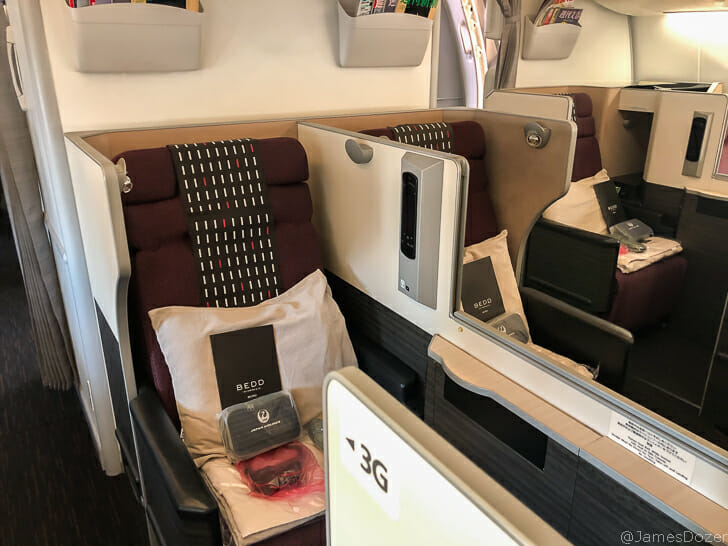 Each seat offered direct aisle access and a high privacy wall to separate the two passengers. There was a small cutout for all window seat passengers to exit his/her seat without having to bother the aisle-seat passenger but the seats were close enough to each other to allow the two passengers to converse and dine together. According to SeatGuru, these seats measured 25.5 inches in width, 74 inches of pitch and provided a fully-flat bed in sleep mode. I don't think those numbers are correct. I think the seat width is closer to 22 inches.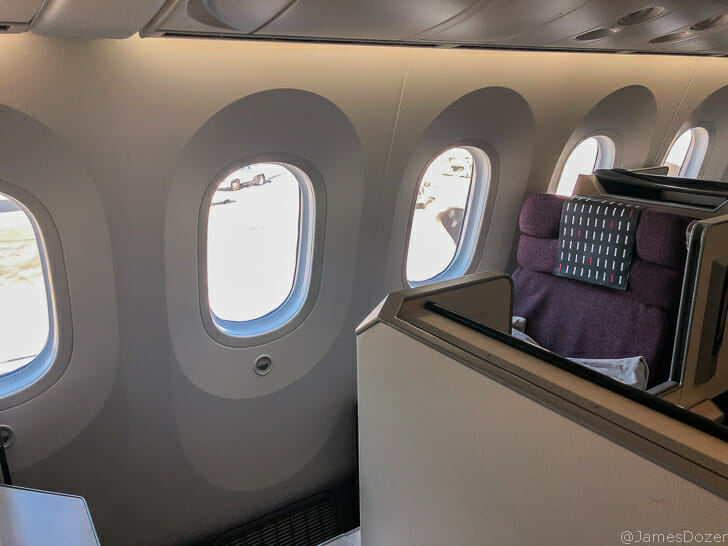 Each seat was equipped with a large 23-inch personal entertainment system, two reading lamps, one universal electrical outlet and a USB port. System-wise, the entertainment system was a little wonky. Controls for the system could be controlled via the handheld remote but oddly; the large monitor did not "mirror" the controller. Instead, you had to make all of your entertainment selections with the remote, which then played on the video monitor. It was weird but then again, it could have been me.
The entertainment options on JAL were very mediocre with only a handful of new Hollywood movies and TV shows. WiFi was provided and it was decently priced. I did not pay for it so I couldn't tell you how reliable or fast it was.
On this flight, I was seated in seat 2K, a window seat located on the right side of the aircraft. Waiting at my seat were a water bottle, printed menu, pillow, blanket, amenity kit and a pair of Sony active noise-canceling headphones and slippers.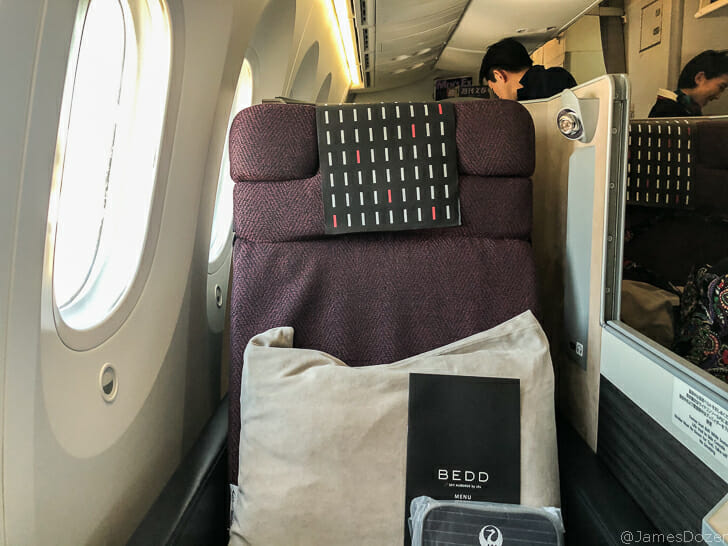 The Beams branded amenity kit was very basic and quite disappointing actually. The very plain looking, cloth zip case was filled with lots of things that I didn't need and nothing that I wanted. I really wanted a pair of socks and some face moisturizer but instead, I got a moisture facemask, earplugs, eyeshades, packet of tissues, dental hygiene kit and a non-branded pack of menthol lip balm.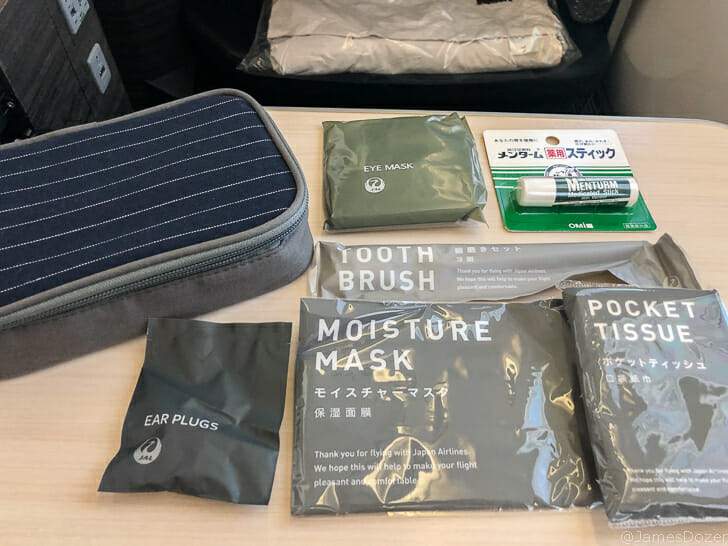 The slippers were very comfortable and came with a shoehorn.
Storage-wise, these seats were not great. For window seat passengers, there were no pockets or bins to secure your personal items during flight and I ended up keeping all my items in my backpack, kept underneath the ottoman. There was a bin located behind your headrest but if you have to get up from your seat to use it, I don't really consider that accessible (without contorting your body). And lastly, the placement of the water bottle on the ledge was just silly. It wasn't secure and several bottles went flying as we took off.
As I settled into my seat, the flight attendants came by with pre-departure drinks of orange juice or champagne. I went with the champagne in the plastic cup but now that I think about it, I should have just made myself a mimosa.
We then pushed back from the gate a few minutes late and taxied to the runway for our 9-hour and 37-minute flight to Tokyo. I keep forgetting how scenic the Pacific Northwest is on a clear day. Our takeoff to the west was beautiful.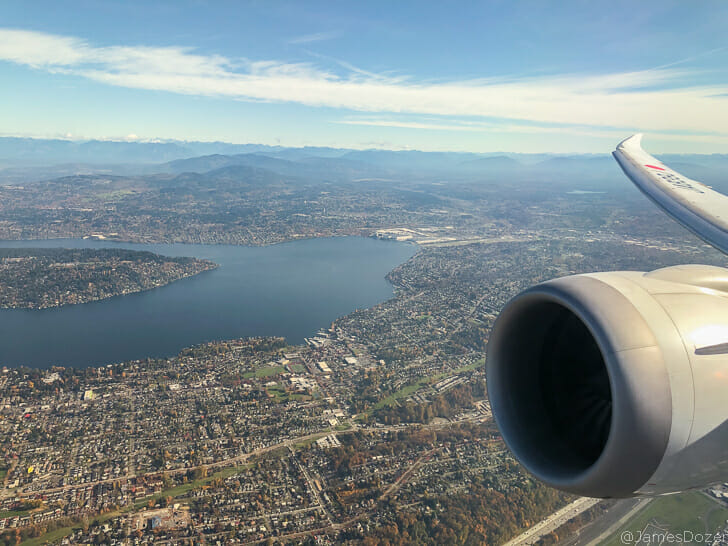 Once we reached our cruising altitude, the seatbelt signs were turned off and the crew prepared for our meal service. Here's a look at the menu.
Lunch started with a hot towel and beverage service, which was accompanied by an amuse-bouche (chilled chestnut veloute and vegetables in a pesto sauce).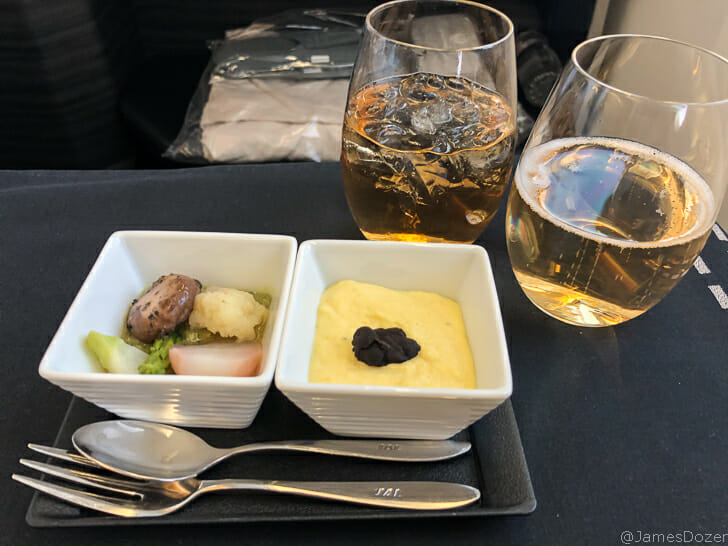 Up next was a selection from the breadbasket and an assorted appetizer plate consisting of duck breast, poached shrimp, scallop and prosciutto.
For my main meal, I went with the seared sea bass, which was delicious. The fish was nice and flakey and the sauce was just perfect.
Lunch concluded with a mascarpone yogurt mouse dessert, coffee and a Bailey's.
Overall, I thought the lunch service was good. The service was efficient and appropriately paced. It wasn't the most filling meal but the food was delicious and the service was good. Once my plates were cleared, I checked out the lavatory and changed out of my street clothes. The lavatories were stocked with additional body and dental amenities.
Once all the passengers were done eating, the duty-free cart was pushed through the aisles and the electronic windows were all dimmed. JAL advertises a turndown service with an additional sleep pad but there was no turndown service offered on this flight and no additional items were provided. That being said, the seat itself was still very comfortable to sleep on. It looks a little tight in the pictures but it actually wasn't bad. I can honestly say that I slept comfortably (once I stole another pillow). The blanket was perfect but the thin pillow was very flimsy. It was great for back support but not great for head and neck support. When fully extended, the bed measured 74 inches long.
I know this is the great debate among AVGEEKS, but I'm still a little torn with the Boeing 787 windows. On one hand, I loved being able to still see outside the whole flight but on the other hand, they don't completely block out all the light either. And on a daytime flight where you're trying to sleep, that's not always ideal.
In between meals, drinks and snacks were provided in the galley for business class passengers to enjoy.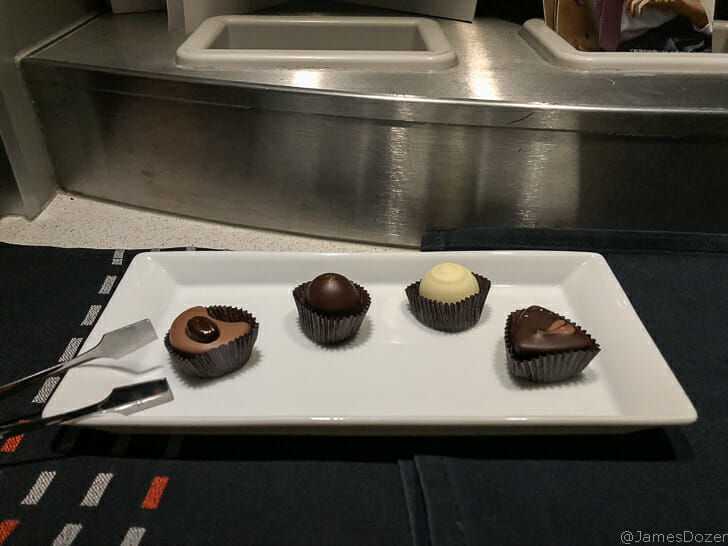 But what was interesting about this flight was that there is no formal pre-arrival meal service. Instead, JAL offered an "Anytime You Wish" meal service, where you could order anything you wanted from the "Anytime You Wish" menu, any time you wanted (up to 1.5 hours before arrival).
So I ordered from the "Anytime You Wish" menu twice, once midway through the flight and then again, right before our arrival.
I prolly should have read the menu more closely as I thought the "Anytime you want" menu was just a snack menu and that there was a separate pre-arrival menu. But either way, the food was good and there was a wide variety of dishes to choose from. I ordered the udon noodles mid-flight and that was perfect. It was light and totally hit the spot. And for my second meal, I went with the beef curry rice bowl, which was more filling and also very tasty.
Japan Airlines Business Class Bottom Line
Overall, I was impressed with this Japan Airlines Business Class product. The pros included a great hard product with direct-aisle access for all passengers, delicious catering with a semi-dine on-demand concept and a friendly and personable crew. The quirks were very minor in my book but a better amenity kit, thicker pillow and more efficient storage solutions would have made this Japan Airlines Business Class more memorable.
Have you flown on Japan Airlines' business class? If so, please share your thoughts with us in the comments section below. Thanks for reading!
The other trip reports in this series include:
British Airways Terraces Lounge Seattle
Japan Airlines Sakura Lounge Narita
Japan Airlines 787-9 Business Class, Tokyo to Hanoi
Hilton Garden Inn Hanoi, Vietnam
Song Hong Business Class Lounge Hanoi
Sheraton Nha Trang, Vietnam
Sheraton Grand Da Nang, Vietnam