From Doha, Qatar Airways operates one daily flight to Los Angeles, utilizing a refurbished Boeing 777-200LR (77L) aircraft. These long-range Boeing 777s are equipped with the new "Q Suites" business class seats but premium cabin award availability is pretty hard to find on this route. If you can find it, I would definitely recommend business class on this route as Qatar Airways offers one of the best business class experiences in the world. But if you can't find any, that's okay too as Qatar Airways also offers one of the best economy class experiences in the world as well.
At Hamad International Airport, the check-in counters for all Qatar Airways flights bound for the United States are located in counter area #7. For this early morning flight, check-in was quick and easy and I had my boarding pass within a few minutes.
If you have a Priority Pass Lounge membership, you can use the Al Maha Transit Lounge located behind the large bear. But don't get too excited; the lounge is small, crowded and reeks of cigarette smoke. It still beats waiting at the gate but this is not a lounge I would ever recommend showing up to the airport early for. The lounge offers a simple buffet and complimentary beverages but don't expect too much from this basic lounge.
Keep in mind that all flights departing for the United States require a secondary security check. This means that all your carry-on items will be screened a second time and no filled water bottles or beverages will be allowed through to the boarding area. Normally, this would be fine but in this case, the set up is freaking terrible as there are no amenities in this sterile holding area. There are no water fountains, restrooms, restaurants or anything else. I really hate this setup as you won't be able to bring any water bottles with you on this flight. If you need to use the restroom, you will have to be rescreened again before being allowed back into the sterile area.
Qatar Airways Boeing 777 Economy Class
Flight: QR739
Aircraft: Boeing 777-200LR
Doha (DOH) to Los Angeles (LAX)
Depart: 07:45 AM on Friday
Arrive: 1:10 PM same day
Duration: 16hrs 25mns
Seat: 35A Economy Class
Like I said earlier, Qatar Airways operates a refurbished Boeing 777-200LR on this flight. This aircraft is equipped with 230 economy class seats in a 3-4-3 layout. According to Seat Guru, these seats measure 16.9 – 17.4 inches in width and provide 31 – 32  inches of pitch. Each seat is equipped with a personal in-flight entertainment system, USB port, overhead reading lamp, adjustable headrest and an air vent. Two universal electrical outlets are provided for every three seats.
On this flight, I self-selected seat 35A, a window seat located on the left side of the aircraft. Economy class was nearly full but luckily for me, I had the whole row to myself and was able to spread out for the entire 16 hours.
Waiting at our seats were a pillow, blanket, amenity kit and a set of headphones. The headphones were nothing special but both the pillow and blanket were very nice by economy class standards. The pillow was firm and the blanket was long and comfortable.
Qatar Airways is one of the few airlines that provides a small amenity kit for economy class passengers and it was a welcomed amenity. Inside the disposable zip-lock bag, there were socks, eyeshades, earplugs, lip balm and a dental kit. For an economy class kit, you really can't expect anything more than this. Heck, other than the bag itself, the contents provided were better than what other airlines provide their premium economy class passengers.
Printed menus and refreshing wet naps were also distributed.
As the final passengers were boarded, the Captain came on the PA to make his welcome announcements. He welcomed us on-board and provided us with the details of our flight. We then pushed back from the gate and made our way to the runway for our 16-hour flight to Los Angeles. Doha is kind of a bland desert city but departing the airport did offer some nice views.
Once we reached our cruising altitude, the seatbelts signs were turned off and the flight attendants prepared for our brunch service.
I'm not the biggest fan of airline breakfasts so I went with the beef massaman in curry sauce for my main meal. It was served with a side of fresh fruit, mango yogurt and a warm bread roll. Contrary to how it looked, the meal was quite tasty. The beef wasn't overcooked and the sauce was flavorful. Alcoholic drinks were provided complimentary but it was a little too early for me to start drinking.
After breakfast, my tray was taken away and the cabin lights were dimmed. The flight attendants didn't make everyone close their window shades but people naturally did. I checked out the lavatory, changed out of my street clothes and then settled in for a movie. The only amenity provided in the lavatory was a fragrance bottle, eau de Qatar Airways.
Comfort-wise, these economy class seats were very comfortable (much more comfortable than the Boeing 787 seats). The padding was nice; the recline was good and the adjustable headrest was very supportive. I was lucky enough to have the whole row to myself and made myself a little economy class "Q suite." 🙂
Entertainment-wise, the Oryx One entertainment system was loaded with a large selection of new Hollywood, Bollywood, Arabic and other international movies, TV shows, video games and music entertainment. I was definitely able to find enough content to keep me entertained for the whole flight. WiFi was also provided on this flight and it was totally affordable. One hour of internet connectivity was provided free for all passengers and an unlimited flight plan cost only $10 USD.
Service-wise, the flight attendants were great. They were all friendly, personable and really went out of their way to take care of us. They walked the cabin frequently and made several passes with drinks and snacks during flight. About halfway through the flight, a mid-flight snack was served. There were two options: a beef slider with fries or a beef slider with cauliflower. I got the beef slider with fries and it was tasty. It wasn't a lot of food but enough to hold me over till the next meal.
It doesn't matter how you look at it, 16 hours is a long time to be in a metal tube. You really need to find ways to stay healthy and maintain your sanity. Luckily, Qatar Airways is a fantastic airline. The entertainment system was loaded with a huge selection of movies and TV shows and there were plenty of snacks available during the flight. Having a row entirely to myself made a big difference also. However, if you're not lucky enough to get a whole row to yourself, there are a couple of travel accessories I would recommend for a long flight like this.
My first recommendation is this inflatable, seat cushion. If you have any sciatica issues or problems with leg numbness during flight, you really need to give this seat cushion a try. It's small, packable and provides enough cushion to give your rear-end some much-needed support. More info about the seat cushion can be found here.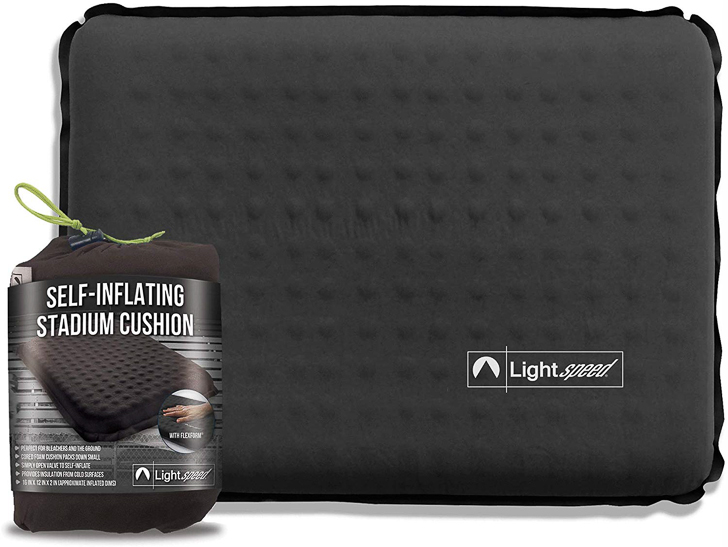 My second recommendation is this GoSleep 2-in-1 travel sleep mask. It looks a little funny but trust me, I get more restful sleep with this product than with any other sleep gimmick out there. Especially on planes with limited recline, this GoSleep travel sleep mask will gently support your neck and prevent your head from bobbing back and forth during sleep. When I use this sleep mask, I sleep longer and wake up more rested without any neck pain. You can read more about it and purchase on Amazon by clicking here.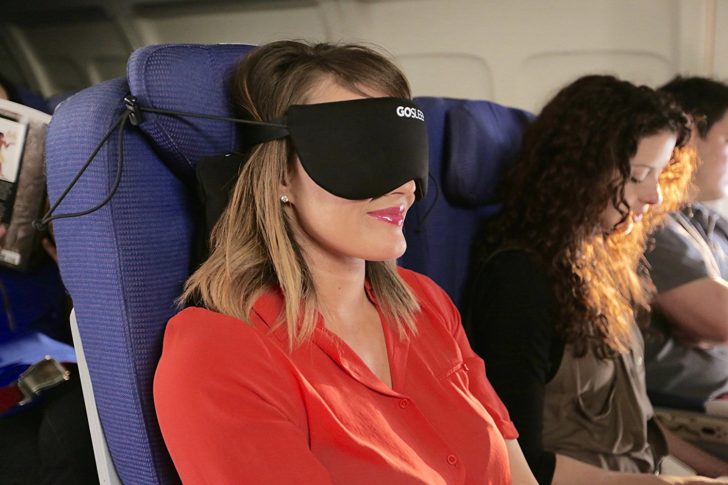 About an hour and a half prior to our arrival into Los Angeles, the cabin lights were turned back on and a pre-arrival meal was served. I went with the chicken biryani, which was served with a mixed quinoa salad, bread roll and an espresso cream dessert.
Qatar Airways Economy Class Bottom Line
Overall, this was a great flight experience with Qatar Airways Economy Class. Even at 16 hours, this was a pleasant flight experience and I have to give Qatar Airways a lot of credit here. The seat was comfortable and the entertainment provided was plentiful. The catering was tasty and the service was attentive. I really didn't have any complaints about this flight and I wouldn't hesitate to fly with Qatar Airways again.
Have you flown with Qatar Airways in economy class? If so, please share your thoughts with us in the comments section below. Thanks for reading!
The other trip reports in this series include:
British Airways Terraces Lounge Seattle
Japan Airlines Sakura Lounge Narita
Japan Airlines 787-9 Business Class, Tokyo to Hanoi
Hilton Garden Inn Hanoi, Vietnam
Song Hong Business Class Lounge Hanoi
Sheraton Nha Trang, Vietnam
Sheraton Grand Da Nang, Vietnam
This post contains references to products from one or more of our advertisers. We may receive compensation when you click on links to those products. Thank you for your support!