This review is for the Korean Air Lounge (KAL Lounge) located in Concourse A of Seoul Incheon Airport. The Korean Air Lounge Concourse A is located airside on the fourth floor of the satellite terminal, adjacent to gate 116. The lounge is open to premium cabin passengers and SkyTeam Elite Plus members traveling on Korean Air and SkyTeam partner airlines; premium cabin passengers on Air China, Etihad, JAL and others; and Priority Pass, Loungebuddy and Dragonpass members traveling on any airline. Priority Pass, Loungebuddy and Dragonpass members are limited to two guests per card. The lounge is open from 6:30 AM to 11:30 PM daily.
As you enter the lounge, there is a coat closet and luggage storage area located to the left of the entrance. The personal lockers are large enough to store your carry-on luggage and other personal belongs but they are open and unsecured. In theory, the front desk attendants will watch your bags but in reality, you should just keep your bags with you in the lounge.
The main seating area of the Korean Air Lounge Concourse A is one big open room. However, unlike the Korean Air Lounge in the main terminal, this one is modern, bright and airy. The large windows let in a lot of natural lighting and the bright colors make the space feel modern and chic. The seating cubes below look like hard plastic but they're actually pretty comfortable (made from some kind of dense foam material).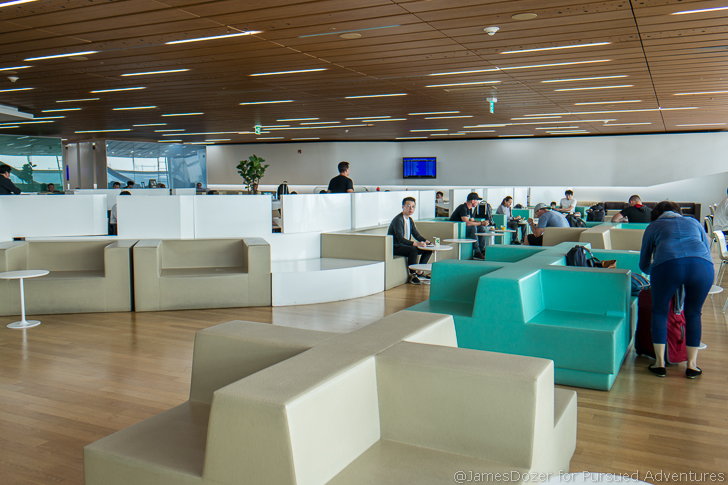 The Korean Air Lounge Concourse A actually makes great use of the limited space with plenty of partitions and dividers to give the lounge a sense of space and privacy from your neighbors. The leather chairs are super comfortable and are convenient for resting or socializing with others.
If you need to be productive, there is a table along the bank of windows with convenient access to universal electrical outlets (and view of the ramp and runway below). Password protected WiFi is provided throughout the lounge.
If those seats are all occupied, there are plenty of other tables and chairs spread throughout the lounge to offers passengers a place to dine or work.
For smokers, there is an enclosed smoking room and two shower suites if you need to freshen up in between flights. However, there are no day rooms or any other dedicated places to lie down and shut your eyes for a bit.
For food, there was a breakfast spread with a decent selection of hot and cold dishes such as salads, scrambled eggs, sausages, congee and pastries.
Alcohol-wise, there's was a very small alcohol station with a limited selection of wine, spirits and beers. Even by Korean Air standards, this was a very poor selection.
Korean Air Lounge Concourse A Seoul Airport bottom line
Overall, the Korean Air Lounge Concourse A was a decent place to hang out before my flight. As a contract lounge, it was pretty good but definitely not something I would ever arrive early to experience. The food was decent, nothing special, but the usable spaces to rest, relax and be productive made the lounge very functional.
However, as a lounge for premium cabin passengers, this lounge would be a HUGE disappointment if you actually paid for first/business class. I know Korean Air has never been known for their ground experience but even by their own standards, this would be a sub-par lounge for premium cabin passengers.
What do you guys think of the Korean Air Lounge Concourse A? Please let me know your thoughts in the comments section below. Thanks for reading!
The other trip reports in this series include:
Hilton Bali, Nusa Dua
Singapore Airlines Economy Class, Singapore to Los Angeles