Singapore Airlines consistently provides a quality flying experience and this Singapore Airlines Economy Class flight from Los Angeles to Singapore via Seoul was no different. From comfortable seats and attentive service to quality on-demand entertainment with hundreds of movies and TV shows, Singapore Airlines makes flying economy class a pleasurable experience. Singapore itself is not an ideal transit hub for the majority of Asia but for destinations anywhere in Southeast Asia, Singapore Airlines provides a competitive product for both business and leisure travelers.
The other trip reports in this series include:
Singapore Airlines Economy Class, Singapore to Los Angeles
At LAX, Singapore Airlines operates from the Tom Bradley International Terminal. The check-in counters are located in the C counters and open 3 hours before departure. My friends and I arrived at approximately 3:00 PM for our 5:50 PM flight and there were only a few people in line. Check-in was quick and efficient and we received our boarding passes and an invitation to the Star Alliance Lounge within a few minutes. It should be noted that Singapore Airlines is very strict with their baggage restrictions so make sure to pack accordingly. Both my checked and carry-on bags were weighed for compliance.
Singapore Airlines Economy Class Baggage Allowance
For their international flights departing to/from the United States, economy class passengers are allowed two pieces of checked luggage; one carry-on bag and one personal item to be carried on-board. Checked bags have a weight limit of 23 kg each (50 lbs). Carry-on bags have a weight limit of 7 kg (15 lbs) and the sum of the dimensions must be within 115 cm (45 inches). Personal items must be smaller than 40 x 30 x 10 cm (15 x 11 x 3 inches). However, in my experience, the agents seem to be more strict about the weight of the bags than the size of the bags.
Singapore Airlines Economy Class Seat Assignments
Unlike other carriers, Singapore Airlines still allows complimentary seat assignments at the time of booking. However, the catch is the lower fare classes will have limited access to available seats. For example, my friends bought V fare class tickets and they were only able to select seats in the main economy class cabin whereas my Q fare class (slightly higher but still discounted economy class) ticket was able to select seats in the main economy class cabin and the more private, forward economy class cabin.
But don't worry if you don't find anything ideal, the rest of the unassigned seats will open up for selection 48 hours before departure. A couple of my friends were originally stuck in middle seats but were easily moved to window/aisle seats when the seat map opened up. The other odd thing about Singapore Airlines' website is it only allows you to pick one seat assignment for the entire journey, even though passengers got on/off at Seoul.
Singapore Airlines lounge options at LAX
At LAX, Singapore Airlines uses the Star Alliance Lounge for their premium cabin passengers and Star Alliance Gold members traveling in economy class. The Star Alliance Lounge is one of my favorite business class lounges in the entire Star Alliance network and is always a joy to visit. The lounge offers a great atmosphere and chic environment for relaxing and working before your flight. Click here to read my full review of the Star Alliance Lounge LAX.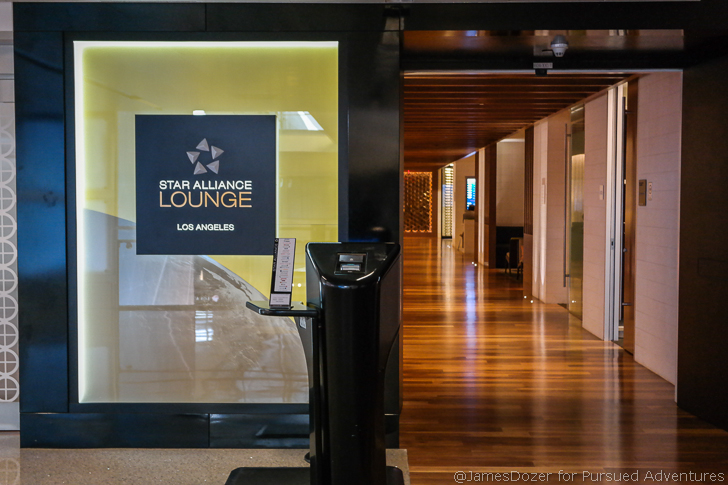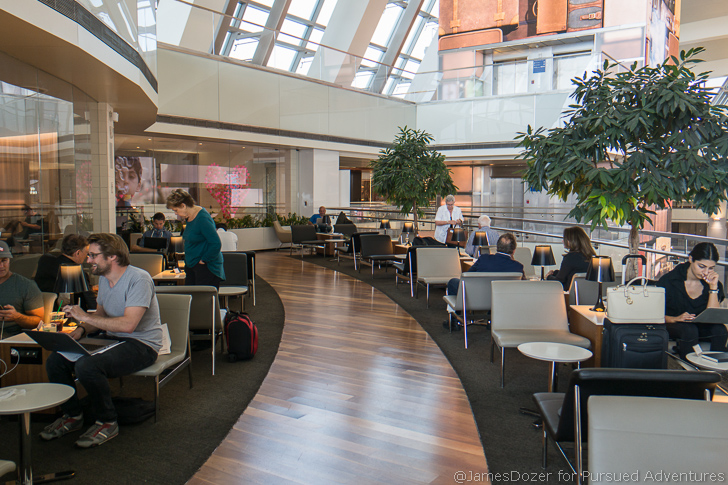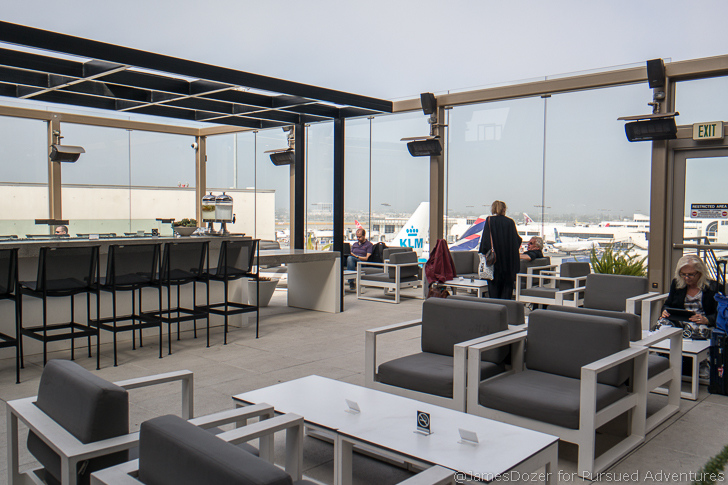 If you have a Priority Pass, Lounge Club or Diner's Club membership, you can use the Korean Air SkyTeam Lounge located across the way. The Korean Air SkyTeam Lounge is nothing special but it does offer a decent play to hang out before your flight. Click here to read my full review of the Korean Air Lounge.
Singapore Airlines Economy Class review, Los Angeles to Singapore via Seoul
Flight: SQ7
Aircraft: Boeing 777-300ER
Los Angels (LAX) to Seoul (ICN) to Singapore (SIN)
Depart: 5:50 PM on Wednesday
Arrive: 5:55 AM Friday
Duration: 21hr 5mn
Seat: 43H Economy Class
A few minutes prior to boarding time, we left the lounge and made our way to gate 152 where our bird was waiting. When we arrived, I took a few pictures of the big bird and then waited for boarding to be called. Boarding started with First Class passengers and PPS Club members, followed by Business Class passengers and Star Alliance Gold members. Boarding was orderly with plenty of employees walking around and directing waiting passengers to where they needed to be.
As I walked down the jet bridge, I presented my boarding pass to the flight attendant and was directed to my seat. On this flight, my friend David and I were seated in 43H and K, on the right side of the plane. Singapore Airlines Boeing 777-300ER economy class seats are great. They are configured with plenty of pitch and width in a 3 x 3 x 3 configuration. The seats provide 19 inches in width, 32 inches of pitch and 6 inches of recline. As a point of comparison, United Airlines offers economy class seats with 17 inches of width, 31 inches of pitch and 3 inches of recline on the same aircraft. . .
Each seat is equipped with an 11.1 inch personal, in-flight entertainment system, reading lamp, vanity mirror, two USB ports and two universal electrical outlets per three seats.
Not only do these seats provide plenty of width, pitch and recline but they are also extremely comfortable as well with well-padded seat cushions, improved backrests with bolstered sides, 4-way adjustable, cushioned headrest and a footrest at every seat. Economy class really doesn't get much better than this. Waiting at our seats were plush pillows and large blankets.
As we settled into our seats, the flight attendants came by with hot towels, printed menus and amenities kits. The amenities kits were nothing special but were a nice touch to celebrate their 70th anniversary. The kits contained a pair of socks and a dental hygiene kit.
Once all the passengers were boarded, we pushed back from the gate and made our way to runway 24L. We held for a bit and then departed for our 13hr 2mn flight to Seoul. As we hit our cruising altitude, the seatbelt signs were turned off and the flight attendants prepared for our first meal service. Dinner started with a round of drinks, which included complimentary beer, wine and spirits, and a package of peanuts.
For my dinner, I went with the chicken and potatoes, which was served with a smoked salmon appetizer and a bread roll. In my opinion, Singapore Airlines doesn't have the best catering but this meal actually wasn't that bad. The chicken was still moist and the flavors were just right. Dinner was followed with Haagan Dazs chocolate ice cream and a coffee/tea service.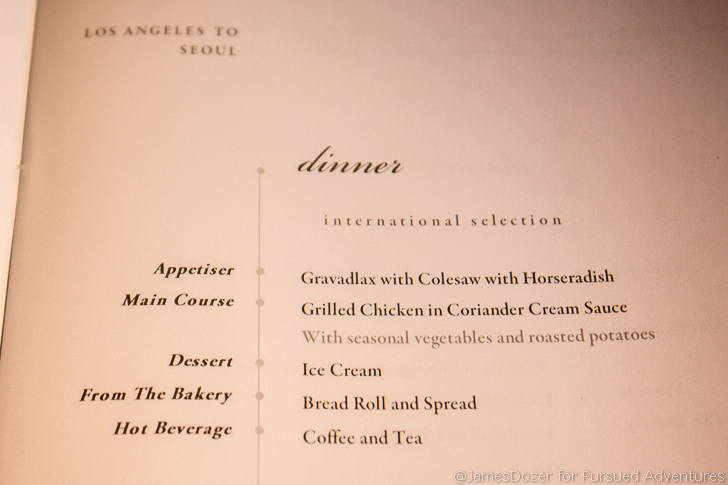 Once all the trays were taken away, the flight attendants made a quick pass of the duty-free cart before the cabin lights were dimmed and window shades were closed. In between meal services, cold sandwiches, chips, pudding and fruit were laid out in the galley for passengers and the flight attendants made very frequent passes through the cabin with trays of water, juices and snacks.
Service-wise, this crew was was fantastic. They were polite and attentive. They walked the cabin frequently and were proactive in assisting passengers before being asked.
After dinner, I played with the in-flight entertainment system for a bit, watched a couple of movies and then slept for a few hours. The KrisWorld entertainment system is loaded with a huge collection of new Hollywood movies, TV shows, music entertainment and video games. You won't run out of movies to watch. Complimentary earbuds (with two prongs for improved audio quality) are provided to all passengers.
WiFi was provided on this flight but it was too expensive for me to use. Prices started at $6.99 for 15 megabytes of data and went up to $19.99 for 50 megabytes of data. No thanks, Singapore. I'll just watch a movie.
Approximately 2.5 hours outside of Seoul, the cabin lights were turned on and the flight attendants prepared for our pre-arrival meal service. For my supper, I chose the braised pork in black bean sauce with fried egg noodles. The meal was served with a turkey and cous cous salad, bread roll and a lemon cheesecake dessert. This meal wasn't the best.
After our trays were cleared away, the flight attendants prepared for our arrival into Seoul.
SQ7 Arrival into Seoul
At Seoul Incheon Airport, all continuing passengers must collect all their belongings and disembark the aircraft. You do not have to clear through customs and immigration but you do have to clear through security so make sure to not bring any bottles with you. Once through security, Star Alliance Gold members and premium cabin passengers can use the Singapore Airlines SilverKris Lounge and Priority Pass members can use the Korean Airlines Lounge for some food and refreshments. The layover is only 1.5 hours so it's just long enough to stretch your legs and grab a quick bite to eat.
We then boarded the same aircraft and continued on our way to Singapore with a new crew and additional passengers. Just after takeoff, the flight attendants came around with another amenity kit (same one), warm towel and drink/peanut service. Service was completed very quickly as most passengers were pretty tired at this point and just wanted to sleep.
Approximately 2 hours outside of Singapore, the cabin lights were turned on and the flight attendants prepared for our pre-arrival meal service. For my meal, I chose the chicken bibimbap and it was delicious! Breakfast was served with a side of fruit, yogurt and a bread roll.
Singapore Airlines Economy Class overall thoughts
Singapore Airlines Economy Class is a fantastic product and this flight experience was no different. There is no denying flying Singapore Airlines to Asia makes for a very long travel day but they really do make up for it with a quality hard product and attentive service. The economy class seats on their Boeing 777-300ERs are fantastic and the overall flight experience makes for a very pleasant journey.
That being said, I would only recommend Singapore Airlines as a good way of getting to Southeast Asia (or Seoul, Tokyo, Frankfurt or Manchester) as anywhere else outside of that would make for a very long travel day and the increased travel time would negate any positive passenger experience. However, if Southeast Asia is your final destination, Singapore Airlines Economy Class can be a cheap and pleasant way to travel.
Have you flown Singapore Airlines Economy Class? If so, please share your thoughts with me in the comments section below. Thanks for reading!