Air Japan is ANA's regional arm. They operate short and medium haul routes using a fleet of (older) Boeing 767s. Even though this flight was "operated by Air Japan," everything was the same as an ANA flight. All their planes, flight attendants, meals, etc. were all consistent with the ANA brand. Other than it being an older plane, I really couldn't tell that I wasn't on an ANA flight.
Flight: NH823
Aircraft: Boeing 767-300
Tokyo Narita (NRT) to Taipei (TPE)
Depart: 5:40 PM on Wednesday (5:46 PM actual)
Arrive: 8:15 PM (8:34 PM actual)
Duration: 3hr 48mn
Seat: 43G Economy Class
Five minutes before boarding time, I left the KAL Lounge and made my way to gate 28E, located on the ground floor of terminal 1. All flights departing from gates 28 (A – G) are shuttle buses to remote stands. Boarding started at the gate with business class passengers and Star Alliance Gold members followed by everyone else.
After a quick bus ride, we arrived at the remote stand and boarded the plane through door 1L.
This older Boeing 767-300 is in need of a serious refresh. There is a small business class cabin located in the front of the plane with recliner seats in a 2 X 1 X 2 layout. Behind business class is a mini cabin of economy seats followed by the main economy class cabin. Economy seats are configured in a 2 X 3 X 2 layout. Each seat is 18.6 inches wide and offers 31 inches of pitch. These seats are definitely dated and a little lumpy but the recline can't be beat for an economy class seat.
Each seat offers an overhead reading lamp, foot rest and personal seatback entertainment system. The IFE screen is a little on the small size and the quality is not great but the entertainment selection was pretty good for a "regional" carrier. There was a decent selection of Hollywood movies including new hits such as Jurassic Park and Ant-Man. There's also a collection of videos, music, games, a moving map and a forward facing aircraft camera.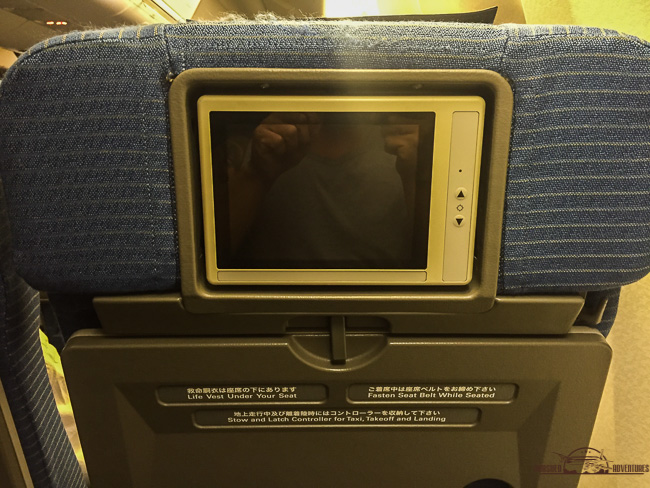 On this leg of the trip, I was assigned seat 43G, a window seat on the right side of the plane aka the last seat in the house. Waiting at each seat was a blanket and set of single-jack headphones. This flight was completely booked and all seats were taken. I can't verify this anywhere but it looks like row 43 seats offered a bit more pitch than the other rows.
After I got settled into my seat, I started playing with the IFE system right away and was happy to see that it was made available on the ground. There are three modes to the remote: audio, video and interactive. The moving map and forward facing camera are in the video mode and the on-demand entertainment is in the interactive mode. I started watching Jurassic Park as the rest of the plane was still being boarded. Annoyingly, there were ads before each movie and the screen itself is not a touch screen. You have to use the old-style remote located in the armrest.
After takeoff and reaching our cruising altitude, the flight attendants came by with a packaged wet towel, followed by a simple picture menu for dinner. On this flight, we had a Japanese or western option for dinner. The Japanese option was simmered yellowtail with noodles and the western option was chicken curry over rice. I went with the chicken curry.
Our meals were then brought out all on a tray. With the curry and rice, there was also a bread roll, small salad, packaged rice crackers and a small piece of cake. Drinks were served with dinner. I'm personally not a fan of ANA's catering and this meal was no different. It was decent. . . not bad but not great either.
After dinner, the flight attendants came by with coffee and tea and offered to refill our drinks if needed. Overall, the service was friendly and personable but nothing over the top. They didn't try to engage you in conversation or anything else but they did walk the cabin frequently to see if passengers needed anything.
Because this was a pretty short trip, no other meals or services were provided prior to landing. Our descent and arrival into TPE was fairly uneventful. All passengers arriving into Taipei went to customs and immigrations whereas those connecting to another airline obtained their connecting flight boarding pass from the transfer counter before clearing through security again.
For the return trip:
Flight: NH824
Aircraft: Boeing 767-300
Taipei (TPE) to Tokyo Narita (NRT)
Depart: 8:45 AM on Thursday (8:42 AM actual)
Arrive: 1:00 PM (12:42 PM actual)
Duration: 3hr 1mn
Seat: 27A Economy Class
I was assigned seat 27A, a window seat on the left side of the plane. Everything was similar to the outbound leg so I won't go into detail regarding those aspects but I did want to show you our lunch options.
For lunch, we had the option of seafood lasagna or fried fish with rice. I chose the seafood lasagna and it was barely edible. The main meal was served with a side macaroni salad, cured fish appetizer, bread roll and packaged rice crackers.
Overall, I wasn't too disappointed with Air Japan nor was I overly impressed with them either. The hard product is extremely dated and the soft product was pretty typical of what you would find on a mainline ANA flight. The catering is probably their weakest link and I would recommend you bringing some snacks if your palette is sensitive. But the personal IFE system was a nice surprise and made the trip a bit more enjoyable, even it was for only a little over three hours.
This review is part of my mileage run to Taiwan in October. The other trip reports in this series include: