This flight review of United's economy class from Los Angeles to Tokyo (and back) is not going to end the way you would expect it to. United isn't known for having the best track record in terms of operational efficiency or employing the most friendly and attentive crew members but surprisingly, my last three long haul flights with United in economy class have all been stellar. Seriously, stellar. And this trip, from Los Angeles to Narita and back was no different.
I arrived a little later than normal and just hung out in the terminal until boarding began. With Los Angeles (LAX) being United's new 787 hub, I was excited to see my 787-8 was upgraded to a 787-9. This would be my first time in the stretched version and I was looking forward to seeing if there was a difference between the two. Click here to read my United Airlines Boeing 787-8 economy class trip report from Tokyo to Los Angeles.
Flight: UA32
Aircraft: Boeing 787-9 Dreamliner
Los Angeles (LAX) to Tokyo Narita (NRT)
Depart: 11:20 AM on Tuesday (11:19 AM actual)
Arrive: 3:00 PM (2:50 PM actual) next day
Duration: 11hr 31mn
Seat: 27A Economy Class
Boarding began on time with business class passengers, Star Alliance Gold members and Group 1 people through door 1L, followed by everyone else through door 2L. I presented my boarding pass to the flight attendant, walked past the second business class and Economy Plus cabins (sigh) and found my seat in the first row of the main economy class cabin. My seat, 27A, was an emergency exit row seat on the left side of the plane. I stored my carry-on in the overhead compartment, took some pictures and settled into my seat.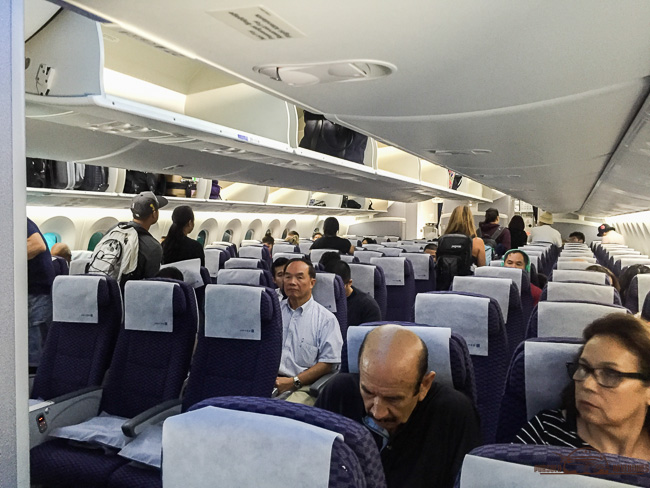 The cabin mood lights were lit in a blue hue and the background music created a very calming and relaxing boarding experience.
Here's a quick tip for selecting your seat on United's Boeing 787s. The emergency exit row (by doors 3L/R) of the Boeing 787s (both 787-8 and 787-9) are considered Economy Plus sections. However, the window seats (on either side of the emergency exit row) are not Economy Plus seats. They are just regular economy seats that can be selected at the time of booking for no additional charge. But before you get too excited, there are some negatives to the seat that you should consider.
First off, the one main positive to the seat is that it is located in the emergency exit row so there is an unlimited amount of legroom. You can literally stretch out as much as you want without kicking anyone nor do you have to bother your neighbors to use the lavatory. That's a huge plus.
The negatives however are many (but in my opinion, not enough to outweigh the one positive). My biggest complaint about these window seats is that there are no windows. The windows are misaligned so it really defeats the purpose of getting a window seat if you want to enjoy the window views. There is a tiny window located on the emergency exit door so you can lean way forward to snap pictures or if you recline your seat all the way back, you can catch a glimpse outside the window behind your seat.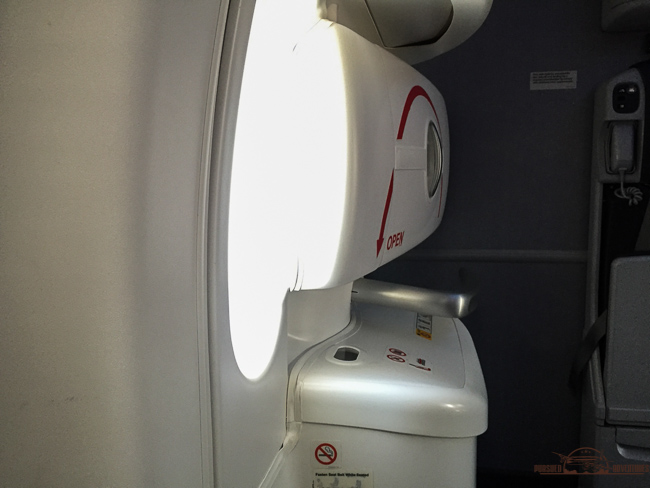 The next complaint is there's a huge bump on the emergency exit door that protrudes into your leg space. It's annoying but nothing that will kill you. The lump protrudes about six inches from the wall and hits just about where your knee is. Because of this, you can't exactly stretch your legs out forward. Instead, you will have to cant your legs towards the right to stretch out.
The other space issue with these seats is that yes, you will have an unlimited amount of legroom but at the cost of a slightly smaller seat. Because these are emergency exit row seats, the armrests are fixed (cannot be raised or lowered) with the folding tray table and IFE monitor are both located in the armrests – thus reducing seat width slightly.
The other disadvantage to these seats is that there are no storage spaces down below so all your belongings will have to be stored in the overhead compartment for takeoffs and landings. And to make matters worse, the overhead bin above the emergency exit row is about a third shorter than the normal overhead bins. If you board a little later, you might have to store your items somewhere other than where you are seated. This always bugs me when it happens. In this case, I had to store my bag in the overhead bin of the Economy Plus cabin in front of me.
And the final gripe about the emergency exit row seats – it's located right next to the galley and the lavatory so you will have a ton of people congregating in this area during flight. The majority of people will just stand, stretch and wait for the lavatory whereas there are some people that will treat this space like the office water cooler. If you are trying to get some rest and are sensitive to loud noises, these might not be the best seats for you.
Each seat is equipped with a personal IFE monitor with audio/video, on-demand entertainment, a personal reading lamp, universal electrical outlet (located below your seat), USB charging port and an overhead air vent. Wifi was also provided on this flight for $16.99. I didn't purchase it so I can't tell you how fast the speeds were. Improved over the 787-8s, every seat has their own universal electrical now (as opposed to two for every three seats).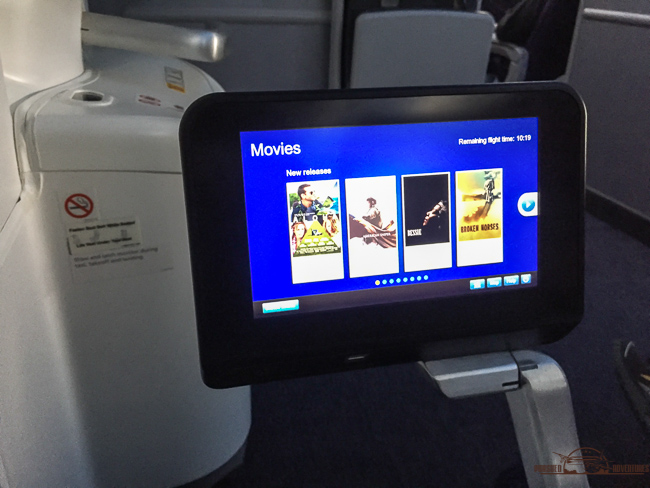 Waiting at our seats were a blanket and pillow. Prior to takeoff, the flight attendants came through the main cabin with complimentary, disposable ear buds. The captain then came on the PA, welcomed us aboard and advised our weather, flight path and travel time of 11 hours and 11 minutes. We then pushed back from gate 77, made our way down the ramp and took off on runway 25R.
Once we reached our cruising altitude, the seatbelt signs were turned off and the flight attendants prepared for our lunch service. Service started with pre-meal drinks and packaged cheese and crackers. Beer and wine were complementary during meals but spirits were not.
Lunch was then served on a tray from the trolley. Menus were not provided nor were the items described any further. There were two options on this flight: chicken with rice or pasta. Funny side story – This reminded me of my last UA flight home from Tokyo when the flight attendant came by with two trays in her hand. The lady next to me couldn't figure out what she wanted and asked the flight attendant for a description of the dishes. Not amused by her questions, the flight attendant forcibly asked again, "C'mon lady. These are heavy! Chicken or pasta? " Haha. Not wanting that same treatment, I went with the chicken this time. You can't really go wrong with chicken right? Lol.
Everything was presented on one tray including the main dish, side quinoa salad and a bread roll. The food was actually really tasty. I don't know what sauce that chicken was in, (teriyaki maybe?) but it was really good. I loved the edamame beans and carrots with the rice and the quinoa salad had a good flavor to it. Quinoa is one of my favorite grains and I was happy to see a healthy food item served onboard.
After that, our trays were taken away and the flight attendants came by with a vanilla bean gelato dessert and bottles of water for every passenger.
Now, I've said this before and I'll say it again. A crew's attitude and performance can really make or break a flight and fortunately for me, this LA based Continental crew was FANTASTIC! I really couldn't have ask for anything more from them. They were friendly, personable and proactive! Yes, proactive. Can you believe that? Even with this completely full flight, they managed to take care of everyone in a timely and efficient manner.
During the meal service, drinks were refilled several times and they came around constantly throughout the flight with trays of water. You could tell this was a crew that cared about their job and about their customers.
After lunch, the flight attendants came by with a duty-free sales cart. The lights and electronic windows were then dimmed so those that wanted to sleep could.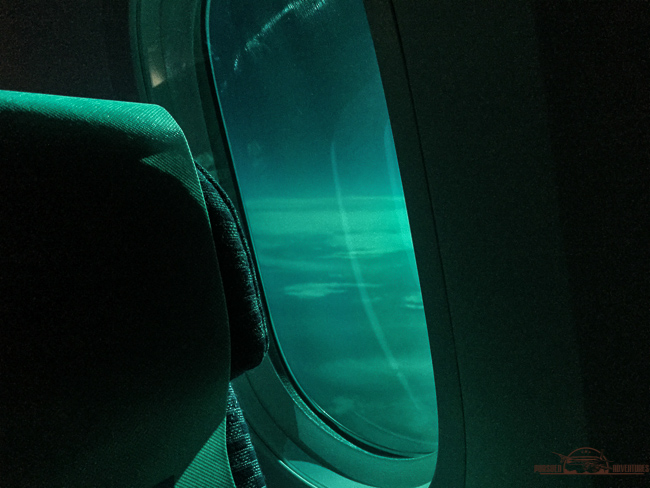 I wasn't tired so I stayed up to watch a couple of movies. One of United's strongest features is their extensive media collection. There really is enough here to keep anyone, young and old, entertained for even the longest of their international flights. There was a great selection of new Hollywood movies including Home, Run All Night, Inside Out and Mad Max, TV programing such as How I Met Your Mother and Brain Games and even premium TV content from HBO such as Game of Thrones. And if that's not enough to entertain you, there's also a huge music collection, audiobooks, video games and a moving map. Coupled with the crisp and clear IFE touchscreen monitor, my flight flew right by. But annoyingly now, ads are being played before each movie.
If you're still hungry after lunch, the snack boxes found on domestic routes are now offered for sale on the international routes. Not one to turn down food, I bought the Tapas box. It was nothing special but had some crackers, pita chips, cheese, bruschetta, hummus, olives, almonds and a small packet of chocolate. It was good and filling enough to hold me over till breakfast.
About an hour and a half before arrival, the cabin lights were turned on and the flights attendants came around with breakfast. Breakfast was either scrambled eggs or chicken with fried noodles. I ordered the scrambled eggs. It was served with a fortune cookie and a bread roll. This meal was kind of odd and was not as tasty as the first meal. I wonder if the catering team knew we were headed to Tokyo and not Shanghai. . .
Arrival into Tokyo Narita was smooth and easy. For those of us connecting through to another international flight, we had to clear through security again before hitting the transfer desk for our onward boarding passes.
This is where I would normally end my trip reports but since I did this flight on the return also, I figured I would add it here instead of writing a whole new trip report. The aircraft and crew were the same so I won't go into detail regarding those aspects again.
Flight: UA33
Aircraft: Boeing 787-9 Dreamliner
Tokyo Narita (NRT) to Los Angeles (LAX)
Depart: 4:55 PM on Thursday (4:48 PM actual)
Arrive: 11:05 AM (10:30 AM actual) same day
Duration: 9hr 42mn
Seat: 27L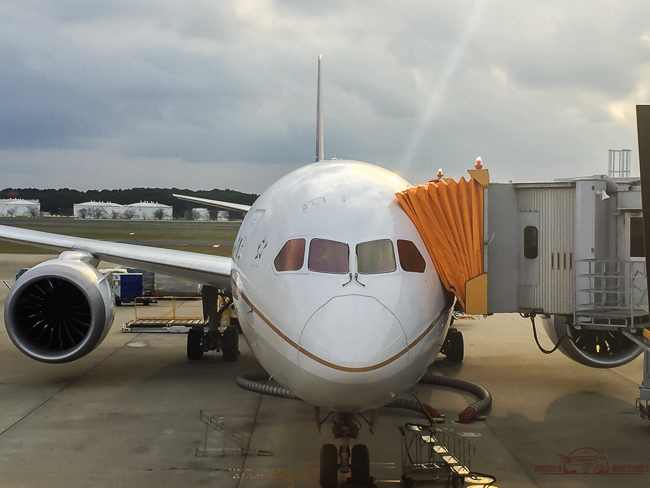 The only difference for my return was that I was in seat 27L, a window seat on the right side of the plane. Everything was identical to my description above except there was no overhead storage above these seats because the bin is reserved for crew use only. The three passengers on the right side had to store our bags in other places.
Pre-meal drinks were served with a bag of bruschetta chips.
For dinner, there were two options: Ginger pork or chicken with rice. Being a little suspicious of the ginger pork, I went with the chicken and rice again. Except, it wasn't the same chicken and rice on the outbound! It was some onion chicken with rice served with a side quinoa salad and bread roll. This chicken and rice dish was not as tasty (apparently, you can go wrong with chicken). Instances like this is when I really wished United had menus or descriptions of their meals prior to asking us for our meal selection. Quick question for my readers – have any one of you ever asked for a second meal if your first selection was not good? I've thought about it many times but have never tried it. It has to happen right?
At any rate, I didn't eat much of it but the ice cream dessert was delicious.
Luckily, I was pretty tired and crashed out shortly thereafter. I surprisingly slept for a few hours and slept right through breakfast service. So I can't tell you what was served or how it was. Sorry.
United Airlines long haul economy class bottom line:
Overall, I was very impressed with this turnaround trip. The seat itself is just average for long haul economy class. With nine across, it's a little tight in the hips but that's pretty standard nowadays. The massive IFE entertainment selection and electrical power outlets were appreciated and definitely made the long trek fly by more quickly. The catering was hit and miss but was a definite improvement over years past. And lastly, I really do wish for things like warm towels before/after meals and menu cards.
But all that aside, what really made this flight for me was the crew. They were all so nice and attentive. As you guys know, I hate ringing my call button or asking for things so when the crew is proactive to my needs, it really makes it a more pleasant experience for me. I really do hope that this is a positive trend for United and not just a fluke that I had some great crews.
This review is part of my mileage run to Taiwan in October. The other trip reports in this series include: