I really enjoyed my flight in Japan Airlines First Class. I'd love to experience it again, but for now all I have is some new amenity kits. I was offered the opportunity to preview the new amenity kits from Etro. Here is a previous version of the Japan Airlines First Class Amenity kit.
Welcome to another installment of our amenity kit review series. As in previous reviews, I will be reviewing this amenity kit on a scale from 1 to 5 (being the best) and will rate it based on five categories:
Bag/container: design, quality and reusability/collectibility of the bag.
Product: quality, size and variety of the facial and body products.
Comfort items: eye masks, ear plugs, etc.
Miscellaneous: pens, tissues and everything else.
Extras: additional items that make your flight just a tad more comfortable including pajamas, slippers, etc.
Japan Airlines First Class Etro Amenity Kit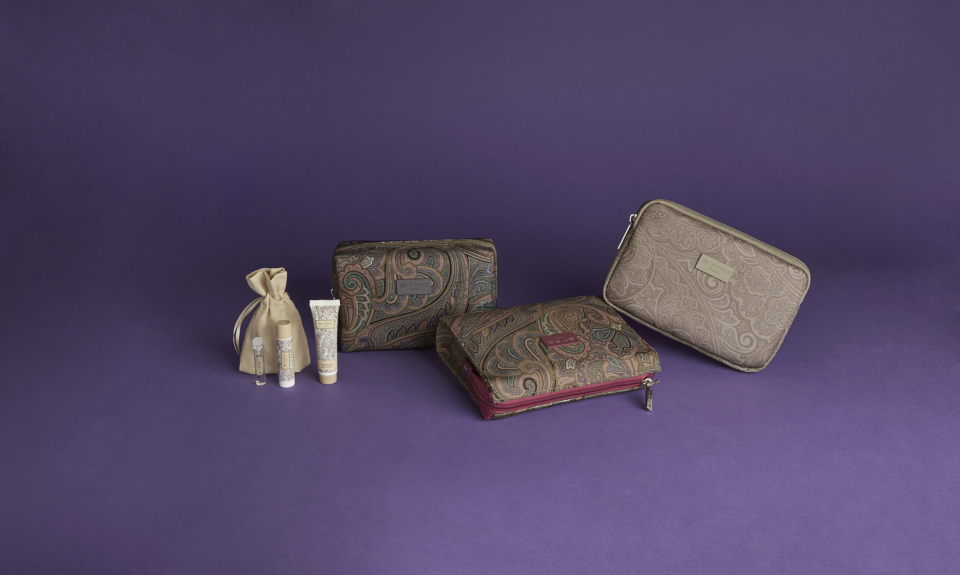 The photo above is a stock photo from Etro showing the 3 types of kits available in Japan Airlines premium cabins. I was provided each of the first class kits. The contents of the first class kits are nearly identical, except the kit with red trim has an additional item. I did not get a business class kit, but I'm told the contents are similar, but contain less items.
Bag/Container
The cases are rather boldly colored for my taste, but are a nice compact size that would be good for reuse. A little to loud for my taste, but apparently it is part of the Etro branding.  Admittedly I don't really keep up on most high fashion companies. Score: 3.5
Product
Etro is a high quality fashion house, and they also make perfumes.  The kits contain some perfume, lip balm and lotion, all with the Shantung scent. The scent is pleasant enough, not too overpowering, and presumably unisex. Since I didn't receive this kit on board, I didn't get to see what else might be available. High quality products, but a little thin as it stands for a First Class kit. Score: 3
Comfort items
These are pretty standard items in any airline amenity kit.  I have knocked the foil packet mouthwash container in other reviews, and that continues here.  This kit also contains a toothbrush and toothpaste, and a hair brush. There is a pretty standard set of earplugs, eye mask and some tissues. Nothing that screams First class. I expect that Japan Airlines First Class pajamas are part of the on board offering, so I would likely rate this higher if that was included, so for now I'll consider this incomplete. Score: 3
Miscellaneous
This kit stands out for some unique items that are included, there are 2 facial masks, at least in the inbound (red trim) kit. The Gentle Steam Eye Mask is only included in that version of the kit. The moisture mask looks like a breathing mask, with a moist sheet included. Initially I thought this was a cosmetic item, but further investigation almost makes it seem like some sort of breathing mask, and maybe helping with dry airplane air?  I did try the moisture mask out, and it is just a face mask with what seemed like a moist towelette inserted between layers.  Strange.  Here is me trying it out:
I am a bit perplexed by some of the contents. Moisturizing options are a good thing especially in the dry air of a long haul flight, but this doesn't seem very first class. Score: 4
Extras
I don't have anything else to review in this kit, but admittedly it is incomplete without the full set of items that would be available on board. Pajamas and slippers come to mind. When I flew this product, there were a few other items provided to first class passengers onboard. Score: (incomplete)
Final thoughts on Japan Airlines First Class Etro Amenity Kits
This kit has some unique and high quality products, but overall it seems rather light on high end products that are part of a true first class amenity kit.  I can't give a full score without all of the items that would be offered inflight, so the low score reflects that with the caveat that the review is somewhat incomplete. The kit itself looks nice, but it feels more like a nice Business Class kit, than a high end First Class amenity kit. Compared to the old version of the JAL kit, these offerings are weak. Overall, the (albeit incomplete) score averages out to 3.4, much lower than the 4.9 we rated the last version.
Have you received one of these kits on a Japan Airlines First Class flight? Please let us know what you think. I'm not impressed.
Other Amenity Kit Reviews