No, no, this is not some Chinese sex club located at the airport where they have an ancient dildo.  It's named "No. 69 VIP Lounge" because it's located above gate #69 in terminal 2 of Shanghai's Pudong International Airport. It's a standard contract lounge shared by a mishmash of airlines including Aeroflot, China Southern, Delta, Qantas and others.  Priority Pass members are also granted entry.  The lounge is located upstairs and is balcony style, meaning you overlook the gates below.
As you enter the lounge and show your credentials, you'll be directed to either the first or business class sections.  For some reason, Priority Pass members are allowed entry to the first class section but don't fret, both sections are identical and offer the exact same food and beverage selections. The first class section was a tad bit less crowded.
There's a decent amount of seating and privacy with small cubicle-like partitions in the main seating area. There's no business center or work areas but there is a small table with two computers for you to use if you forgot your laptop at home. The WiFi was decent and allowed me to check some emails. It's not the quietest lounge because you do hear all the noise from the gates below but you get some cool views of the airplanes. Tired and stressed from all that traveling? There are two complimentary Brookstone type massage chairs for use in the main lounge.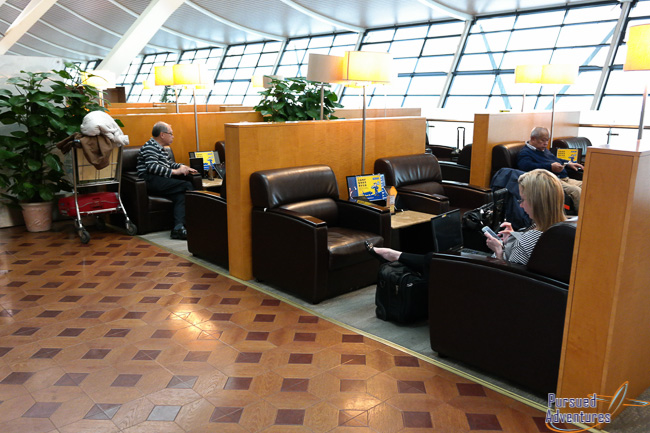 Food was plentiful with a good selection of hot and cold dishes including fried rice, chow mien, stir fry, sandwiches, instant noodle, fruit and desserts. There's a small self-serve bar area with a tiny selection of wine, beers and spirits.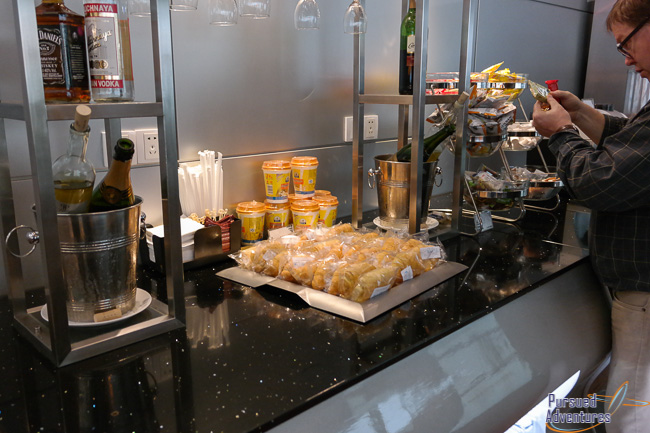 Gate and boarding announcements are not made so you have to keep track of that yourself with the various flight boards located throughout the lounge.
It should be noted that at the time of my visit (4:00PM), the lounge was about half-full. Not knowing any better, I actually made my way over to the No. 77 VIP lounge used by Star Alliance carriers. Bad move on my part because the No 77 VIP lounge was significantly more crowded and the food offering was not as good. I had to make several loops around the lounge before I was able to find a table to sit at. I should have just stayed here.
Other trip reports in this series:
VIP lounges at Shanghai Pudung International Airport