The Turkish Airlines CIP lounge at Istanbul Ataturk International Airport is located on the departure level near gate 220.  The lounge is accessible by first and business class passengers on all Star Alliance flights, Star Alliance Gold members and Miles and Smiles elite members. Star Alliance Gold members and Miles and Smile elite members may invite one guest.
Please click here for my updated review of the Turkish Airlines CIP Lounge Istanbul.
Turkish Airlines is one of my favorite airlines and the newly remodeled CIP lounge is definitely one of my favorite lounges as well. This business class lounge is impressive and is better than some first class lounges that I have visited. It's a massive and beautiful space to rest and relax before or after your flight and I highly recommend you visiting if you are connecting through Istanbul.
To enter the lounge, you simply present your boarding pass and credentials to the front desk agent. As your credentials are approved, the gates will open, angels will sing and you will be granted entry into one of the best business class lounges in the world.  Okay, there won't be any angels singing but you will be in awe if it your first time here, as it was mine.
The beautiful architecture and ambiance of the Turkish Airlines CIP lounge hits you immediately as you enter the doors.  The open air, dome-like rooms created defined spaces to the massive lounge without making you feel confined or claustrophobic.  The lounge was beautifully decorated in both modern and traditional Turkish design elements with each section of the lounge different from the last. There was a nice flow to the lounge and each new area invited you to continue exploring the next.
Now, the Turkish Airlines CIP Lounge is a topic of much discussion and many people have reviewed it before. Fellow UPGRD bloggers Brad, Mike and Matthew have previously reviewed the lounge here, here and here. Talk to any frequent flier and the most common thing you'll hear is, "I really liked the Turkish Airlines CIP lounge but it was too crowded. . . "
And while that may have been true, Turkish Airlines responded to that complaint by adding a second level to the existing lounge. The second level was completed in February 2014 and increased the size of the lounge by almost 70%. The new addition is located below the primary level and is connected by a beautiful spiral staircase that leads into a garden like space.
If you don't want to haul your luggage around, there are two self-service, luggage storage areas to secure your belongings. The individual lockers are large enough to fit a carry on size bag and can be programmed with your own combination.
The other defined areas of the massive lounge included a reading room with a full size billiards table, work areas with iMac computers, movie room with a popcorn machine, enclosed kid's play room with video games and more dining rooms and food and alcohol stations than I could count.
The lounge had plenty of seating options from work and dining tables to lounge chairs and couches. There was a good variety of seating space to allow people to rest and relax or be productive. At the time of my visit, the lounge was approximately 30% full and I did not have a problem finding a table or seat at all. Granted, I was there at 10:00 AM on a Sunday so I can't attest to how crowded it can be during the week.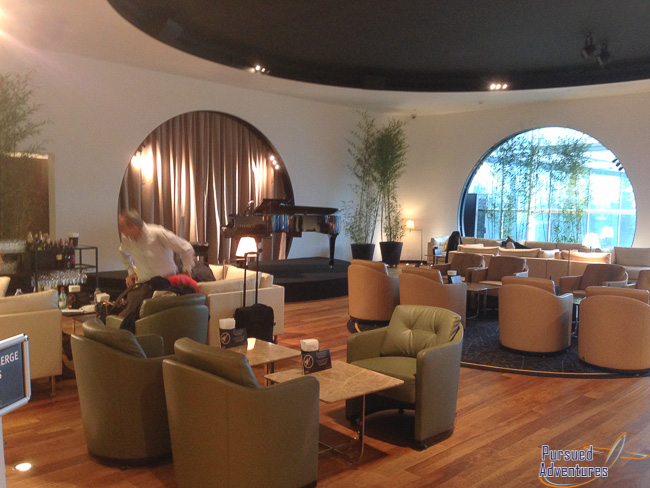 There is no denying how impressive this lounge was but in my opinion, what made this lounge special was the food. Seriously, the food spread was amazing. The food was catered by gourmet catering company, Do & Co, and it did not disappoint.
Walking around the lounge, there was no shortage of food or alcohol stations. There were plenty of buffet stations with hot and cold dishes from breakfast items and hot sandwiches to fresh fruit and cold cuts. If you don't like eating from a buffet bar and want something more "made to order," you can order from omelette station. Too early for alcohol and want some coffee to pick you up? There was a beverage bar with a wide selection of traditional and Turkish coffees and teas. Got a sweet tooth? There was an entire station dedicated to desserts and other sweet items.
Around lunch time, the breakfast bars switched to hot lunch items including grilled meats, pastas, pizzas, sandwiches, soups and other Turkish mezze.
Other lounge amenities included day rooms, shower suites, WiFi, computers, printers, universal power outlets, complimentary massages and other entertainment such as a virtual golf simulator, putting green and a micro car race track.
Service wise, the lounge was kept clean and there were plenty of attendants bussing dishes and re-stocking the food stations. The lounge was kept a bit on the warm side and they did not make any gate or boarding announcements. But don't worry, there were plenty of flight information boards around.
I tested the WiFi by connecting to Facebook, Instagram and other social media outlets and it was extremely fast. The WiFi was password protected and you can request the password from the concierge desk located in the back of the lounge. Because I wasn't connecting from a flight, I didn't need to freshen up in the shower suite. But I did take advantage of the complimentary neck and shoulder massage by the massage attendants that were walking around the lounge.
A note about the day rooms. Day rooms are complimentary for passengers but the rules are a little restrictive.  You can only use them only if you are connecting from a longhaul Turkish Airlines flight AND your layover is between 4 and 7 hours AND you are connecting to another Turkish Airlines flight. You can use the day rooms for up to six hours. If your transit requires a longer stay, Turkish Airlines does provide free tours of Istanbul city or a complimentary stay at the airport hotel. City tour information can be found here and hotel information can be found here.
Overall, I was very impressed with the Turkish Airlines CIP Lounge and I definitely recommend a visit. It was much larger than I expected and (surprisingly) not as crowded as everyone made it out to be. As I said before, Turkish Airlines is one of my favorite airlines to fly and access to this lounge is just another point in their favor. My only complaint was that I didn't have more time to spend here.
For those of you that enjoy a lot of pictures, here's a photo slideshow with a lot more photos of the massive lounge. Thanks for reading and feel free to leave me your thoughts below.
[youtube https://www.youtube.com/watch?v=QcGzAVwOnXM]
Other trip reports in this series: