All good things must come to an end and boarding this flight meant the end to my amazing trip around the world. 10 days and 25,000 miles later, this Air Canada A319 would be my ride home on the final leg of my journey from Montreal to Los Angeles. On this trip, I was fortunate enough to redeem my United miles (before the devaluation) for some incredible airlines including Asiana Airlines, Thai Airways and Turkish Airlines and visit some incredible lounges such as the Turkish Airlines CIP Lounge in Istanbul and the Thai Airways Royal Spa Lounge in Bangkok. Needless to say, this leg on Air Canada's "domestic" business class was a little underwhelming but I'll try to keep my disappointment to a minimum.
Flight: AC 775
Aircraft: Airbus A319
Montreal (YUL) to Los Angeles (LAX)
Depart: 5:55 PM on Thursday (5:47 PM actual)
Arrive: 9:15 PM on Thursday (8:46 PM actual)
Duration: 6hr 20mn
Seat: 2F Business Class (Executive First)
This flight was actually considered a "domestic" flight for customs and immigration purposes. Instead of clearing customs and immigration when I arrived in Los Angeles, I had to clear immigration and security upon my arrival to Montreal (from Paris). Luckily, there was a Global Entry kiosk and I was able to breeze through customs and immigration within a few minutes and make my way to the Air Canada Maple Leaf Lounge (C terminal). The lounge was small but decent and had a good selection of food and drinks. A full review of the lounge will be coming soon.
About 10 minutes prior to boarding time, I left the Air Canada Maple Leaf Lounge and walked over to my plane located at gate C73. I arrived at the gate with a few minutes to spare and took some pictures of the bird before boarding was called. Boarding started with business class passengers and Star Alliance Gold members and all passengers boarded the plane through door 1L. I presented my boarding pass to the flight attendant and made my way to seat 2F on the right side of the plane.
Air Canada uses these Airbus A319's on their domestic, trans-border and Caribbean routes.  These narrow-body jets are configured with a two class cabin, business and economy. Air Canada recently rebranded their entire product line and got rid of the "Executive First" title. Their narrow-body premium product is simply called "business class" now.
These seats are what we Americans would refer to as domestic first class seats. They were nothing special but were adequate enough for regional and transcon flights. Keep in mind that Air Canada does use these planes for seasonal service to Europe. So make sure to check your flight using a website such as Seat Guru before booking.
Business class was located in the small forward cabin with 14 seats in a 2×2 layout. On this flight, six of the 14 seats were occupied and there were two flight attendants working the business class cabin.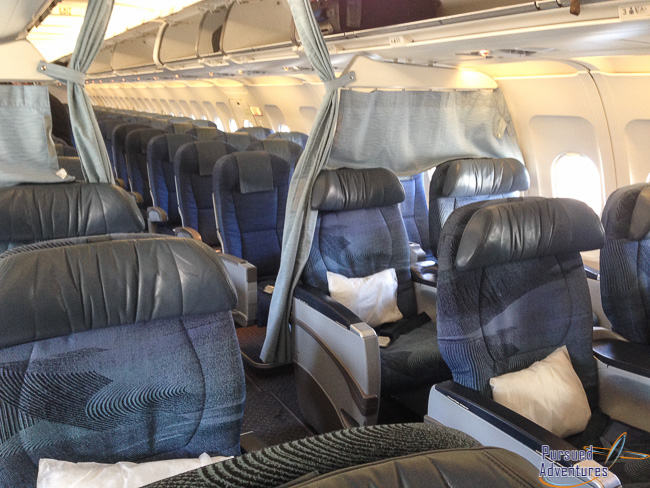 Waiting at my seat were a set of Air Canada branded headphones and a pillow. As I settled into my seat, the flight attendant came by to offer me the menu and a glass of water or orange juice.
Boarding was completed ahead of schedule and we pushed back from the gate eight minutes early. As we climbed out of Montreal, I was able to snap this amazing photo of us flying into the sunset.
Once we reached our cruising altitude, the seatbelt signs were turned off and the flight attendants came by to distribute hot towels, nuts and pre-meal drinks. Dinner service started with bread and a side salad. For my main course, I chose the seared salmon with rice pilaf. The food was just okay and nothing to rave about. For dessert, we were served a fresh baked chocolate chip cookie with vanilla ice cream which was delicious!
Dinner was served in courses but for passengers that wanted to rest, there was a flexible meal option where they could have everything served all at once.
After dinner, our plates were cleared and I took some time to explore the IFE system a bit more. This was definitely an older system and the monitor was not the best quality. The 8 inch monitor was located in the seatback in front of you and there was a small selection of on-demand movies, TV shows and music.
The seats offered 21 inches of width, 38 inches of pitch and 124 degrees of recline. Each seat was also equipped with a universal power outlet, USB port, reading lamp and a footrest.
Because I wasn't able to sleep much on my last flight, I actually dozed off for a few hours. With only five inches of recline, it wasn't the most comfortable sleep but it was good enough. Six hours was definitely a bit too long for this seat and I was happy for us to arrive in Los Angeles.
Service wise, the two flight attendants were wonderful! I've heard so many people complain about Air Canada flight attendants but in my experience on this flight and on my flight from Paris to Montreal, I thought they were fantastic. They were friendly, personable and went out of their way to take care of us. My ramekin of nuts was refilled several times and my drink was never empty. They came by several times throughout the flight to offer me snacks, water and see if I needed anything else. They were an attentive crew and I couldn't have asked for anything more.
We arrived into terminal two at LAX and since we had already cleared customs and immigration in Montreal, didn't have to go through any additional screenings.
Overall, this was a decent experience for my second flight with Air Canada. The seat and food were just mediocre and nothing to write home about. Six hours was definitely a little too long for this seat but the friendly and attentive flight attendants and the small selection of in-flight entertainment did make the experience a bit more enjoyable.
Other trip reports in this series:
Air Canada business class (Executive First) from Montreal to Los Angeles