In Terminal 3, there are two ANA Lounges for business class and Star Alliance Gold members to use. The main lounge (this review) is located near gate 110 and the other lounge is located near gate 114. As you exit the immigration and security check, make a right-hand turn and walk past all the duty-free shops. Follow the signs for the airline lounges and take the escalator or elevator up to the 4th floor.
This ANA Lounge is open from 5:00 AM to the time of the last ANA scheduled flight and is accessible by:
Business and premium economy class passengers traveling with ANA
Business class and Star Alliance Gold passengers traveling with ANA or any Star Alliance partner

ANA Diamond, Platinum, Super Flyer, and Star Alliance Gold members may bring one guest if they are departing on the same flight.

Priority Pass (PP) members with a confirmed same-day boarding pass with any airline. However, PP members are not permitted between 5:00 AM and 11:00 AM daily.

Regardless of your membership agreement, Priority Pass Members may only bring in one guest, and even then, access may be restricted due to space constraints.
As of February 1, 2023, the ANA Lounge at Haneda Airport is no longer a Priority Pass partner lounge. 

Day pass – All ANA passengers may purchase single-day lounge passes. If you buy a day pass ahead of time on ANA's website, the cost is 4,000 Japanese Yen. If you buy it at the airport, the price jumps up to 6,000 Japanese Yen. More info about day passes can be found here.
Other bloggers may not agree with me but I think ANA has great lounges across their network. I think their lounges are spacious and modern and the catering and amenities are top-notch. And though, I do agree that this lounge can get crowded at times, I think it's large and spacious enough to handle the increased traffic. Here's a map of the lounge.
As you enter the lounge and scan your credentials, there will be a stand-alone machine located to your left. This is the shower reservation kiosk. If you want to take a shower, it's best to request a shower suite sooner than later as it does get busy and there may be a long wait for a shower during peak times. Towels, personal hygiene, and bath and body products are provided for your use.
This is a really nice lounge and honestly, Priority Pass scored big time with this arrangement. But regardless of how you gain access, you will enjoy a quality space to rest and relax before your flight. The lounge is gigantic and if you love views of the ramp and runway below, there are plenty of comfortable lounge chairs and tables along the windows. Electrical outlets are located by all the seating areas and password-protected WiFi is provided throughout the lounge.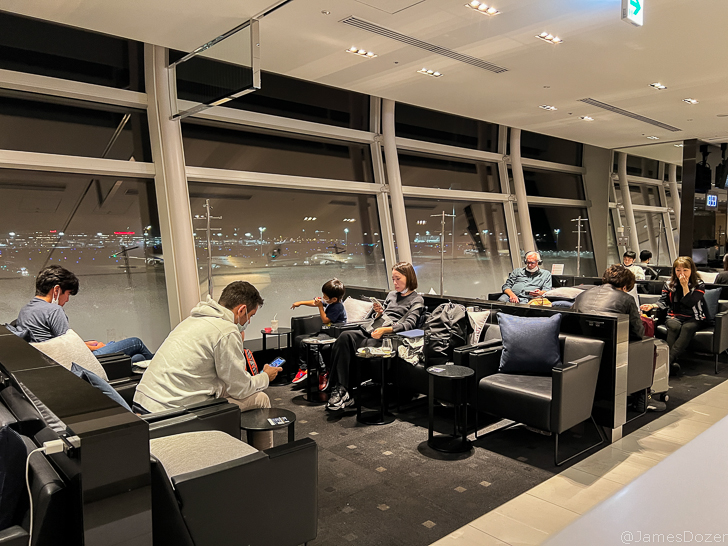 The main seating area is located in the center of the lounge. Here,  you'll find a dining room and a large open area with long bar tables partitioned off for guests to work or enjoy a meal. I will admit that this space isn't the most comfortable but it does allow for the most amount of people to use the space. If you just need an easy place to sit down and work, these tables will be just fine for you. During my visit, this is where I spent the bulk of my time eating and working.
In the front of the lounge, adjacent to the buffet area, there is another small dining/work area with some tables and chairs along the windows.
In the back of the lounge, you'll find two more seating areas with traditional leather lounge chairs and tables. These areas tend to be less crowded and quieter than the main seating area so if you don't mind being in the back, these areas will offer you a quieter place to rest and relax before your flight.
For food, there are two buffet stations. The main buffet station is located in the front of the lounge and there is a smaller station located in the back of the lounge. At the time of my visit, 6:45 PM on a Sunday night, there was a great selection of light bites such as salmon rolls and fried chicken bites, and more filling options such as chicken curry and rice. There is also a made-to-order noodle bar where you can order traditional bowls of Japanese udon, ramen, or soba noodles. I don't know about you but there's something about a warm bowl of noodle soup that comforts me before any long-haul flight.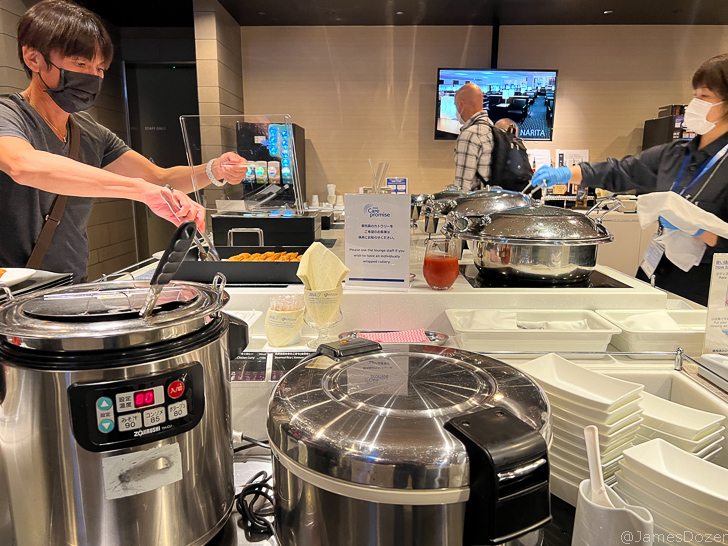 For drinks, there is a small selection of beers on tap, wines and spirits on display, and a sake-tasting station. Coffee, soda, water, and juices are also available.
ANA Lounge Tokyo Haneda Bottom Line
In my opinion, I think the ANA Lounge at Tokyo Haneda is a great lounge. The lounge is spacious and modern. The catering is fantastic and the amenities are appreciated. I think the biggest complaint most people will have about this lounge is that it can get busy during peak times but as someone who usually gains access with my Priority Pass card, I appreciate the opportunity to rest, relax, and get cleaned up before my flight back to the States. This was one of my favorite lounges and I'm sad to see it's no longer a partner lounge for Priority Pass members. That being said, I'm sure business class and ANA/Star Alliance elite frequent fliers will appreciate the less crowded space.
Have you visited the ANA Lounge at Tokyo Haneda? If so, please share your thoughts with us in the comments section below. Thanks for reading!
The other posts in this series include:
Review: Disney Ambassador Hotel, an official Tokyo Disney Hotel