At Tokyo Haneda Airport, the majority of international flights depart from Terminal 3 and ANA's check-in counters are located in the D/E area. For this flight, I arrived at approximately 6:30 PM and the check-in counters were fairly empty. I verified my documents, dropped off my bag and had my boarding pass in hand in less than five minutes. Security and immigration were also quick and easy and I was through in less than 10 minutes. This is really incredible for a major international airport.
I then made my way to the ANA Business Lounge for a shower and a bite to eat. I had spent all day at Tokyo Disneyland prior to arriving at the airport so needless to say, I was hungry and in desperate need of a shower. I no longer have Star Alliance Gold status but luckily for me, the ANA Lounge at Haneda doubles as a Priority Pass partner lounge. I know this is a very sensitive topic amongst frequent fliers but don't worry, the ANA Lounge at Tokyo Haneda is well-equipped and large enough to handle the increased traffic. The lounge is spacious and the food is fantastic. This is one of my favorite Priority Pass partner lounges and I would definitely recommend a visit before your flight.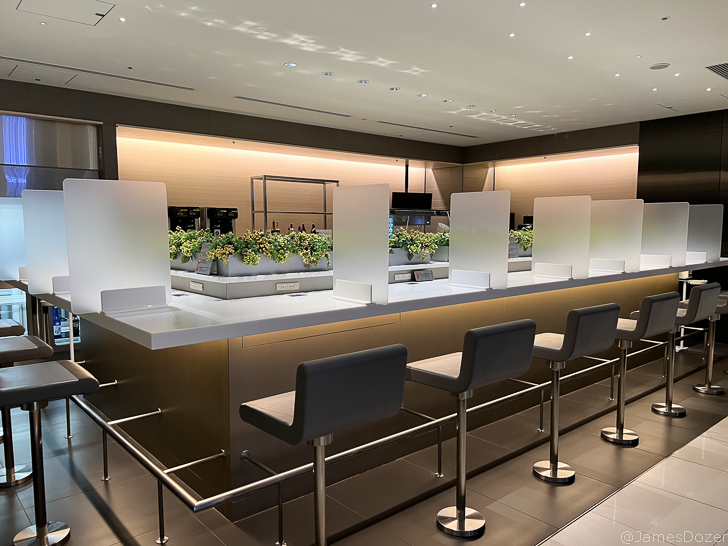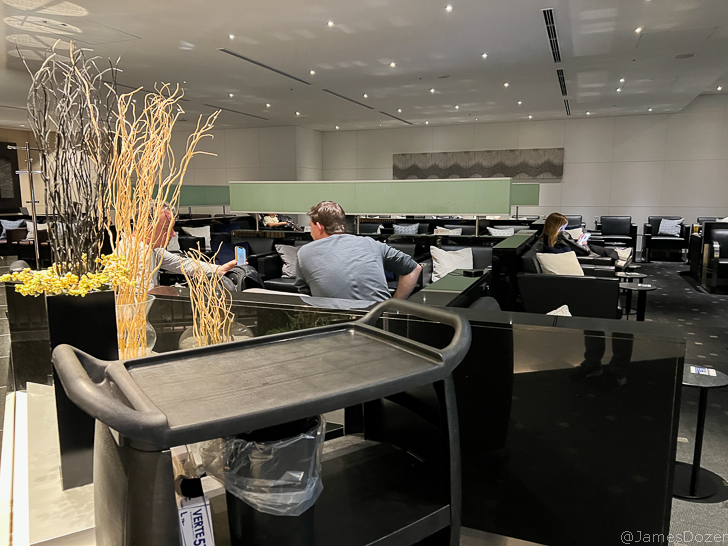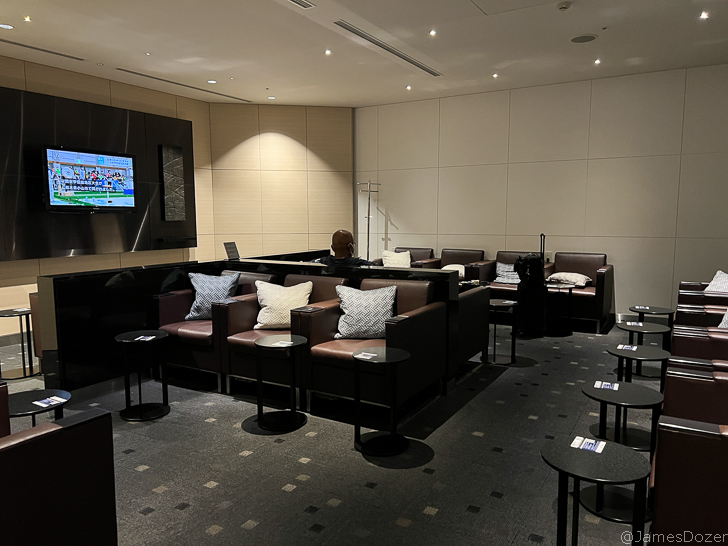 Flight: NH126
Aircraft: Boeing 787-8 Dreamliner
Tokyo Haneda (HND) to Los Angeles (LAX)
Depart: 9:05 PM (9:08 PM actual) on Sunday, October 16, 2022
Arrive: 3:10 PM (2:57 PM actual) on Sunday, October 16, 2022
Duration: 9hrs 49mns
Seat: 24A Economy Class
I left the lounge a few minutes prior to boarding time and made my way to gate 109. Boarding for our 9:05 PM flight was delayed about 15 minutes but once it began, it was smooth and orderly.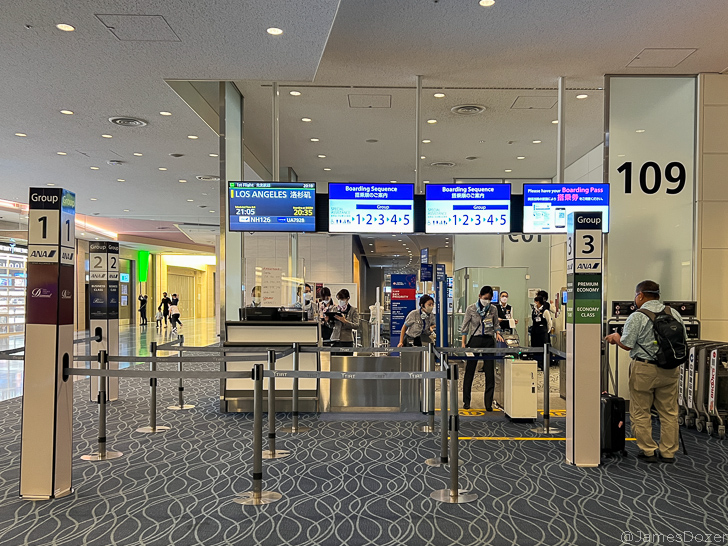 ANA has three different configurations for their Boeing 787-8 fleet. In this version, there are 184 total seats with three classes of service: business, premium economy, and economy. In economy class, there is a small forward cabin with just five rows of seats and a larger cabin behind it with 11 rows of seats. Economy class seats are configured in a 3-3-3 layout, offering 17 inches of width and 31 inches of pitch for all passengers.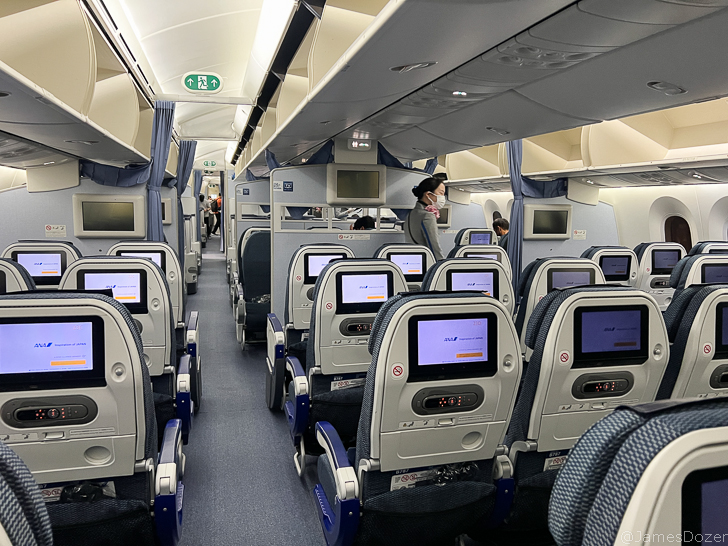 On this flight, I was seated in seat 24A, which I think is one of the best seats on this aircraft. Row 24 is the last row in the forward economy class cabin. SeatGuru warns that seats in row 24 may have limited recline but that's not true. These seats are located in a smaller, more intimate cabin; have full recline and they don't have anyone behind them. Unless you like the emergency exit or bulkhead row seats, I think economy class seats in row 24 can't be beaten.
Waiting at our seats were a pillow, blanket and a set of plastic headphones. The headphones were nothing amazing but they were much better than the disposable earbuds that other airlines give out nowadays. The pillow was a little thin and the blanket was long enough but not very wide.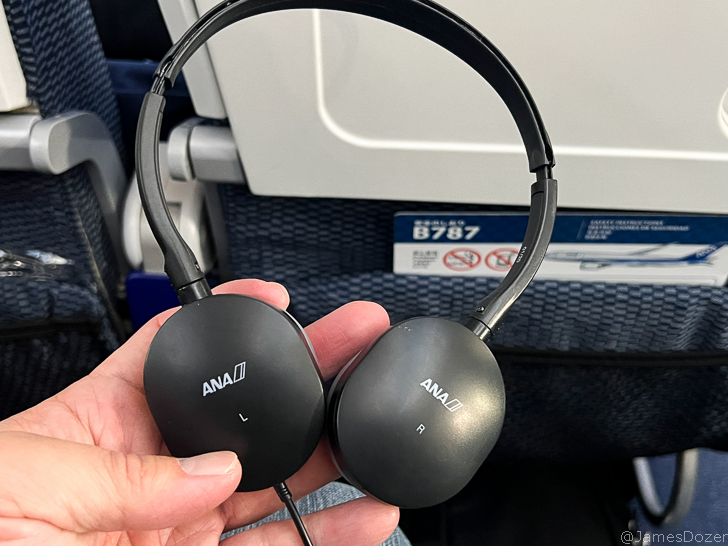 The seat itself was decently padded but if you have sciatica issues or problems with leg numbness during flight, I highly recommend you get yourself one of these travel cushions to provide some additional comfort. When I'm flying in economy, I always pack this in my bag as it can be inflated in seconds and it does wonders for my seat comfort. You can check it out on Amazon by clicking here.
Each seat offers a personal entertainment system with a limited selection of western entertainment. I will say this is an area where ANA can really improve. For their "new releases" category, there was only a handful of new Hollywood movies such as Elvis, Lightyear, Top Gun: Maverick and the new Fantastic Beasts movie. The rest are Japanese or foreign cinema movies.
USB outlets and universal electrical outlets are provided at every seat. However, I found the USB outlet extremely inadequate for charging my phone. I would recommend using the electrical outlet below your seat.
Each seat also provides an adjustable headrest and an elastic footrest. The elastic footrest is not the best design but for people with long legs, it will do the trick. When reclined, the seatback reclines approximately three inches and the seat pan articulates forward, giving you an additional angle of recline (but it does reduce your knee space slightly)
These ANA Boeing 787s feature a quieter cabin, LED mood lighting, overhead vents and larger windows and overhead bins. The windows are 30 percent larger than traditional windows and are electronically controlled. No more plastic window shades here. The bathrooms are also bigger and are equipped with TOTO washlets, which provide users with a warm water bidet function. I must admit I was not brave enough to try the bidet function but I'm sure it's wonderful. The aircraft also boasts a lower cabin pressurization system that enables passengers' bodies to absorb more oxygen and thus, leave the plane feeling more refreshed.
We then pushed back from the gate and made our way to the runway for our 9-hour flight to Los Angeles. Approximately 30 minutes into the flight, the seatbelt signs were turned off and the flight attendants came around with a packaged wet towel. A beverage service was then served about 45 minutes into the flight. However, unlike my outbound flight from Los Angeles, a package of Japanese snacks was not provided on this flight. I'm not sure if they just forgot to cater it or if they don't provide it on this route.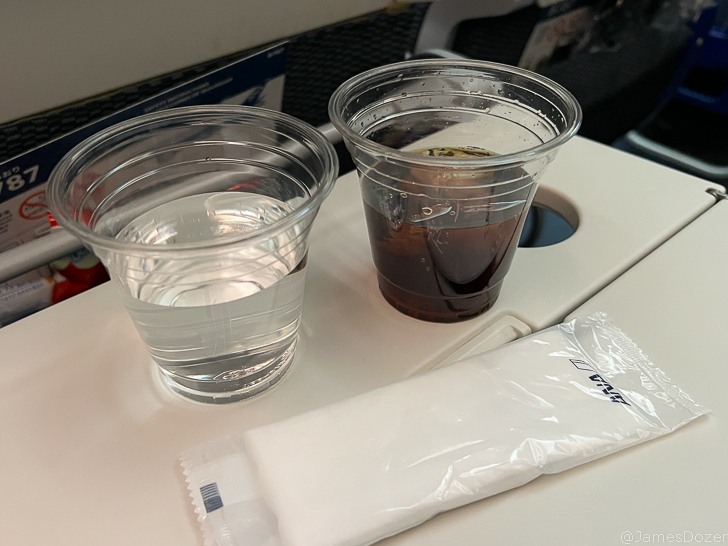 Dinner was then served about one hour into the flight. Individual menus were not provided but the flight attendants did hand out laminated picture menus to help you decide. On this flight, there were two options for dinner: simmered chicken with egg over rice or hamburger steak with tomato sauce. On my outbound flight, I went with the hamburger steak and it wasn't great so I decided on the simmered chicken and it was much better.
Dinner was served with a cup of vegetable soup, some edamame, a side salad with corn, a piece of sushi and another dish that was only described as a "health salad." I don't really know what it was but it good. The vegetable soup was just a broth but it was very good. It was warm and flavorful and it totally hit the spot.
After dinner, our trays were cleared and Haagan Dazs vanilla ice cream was served for dessert.
After dinner, the cabin lights and windows were dimmed and I settled in for a movie and some work on my laptop. In between meals, the flight attendants walked the aisles frequently to offer passengers snacks and water. WiFi was also provided on this flight but I didn't connect to it to see how fast or reliable it was. You can purchase three hours of WiFi access for $16.95 or a full flight pass for $21.95.
If you find it hard to sleep on airplanes because your head bobs back and forth, I recommend this GoSleep 2-in-1 travel sleep mask. I know it looks weird but trust me, you will get a more restful sleep with this mask than with any other sleep product. Especially on planes with limited recline, the GoSleep travel sleep mask will gently support your neck and head and prevent your head from bobbing back and forth during sleep. When I use this, I find that I sleep longer and wake up well-rested without any neck pain.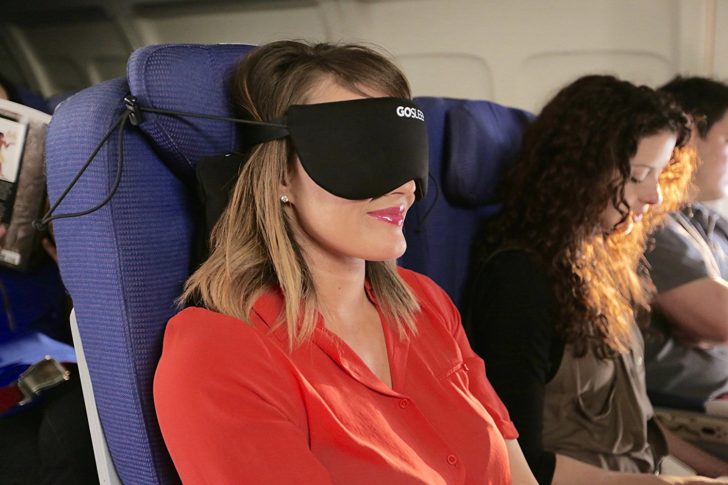 About 2.5 hours outside of Los Angeles, the cabin lights were turned on and the flight attendants prepared for our pre-arrival meal service. I don't know why ANA does this but 2.5 hours prior to arrival is way too soon. Most people were still resting and another hour of sleep would have been much appreciated. Here's the menu for the pre-arrival meal service.
For our second meal, the options were either an omelet or teriyaki fish over rice. I went with the omelet and it tasted like what you expect airplane breakfast to taste like.
After the second meal, the trays were cleared from our seats and we prepared for our arrival a full 1.5 hours before landing.
ANA Boeing 787 Economy Class, Tokyo Haneda to Los Angeles Bottom Line
Overall, ANA doesn't provide the best economy class experience by any means but I think they are a perfectly acceptable option for traveling to Japan and beyond. The entertainment system is lacking and the catering is just mediocre. The first meal was appropriately timed but the second meal service felt very premature and the flight attendants should have let passengers rest a bit longer. That being said, I thought the flight attendants were friendly and attentive and the service on board was top-notch. My seat was also better than your average economy-class seat so those are both great positives. If you can select your seats ahead of time, I would definitely recommend selecting seats in row 24, or at the least, in the forward economy class cabin.
Have you flown ANA economy class lately? If so, please share your thoughts with us in the comments section below. Thanks for reading!
The other posts in this series include:
Review: Disney Ambassador Hotel, an official Tokyo Disney Hotel