I just got back from a four-night stay at the Hilton Tokyo Bay and I thoroughly enjoyed my time. The hotel is not perfect by any means but the convenient location, great amenities, and affordable price-point make the Hilton Tokyo Bay a great option for anyone looking for an affordable vacation to Tokyo's Disney Resort. The Hilton Tokyo Bay is an official Tokyo Disney Resort hotel but the designation can be a little misleading as it doesn't really offer any of the benefits of the real Disney hotels. It's also considered an "on-property" hotel but it's not directly connected to any of the Disney theme parks either.
Hilton Tokyo Bay Location
In the Tokyo Bay area, there are two Disney theme parks (Tokyo Disneyland and Tokyo DisneySea); a Downtown Disney area called Ikspiari, and several Disney and non-Disney branded hotels. They are all connected via a monorail system called the Disney Resort Line. But unlike other monorail systems at other Disney parks, this one is considered public transpiration and you have to pay for it. It's not very expensive (260 Japanese Yen per person over the age of 12, per trip) but it's something to consider if you are traveling back and forth from the parks over the course of several days. As a point of reference, 260 JY is about $1.76 USD at the current exchange rate.
The easiest way to get to the Hilton Tokyo Bay from Haneda or Narita Airport is with the airport limousine. It's called the airport limousine but it's really just a shuttle bus so don't expect anything fancy. The airport limousine from Narita will take about an hour and cost 2000 JY whereas the airport limousine from Haneda will take about 30 minutes and cost you 1000 JY.
Both airport limousines from Haneda and Narita to Tokyo Bay will drop you off at Mahaima Station, which is the main train station for the Tokyo Disney Resort area. Some airport limousine routes will also drop you off at the Hilton Tokyo Bay but you need to check their specific schedules and routes to make sure you book the correct one. But if for some reason you book the wrong one and end up at Mahaima Station, that's okay also as the Hilton Tokyo Bay does have a free shuttle bus from/to Maihama Station. Just go downstairs and follow the signs for hotel shuttles.
All the hotels share this one stand so make sure you get on the correct shuttle bus.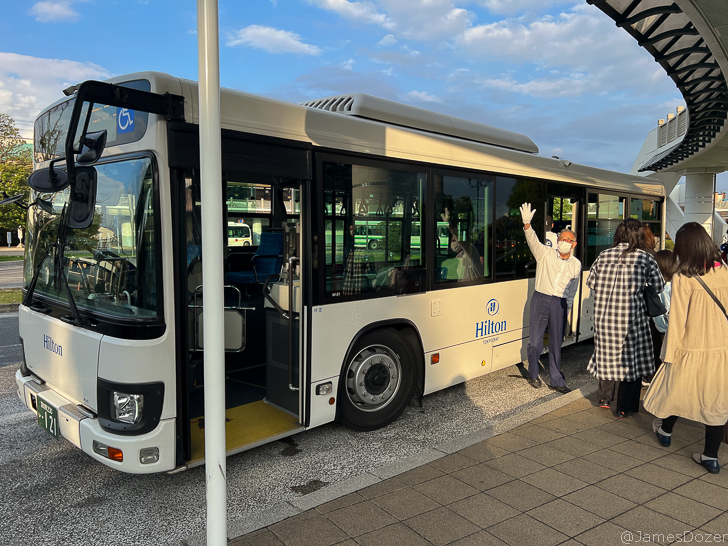 Hilton Tokyo Bay Review
The Hilton Tokyo Bay is a huge hotel. It's modern and clean but the minimalist design aesthetic is distinctively Japanese. The lobby features plenty of seating, a cafe, and a small children's play area. There are also several restaurants, a Disney shop, and a 24-hour convenience store for late-night essentials.
Based on the design of the building, the Hilton Tokyo Bay offers two types of views. Rooms to the front of the hotel offer views of Tokyo Disneyland and rooms to the rear of the hotel offer ocean views of Tokyo Bay. The benefit of park view rooms is that you can see the fireworks at night and on a clear day, you can see Mount Fuji from the ocean view rooms. On this trip, I booked a basic twin-bed ocean view room and upon check-in, was upgraded to a twin-bed Celebrio park view room. Celebrio rooms are the equivalent of Executive Floor rooms.
The room was modern and very spacious by Japanese standards. The large windows let in plenty of natural lighting and the whole space felt very airy. But as you can see, the design aesthetic is very minimalistic, which is very common for Japanese hotels. The walls were very bare and the whole room felt very plain. That being said, the room does feature great ambient lighting to fit your mood.
The seating area was simple but adequate.
The room was furnished with two twin beds, a seating area, LCD television, mini-fridge, water kettle, security safe and two sets of robes/slippers. I really appreciated these thoughtful amenities as I was able to grab snacks and drinks from the convenience store and keep them in the mini-fridge and the robes were perfect for after the shower. That being said, if I had one complaint, it would be the lack of electrical outlets throughout the room. There were no free outlets by the beds and I had to unplug the alarm clock so that I could charge my phone.
The one amenity that I really appreciated was the reusable pitcher of water. Instead of housekeeping replenishing your bottles of water, the Hilton Tokyo Bay furnishes every room with a reusable pitcher and then provides free filtered water stations on every floor. This is such a great idea and I don't know why other hotels don't do this. I drink a lot of water and this saves me from having to buy and waste a ton of plastic water bottles. Instant coffee and tea packets were also provided free of charge.
The enclosed bathroom was very basic and small. This is not a family-size bathroom so if you're traveling with more than one person, you're gonna have to do some maneuvering as it's really not large enough for two people unless one of you is in the shower. There was only one sink with limited counter space, a smart toilet, and a shower/tub combo. If I had to pick my favorite part of this room, it would be the toilet. I love the automatic seat warmers and bidet functions.
The bathroom also features ambient lighting options and a speaker to connect your favorite tunes from your phone.
Crabtree and Evelynn bath and body products were provided for your use. I personally like the smell of these products, but I don't really like the quality as I think the Peter Thomas Roth products normally supplied at Hilton Hotels are much better.
Here's the view from room 1075 (10th floor). That's Tokyo Disneyland behind the buildings in the center of the picture. The view of the park used to be much better but Disney recently added a new section to the park called, "Fantasy Springs." It won't be completed until 2023 but what you're seeing is the new Disney hotel that's connected to Fantasy Springs so, unfortunately, the view of the park is now obstructed by the new Disney hotel.
The playground in the lower right-hand corner belongs to the Toy Story Hotel. It's a cute little area to stroll through if you have some time. Officially, it's for hotel guests only but you can just walk in.
A welcome amenity (Japanese crackers) was provided. It wasn't much but it was appreciated.
Hotel amenities included an indoor pool, outdoor pool, jacuzzi, sauna, steam room, 24-hour fitness room, and a business center. I visited in October so the outdoor pool area was already closed for the season but the indoor pool stays open year-round. It should be noted that starting January 1, 2023, the Hilton Tokyo Bay will start charging for pool use. I don't know why or how much it will cost.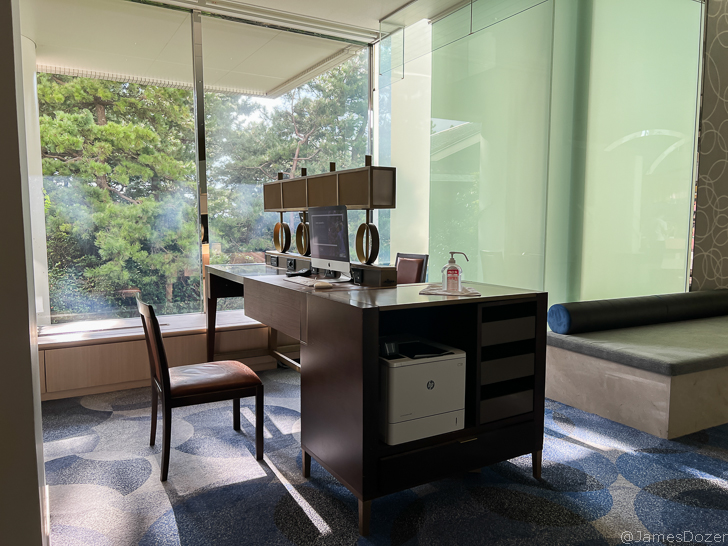 The 24-hour fitness center is one of the best hotel gyms I have ever visited. The space is huge with plenty of cardio machines, free weights and strength machines. There's even a small kettlebell section.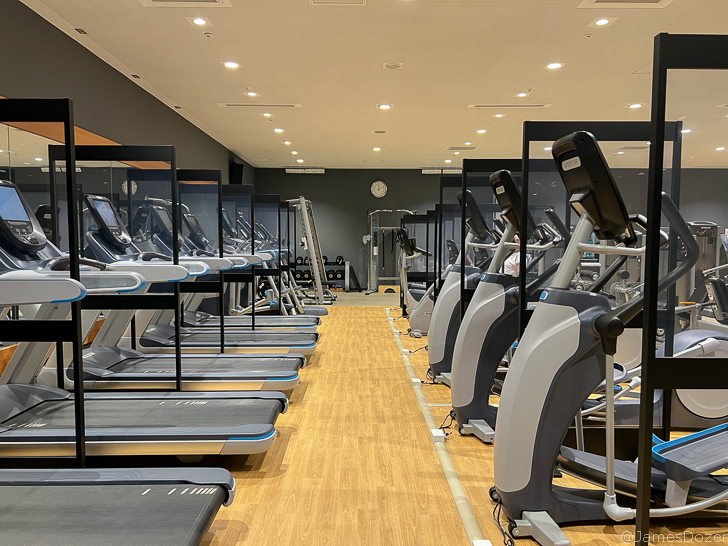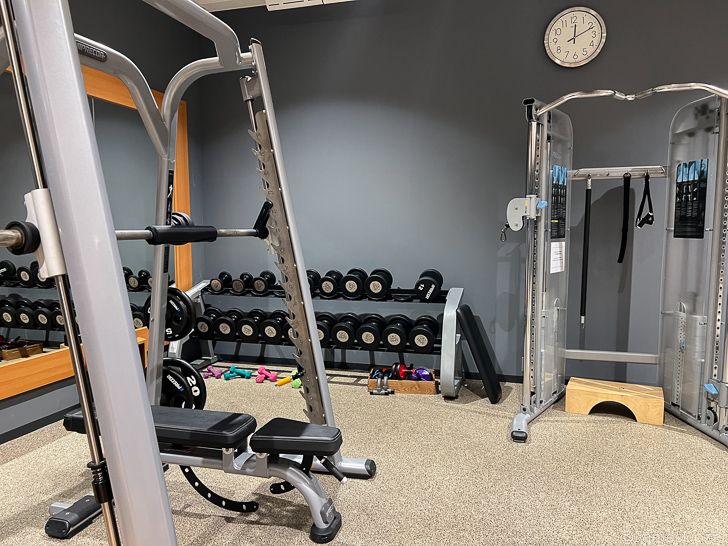 Hilton Tokyo Bay Elite Honors Perks
For Hilton Honors Gold and Diamond members, there is an Executive Lounge (Celebrio Lounge) located on the 1st floor for your use. The lounge is open from 10:00 AM – 8:00 PM and there is an evening reception from 5:00 PM to 7:00 PM nightly. Breakfast is held at different places depending on the day. On Sundays and Mondays, breakfast is served in the lounge from 7:00 AM to 10:00 AM; and Tuesday through Saturday, breakfast is served in the Square restaurant from 6:30 AM to 10:00 AM. I never made it for breakfast or the evening reception in the lounge but here are some pics of the lounge itself.
There's even a cute little outdoor patio to eat and relax outside.
Hilton Honors Gold and Diamond members also receive complimentary WiFi access and a discount of 25% at the hotel restaurants (certain exclusions apply).
I was there from Tuesday through Saturday so I ate at the Square every morning before heading to the parks. The Square is huge with two different rooms serving a wide selection of both western and Asian breakfast cuisine, from scrambled eggs and French toast to congee and dim sum. There's even an omelet station for made-to-order omelets.
Hilton Tokyo Bay Tokyo Disney Resort Benefits
In a nutshell, none. The only real benefit to staying at the Hilton Tokyo Bay is that it's located "on-property," which means it's located along the monorail route. Unfortunately, staying at the Hilton Tokyo Bay does not guarantee you tickets on crowded days, Happy Entry admission, or anything else like that.
How to Get from Hilton Tokyo Bay to Tokyo Disney Resort
The Hilton Tokyo Bay offers a free shuttle to both Bayside Station and Maihama Station. Bayside Station is the closest stop for the Disney Resort Line monorail. From here, you can take the monorail to Tokyo Disneyland, Tokyo DisneySea, and Ikspiari. The shuttle runs every 15 minutes but it's also a 5-minute walk from the hotel if you don't want to wait. Here's the timetable for the Disney Resort Line.
And here's the timetable for the Maihama Station shuttle bus.
Hilton Tokyo Bay Bottom Line
The Hilton Tokyo Bay is a great hotel at an affordable price point. It's not perfect by any means but the convenient location, great amenities and spacious rooms make the Hilton Tokyo a hotel worth considering for a budget-friendly visit to the Tokyo Disney Parks.
Have you stayed at the Hilton Tokyo Bay? If so, please share your thoughts with us in the comments section below. Thanks for reading!
The other posts in this series include:
Review: Disney Ambassador Hotel, an official Tokyo Disney Hotel