In this post, I'll explain everything you need to know about flying with Condor. I'll discuss what's included in the price, talk about what you can expect on the ground and in the air, and touch on how to upgrade your economy class ticket to a better class of service. Condor is Alaska Airlines' newest airline partner and you can now earn and redeem miles with Condor, using Alaska's own Mileage Plan program. This is an exciting opportunity for those looking for cheap flights across the Atlantic and with Condor's rapidly expanding network, you can now fly from numerous American hubs to some of your favorite destinations in Europe and beyond.
That being said, the most important thing you need to know about Condor is that their airport operations, especially at remote stations, are a mess. They are consistently plagued with frequent delays, cancellations, and other operational issues and they haven't really mastered their world-wide logistics yet. And when things go wrong, they can't always recover from their technical difficulties as quickly as other mainline airlines. But the worst part is their ground staff employees are not the most knowledgeable, nor are they helpful, so when things go wrong, they won't really do everything they can to help you. So be prepared for that.
Flight Booking, Price, Inclusions, and Upgrades
Condor recently took delivery of several new Airbus A330-900neo aircraft, which feature all-new interiors. These new planes look amazing inside and out and I really wanted to experience it first hand for a proper review. But unfortunately for me, I'm Los Angeles based and Condor doesn't fly the Airbus A330-900neo to LAX yet. Instead, they operate this route with an aging Boeing 767, which features their old business and economy-class product. Because of that, I decided to book the Frankfurt to San Francisco route as they operate that route with the new aircraft. Sure that meant a second leg for me to get back home but I was okay with it as it was an opportunity for me to try out a new airline (and a new-ish aircraft type).
For this journey, I booked a one-way, economy-class flight from Frankfurt to Los Angeles, via San Francisco, using Alaska Airlines' Mileage Plan program. FRA-SFO was operated by Condor and SFO-LAX was operated by Alaska Airlines. The whole trip cost me 25K AS miles and $181.35 in taxes and fees. 25K miles is a pretty good price for a transatlantic, economy-class flight but I must admit, $181 is pretty hefty for taxes and fees.
Like other airlines, Condor sells both "classic economy" and "economy light" tickets. These economy light tickets are super cheap but they don't include extras such as carry-on/checked bags. Fortunately, though, Condor economy-class tickets, booked via Alaska Airlines Mileage Plan, are considered classic economy tickets. On flights to/from the United States, classic economy tickets include:
One checked bag, up to 23KG
One carry-on bag, up to 8KG
One personal item such as a purse or small backpack
In-flight meals (but alcoholic beverages are not included and specialty meals may cost extra)
It should be noted that seat selections still cost money, regardless of the ticket type. It doesn't matter if you're booked in economy or premium economy class, you will need to pay 14.99 Euros to select a seat (extra legroom such as bulkhead and emergency exit seats cost 99 Euros). If you don't pay to select a seat, one will be ASSIGNED for you at check-in. And here's the bad news, if you let the system assign a seat for you, you won't be able to change it afterward. So it's definitely a gamble.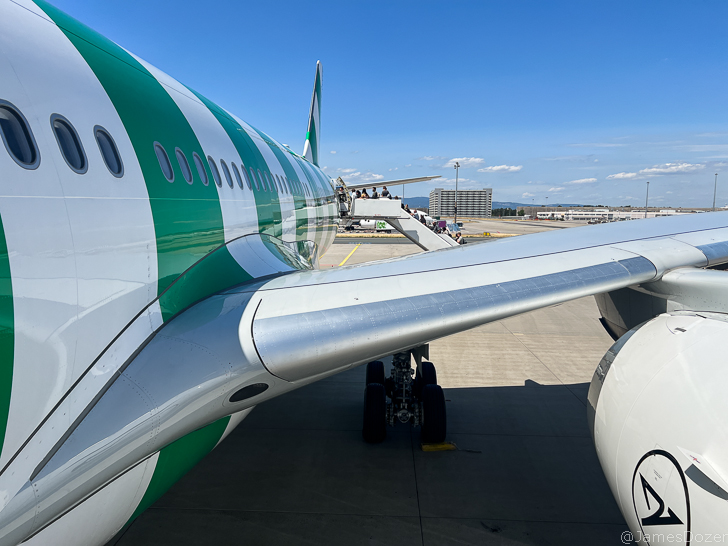 At the 24-hour mark, I logged in with the Condor app to check-in and saw that upgrades were available. If seats are available, Condor will always try to upsell you at check-in. For this flight, upgrades to business class were available for 699 Euros and upgrades to premium economy were available for 99 Euros. I decided to take the upgrade to premium economy.  
On flights to/from the United States, premium economy class tickets include:
One checked bag, up to 32KG
One carry-on bag, up to 10KG
One personal item such as a purse or small backpack
In-flight premium meals, including unlimited alcoholic beverages
Priority check-in, boarding, and luggage handling
Condor Operational Issues and Delays
On the morning of my flight, I received an email informing me my flight was delayed from 12:20 PM to 2:55 PM. Knowing this delay would cause me to misconnect in SFO, I immediately checked both my Condor and Alaska Airlines apps but saw that they had not listed the delay yet. They both showed my Condor flight as arriving as scheduled and because of that, I wasn't able to reschedule my SFO flight in the app. I don't know why but my booking was never updated in either apps to show the delayed status. However, I was able to confirm the flight was delayed via Condor's own website (it just never updated in "my bookings").
As a point of reference, this FRA-SFO flight has a 57% history of departing on time and the return flight from San Francisco (DE2097) has a 43% history of departing on time. That's crazy to think that your flight has a better chance of being delayed than departing on-time.
Condor Ground Experience in Frankfurt
At Frankfurt Airport, Condor operates from Terminal 1 and the check-in counters are located in the C gates area. With several flights departing at the same time, there were hundreds of people waiting in the economy class lines to check-in/drop off bags. These lines were as long as the eyes could see, and it was hard to see which line went to which counter. My recommendation is to not get in the first line you see. Instead, follow the line and make sure it's going to the right counter you are looking for.
For premium economy class passengers, there are three check-in/bag drop-off counters located at the far left of the terminal. I don't know why they do this but instead of making one line for all premium economy class passengers, you get to pick which line you get into. In other words, find the shortest line and get into that one.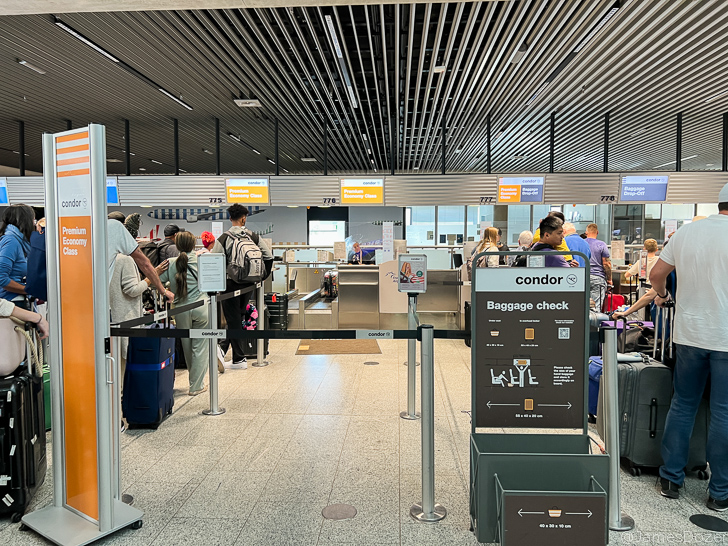 When I arrived, I found the shortest premium economy line and got in it. As I did so, a Condor agent walked up to me, told me I was in the wrong line, and pointed me to a longer line down the hall. Not knowing any better, I started walking down there when I realized she had pointed me to the end of the economy class line.
Pissed, I walked back, got in line again, and saw that she was giving another family a hard time about being in the wrong line also. She then went up to me and told me to get in the economy line again and I told her no and that I had a premium economy ticket. This really annoyed me that she would just send people away without first inquiring about their tickets.  
When I got to the front, I presented my passport to the ticketing agent, informed her regarding the delayed flight and my misconnect in SFO, and asked if she could help me. Instead of acknowledging me, she continued to check my bag and print my boarding passes. She then presented my boarding passes for both legs and told me which gate to proceed to. I had to stop her and explained my situation again. I'm not sure if she didn't understand me, or if she didn't care, but she ultimately stated she was unable to help me as my second leg was operated by Alaska Airlines. She told me I had to deal with it when I landed in SFO, which was terrible advice. 
To be honest, this was one of the worst check-in experiences I have ever had. The check-in lines were chaotic and the agent was cold and uncaring. There was nothing premium about it and from reading other online reviews, this seems to be the norm rather than the exception. Condor really needs to do better here.
Regarding my luggage, only my checked bag was weighed for compliance. The ticketing agent did not weigh or even ask about my carry-on bag or personal items. I don't know if this is the norm or if this agent just didn't care so your experience may vary.
Condor premium economy passengers are not entitled to lounge access and unfortunately, Frankfurt Airport is terrible for Priority Pass cardholders. Because of that, I just made my way to the gate and waited for boarding to be called. Still concerned about my connecting flight, I did some research and saw there was another flight departing from SFO to LAX later on in the night that I could catch when I landed at SFO. I chatted with Alaska Airlines via the app and asked them to move me to the later flight but they were unable to because it was already sold out. They put me on the waitlist and fortunately, my waitlist cleared by the time I landed in San Francisco.
Thinking that I may need to file a trip delay claim, I went up to the gate counter and asked Condor for a printout of why this flight was delayed. Instead of anything helpful, I was told all their information was "public information" and that I could just Google why my flight was delayed. I insisted and he finally told me it was because of a late-arriving aircraft. Shocker.  
It should be noted that most Condor flights depart from bus gates so expect a very disorganized, free-for-all, boarding process. As a premium economy passenger, you're supposed to get priority boarding but when boarding was called, everyone just rushed to get on the bus and there was no order to anything. Once I boarded the bus, we took a very leisurely ride around the airport to our awaiting plane. When we got to the plane, we had to stay on the bus for another 15 minutes or so because the cleaning crew had not finished yet. Do you see what I mean when I say Condor is just an operational mess?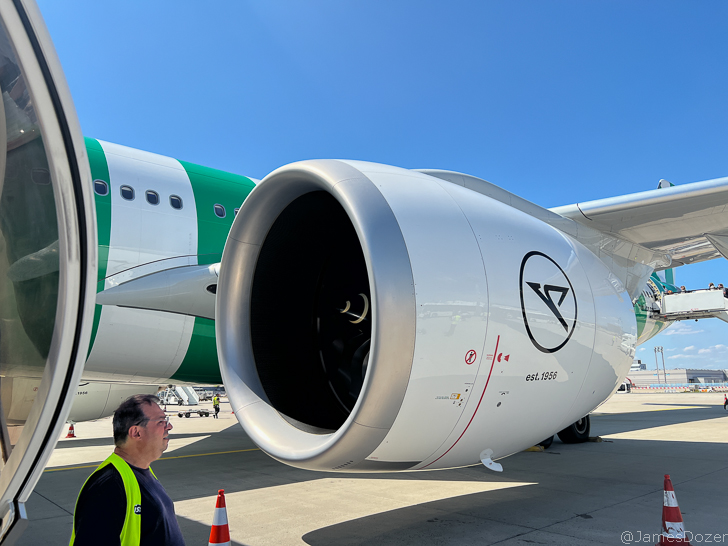 We were then allowed to disembark the bus and board our aircraft.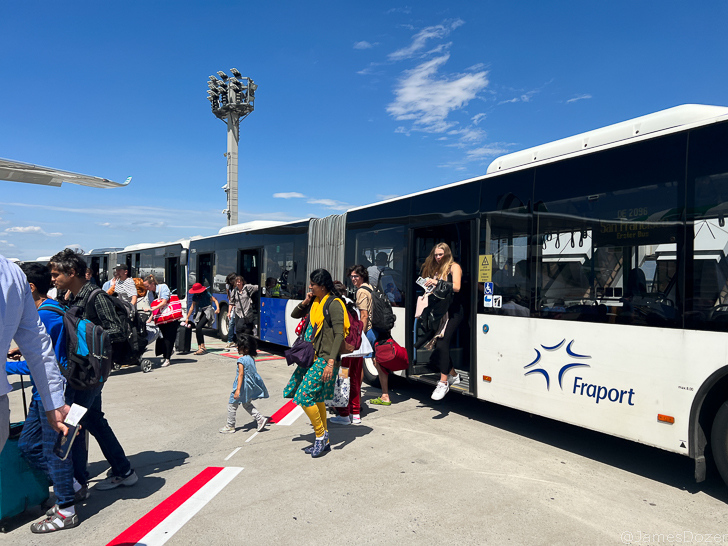 Condor A330-900neo Premium Economy Review
Flight: DE2096
Aircraft: Airbus A330-900neo
Frankfurt (FRA) to San Francisco (SFO)
Depart: 12:20 PM on Tuesday (2:55 PM actual)
Arrive: 3:40 PM same day (6:02 PM actual)
Duration: 12hrs 07mns
Seat: 14G Premium Economy
On their Airbus A330-900neo aircraft, the premium economy seats are located in the forward section of the second cabin, directly in front of the economy class section. There are no dividers between the premium economy section and the economy class section and the only visual distinction between the two is the headrest covers. Premium economy seats have striped headrest covers, whereas economy class seats have solid-colored headrest covers.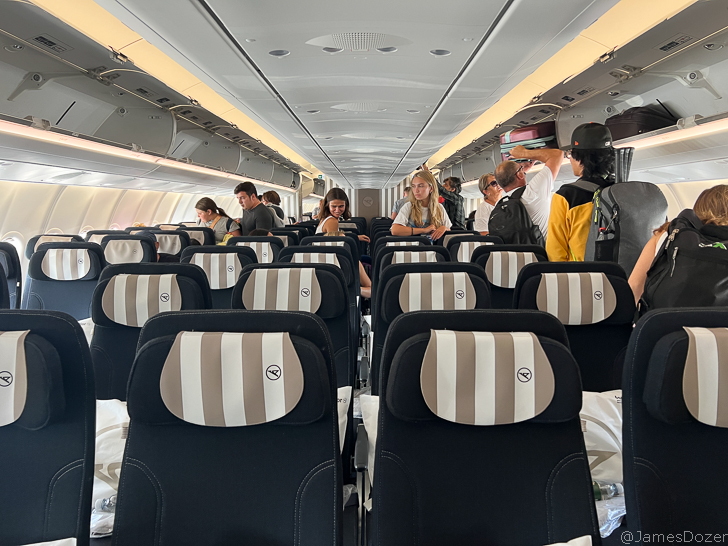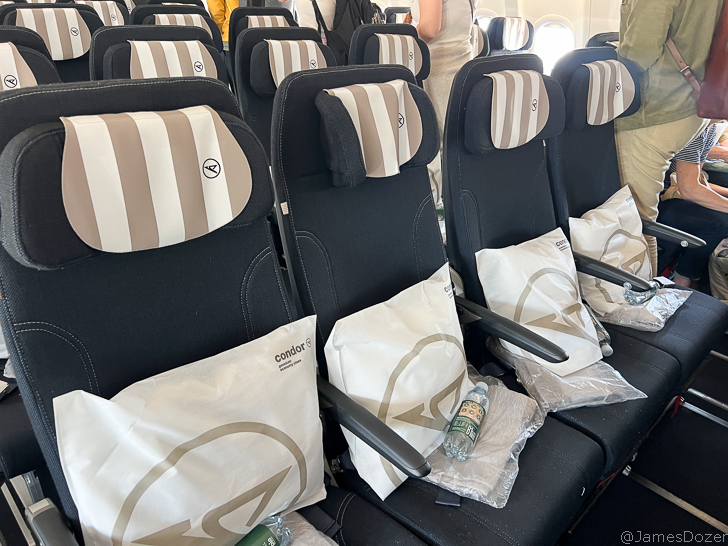 It should be noted that premium economy and economy class seats are nearly identical. The only differences between the premium economy and economy class seats are the addition of an adjustable footrest and the increased seat pitch. Premium economy seats provide 35 inches of pitch and economy class seats provide 30 inches of pitch.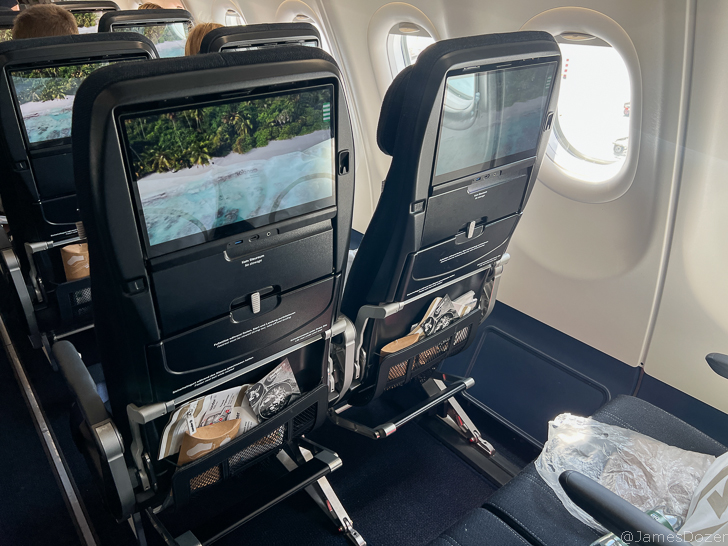 Each premium economy seat is configured with a large personal entertainment system, a split-fold tray table, and a personal entertainment device holder.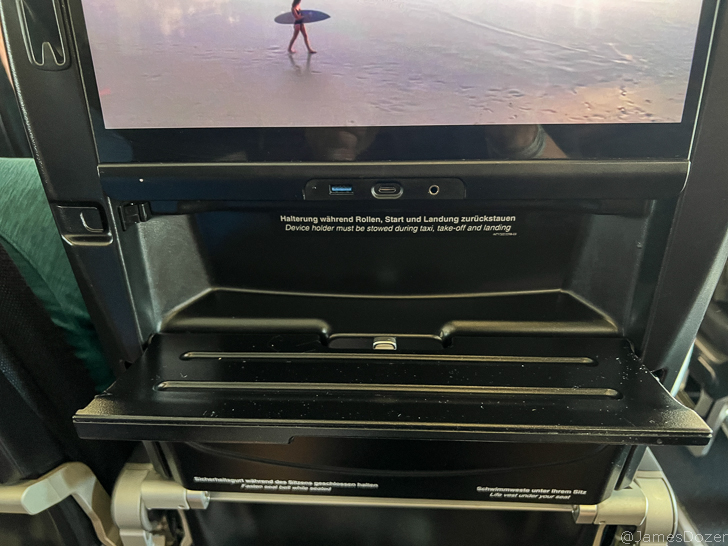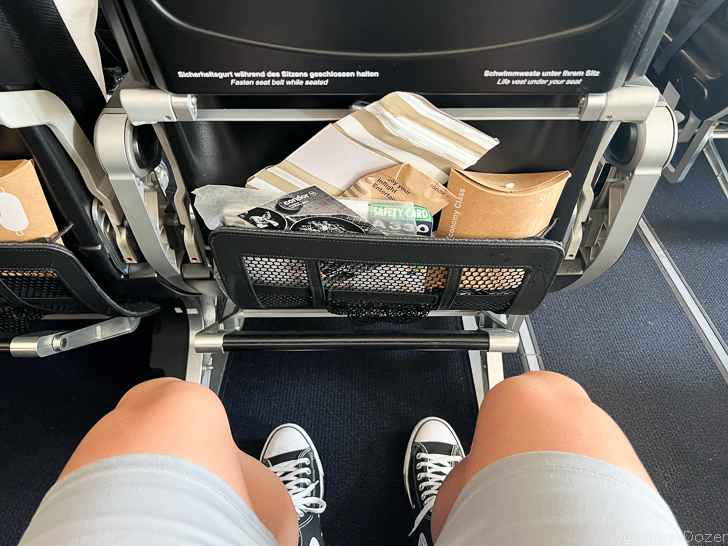 For storage, there is a single seatback pocket to keep your personal belongings close by. My only gripe about the seatback pocket is that the sides are not fully enclosed and items can fall out. Just be careful not to put your phone, passport, etc. in here as there's a high likelihood it will fall out and get lost.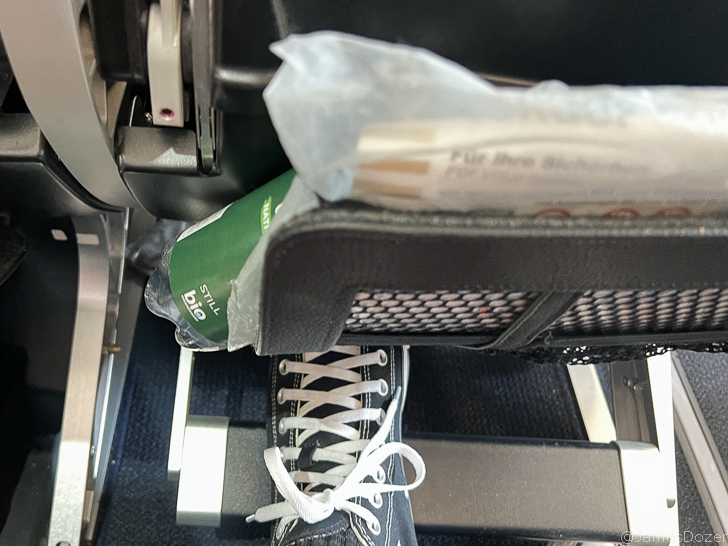 The adjustable headrests and footrests are very comfortable. You can adjust the footrests to various heights and the headrests can be adjusted up/down. The sides can also be folded in to give your head a little more support during sleep.  
On this flight, I selected seat 14G, an aisle seat in the middle section of seats. Waiting at our seats were a pillow, blanket, pair of earbuds, a collectible travel organizer, amenity kit, and a printed menu.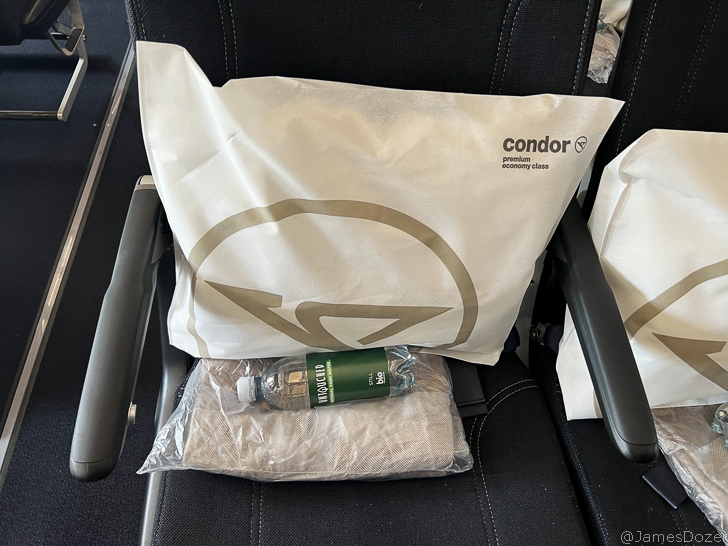 The travel organizer was cute but I'm not sure I would ever reuse it and the amenity kit only contained an eye mask, dental kit, and a pair of socks. No earplugs or facial products were provided.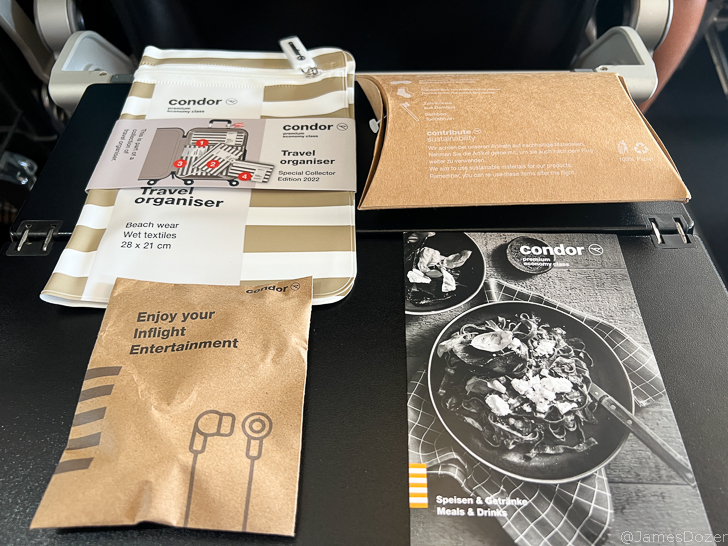 Here are the food and drink selections.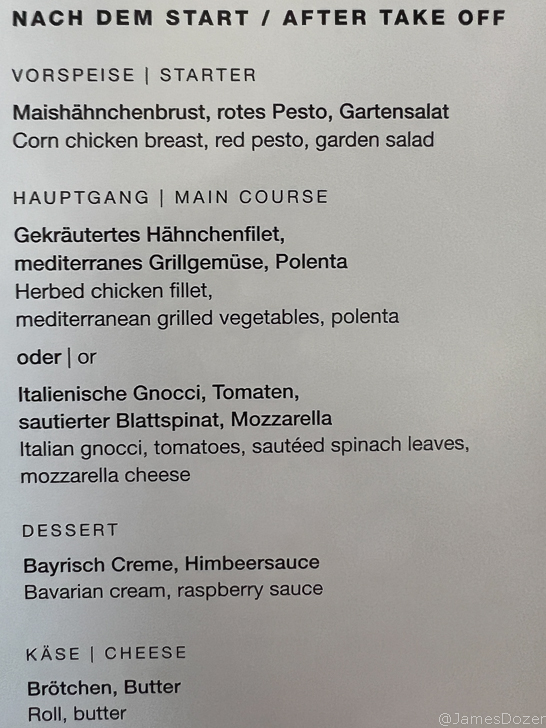 The IFE display is large and crystal clear and the system is loaded with a surprisingly robust selection of entertainment. USB, USB C, and universal electrical outlets are also provided at every seat but individual air nozzles are not.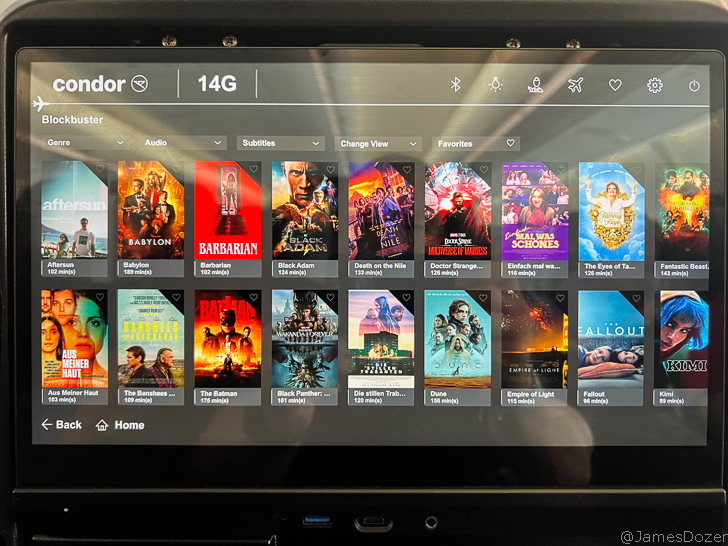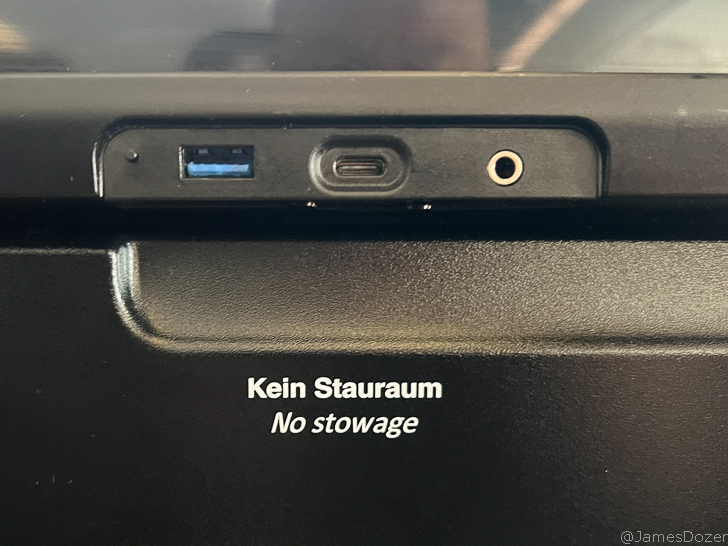 The cabin was kept pretty warm throughout the flight and I was so glad I packed my mini USB fan to keep me cool. I love this thing and I always travel with it to keep me comfortable on warm flights. Especially on aircraft without personal air vents, this little gadget can be a lifesaver. Click here to learn more about it on Amazon (affiliate link).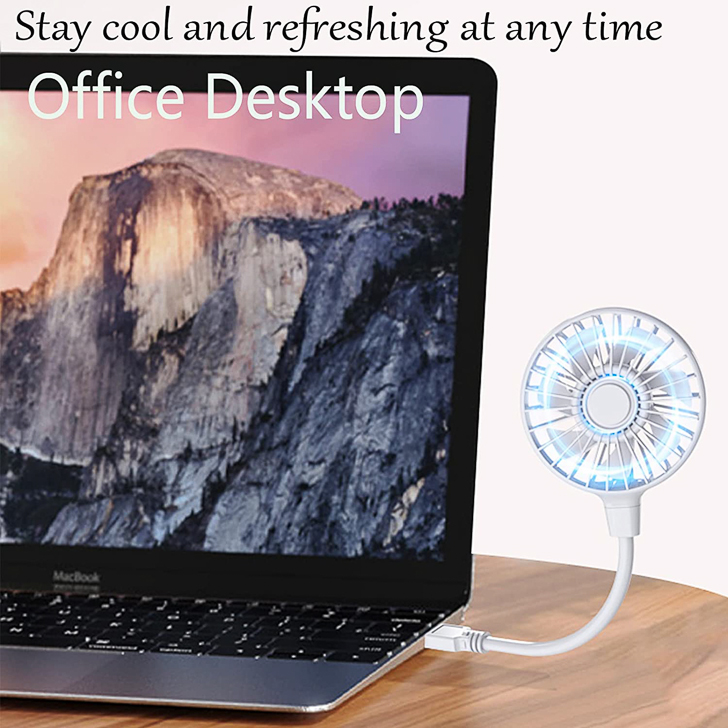 WiFi was also provided on this flight. You can get 10 mins of free messages but it was unreliable when I attempted to connect to it. WiFi costs:
7 Euros for unlimited chat and texting
12 Euros for two hours of basic surfing and social media
20 Euros for four hours of premium surfing, social media, audio streaming and VPN services
There was no unlimited data option.
Once all the passengers were boarded and the safety demonstration played, we then pushed back from the stand and made our way to the runway for our 11-hour flight to San Francisco. Approximately 30 minutes into the flight, the seatbelt signs were turned off and the flight attendants came around with a packaged snack mix. A beverage service was served shortly thereafter.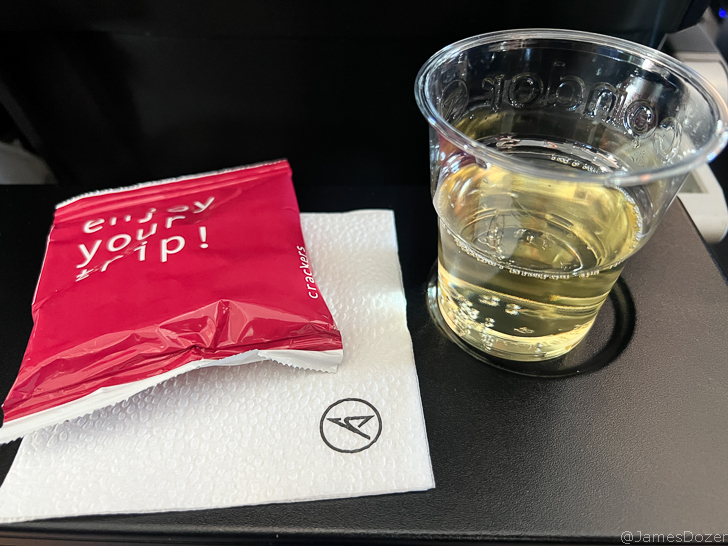 Lunch was then served about 45 mins into the flight. On this flight, there were two options for lunch: an herb chicken fillet or Italian gnocchi. I went with the chicken and it was actually really good. The portion was small and the chicken was slightly dry but the taste was good. Lunch was served with a chicken salad starter, a pretzel bun with butter and brie cheese, a small Snickers bar, and a cup of Bavarian cream with raspberry sauce. 
One odd thing to note is that lunch was served from back to front on the left side first, and then from back to front on the right side, so passengers on the front right section of the PE section will be served last. After lunch, our trays were cleared and the flight attendants came around with another beverage service. The cabin lights were dimmed, and I checked out the lavatory to change out of my street clothes. I then settled in for a movie and some work on my laptop.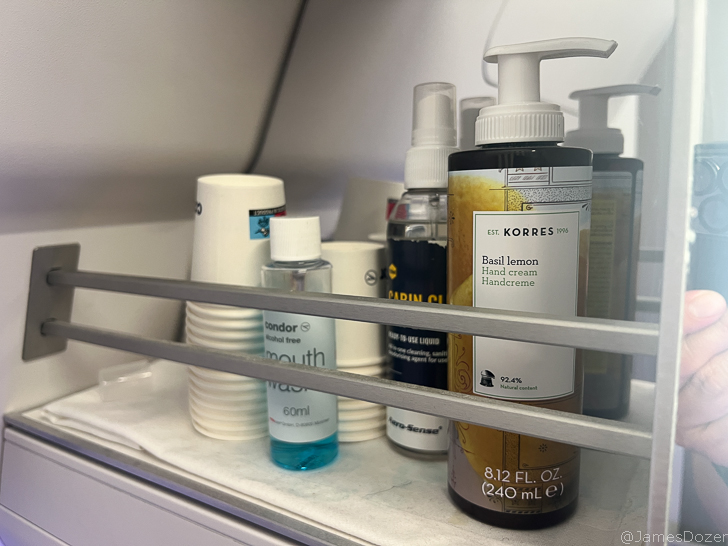 About halfway through the flight, the flight attendants came by with another beverage service and a small cup of Ben and Jerry's ice cream. Service-wise, this was a really nice crew. They were friendly and personable and they proactively came around in between meals with trays of water for all the passengers.
About 2 hours outside of San Francisco, the cabin lights were turned on and the crew prepared our pre-arrival meal service. The flight attendants came around with a hot towel, followed by our second meal service. For our second meal, there was only one option, which was a piece of pizza. The meal was served with a Thai chicken and quinoa starter, KitKat bar and a cup of fruit.  
Overall, the catering on this flight wasn't bad. It was not amazing by any means but it was better than I expected it to be. The flight attendants then came around to clear our trays and prepare for our arrival into San Francisco, 3 hours late. 
Condor Airlines A330-900neo Premium Economy Bottom Line
Overall, this Condor Premium Economy experience from Frankfurt to San Francisco had some high and low points. The in-flight experience was actually pretty good and I would compare Condor's Premium Economy experience to be a really good economy class experience, similar to what you would expect on Qatar or Singapore Airlines. The increased legroom was definitely appreciated but everything else spoke more like a really good economy class experience than a true premium economy experience. The seats were not any wider or more comfortable than regular economy class seats, nor were they located in a smaller, more private cabin.
That being said, what Condor does well in the air, they seriously lack on the ground. They are plagued with operational issues and you should expect your flight to be delayed or canceled. And you need to be prepared to make your own backup travel arrangements when things go wrong. Take my situation for example, the only recourse the Condor agent gave me was to talk to Alaska Airlines when I landed in SFO. If I would have done that, my backup flight was been fully booked already. Instead, by chatting with Alaska Airlines ahead of time, I was able to secure a seat on that later flight and get back home on the same day. Do not rely on Condor to automatically fix everything for you, even though it's their fault.
The bottom line is if you have to be somewhere at a specific time, I wouldn't trust Condor to get you to where you need to be at the time you need to be there. But if your travel plans are more flexible and relaxed, then Condor can be a good option for you to cross the Atlantic on the cheap.
What are your thoughts? Have you flown with Condor lately? If so, please share your thoughts with us in the comment section below. Thanks for reading!
The other related posts are:
KLM Boeing 787-10 Business Class, Los Angeles to Amsterdam