At LAX – Los Angeles International Airport, KLM and its sister airline, Air France, operate from the Tom Bradley International Terminal (Terminal B). They have a joint check-in area in the C counter area and the counters open approximately four hours prior to their scheduled departure time. I arrived at approximately 2:00 PM for my 4:55 PM flight and the check-in area wasn't too bad. There were only a couple of passengers checking in before me and it took me about 15 minutes to drop off a bag and obtain my boarding passes.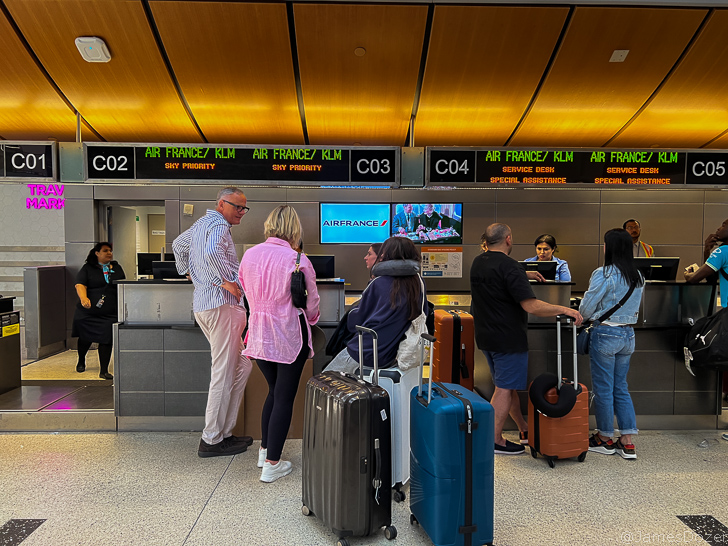 Pro tip: There are no priority security lanes for business/first-class passengers in Terminal B but if you have CLEAR or TSA Pre, you can use the dedicated lanes on the left side of the terminal for faster clearance. Just walk towards the back of the terminal, turn left, and follow the signs for TSA Pre. Most airlines participate in TSA Pre now, including KLM, and this will save you a significant amount of time over the normal security lane.
In the international terminal, Korean Air operates a business/first-class lounge for their SkyTeam partners but it's not the best. It's always crowded, and the amenities provided are subpar for a business-class lounge. Because of that, Air France and KLM have contracted with the oneworld Lounge LAX for their pre-departure lounge services. It's not common for airlines to contract with competing airlines for lounge services but in this case, it's an excellent move for Air France and KLM passengers as the oneworld Lounge is a much better lounge than the Korean Air/SkyTeam Lounge. This is only temporary as Air France and KLM are building their own lounge in the new Terminal B West Gates area.
And speaking of the new West Gates area, this is where all Air France and KLM flights will depart from so prepare yourself for a walk. From the main terminal, it will take you at least 15 minutes or so to walk to the new West Gates area (gates 201 to 225). The entire walk is covered and you won't have to clear through security again but it is a long walk. That being said, I don't recommend you walk over there too early either as services and amenities are rather limited in the West Gates area. There are bathrooms and a few restaurants but that's about it.
KLM Business Class, Los Angeles to Amsterdam
Flight: KL 604
Aircraft: Boeing 787-10
Los Angeles (LAX) to Amsterdam (AMS)
Depart: 4:55 PM on Sunday (5:43 PM actual)
Arrive: 12:10 PM next day (12:54 PM actual)
Duration: 10hrs 11mns
Seat: 9K Business Class
Approximately 15 minutes prior to our scheduled boarding time, I left the lounge and made my way to gate 204. I got in line with everyone else and waited for boarding to be called. Boarding started with families and pre-boarders, followed by business class and SkyTeam elite passengers. Business Class passengers boarded through door 1L, whereas everyone else boarded through door 2L. 
This flight was operated with a brand new Boeing 787-10 Dreamliner. In business class, there are 16 rows of seats arranged in a 1-2-1 reverse herringbone layout. These Jamco Venture reverse-herringbone seats are one of my favorite designs as I think they offer the most space and privacy for all passengers. According to SeatGuru, these seats offer 20.25 inches of width, 60 inches of pitch, and a bed length of 75 inches.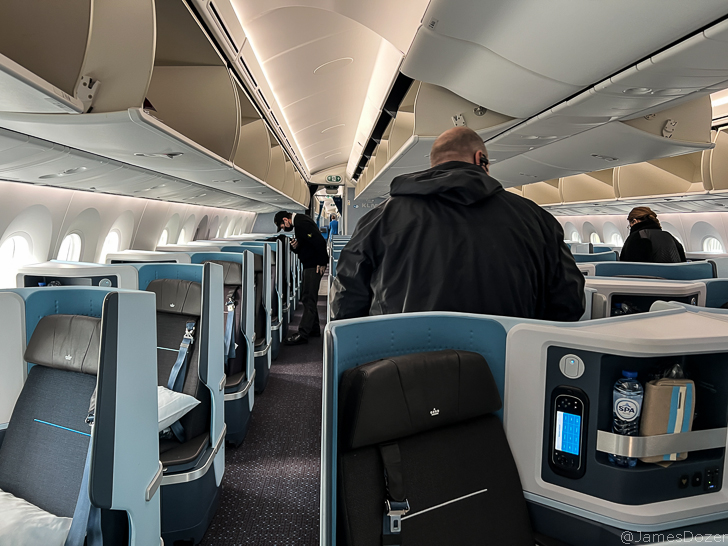 On this flight, I was seated in seat 9K, a window seat on the right side of the aircraft. I would have chosen 10K as I think it's the most private seat but based on my last experience flying with KLM and how loud that crew was, I decided to move up one row to (hopefully) get some sleep. Waiting at our seats were a pillow and duvet. The pillow was okay, a little on the flimsy side, but the blanket was great for the flight. 
Each seat offers a large IFE monitor, two USB ports and a universal electrical outlet. There are multiple reading lamps and several storage spaces but unfortunately, no air vents. The IFE monitors are bright and crisp and KLM's entertainment selection offers a good selection of new movies, television shows, music and other entertainment. WiFi was provided on this flight and prices weren't too bad. KLM provides free messaging for all passengers and one hour of internet costs 8 Euros. A full flight pass costs 18 Euros. I didn't connect to the inflight WiFi so I can't tell you how fast or reliable it was.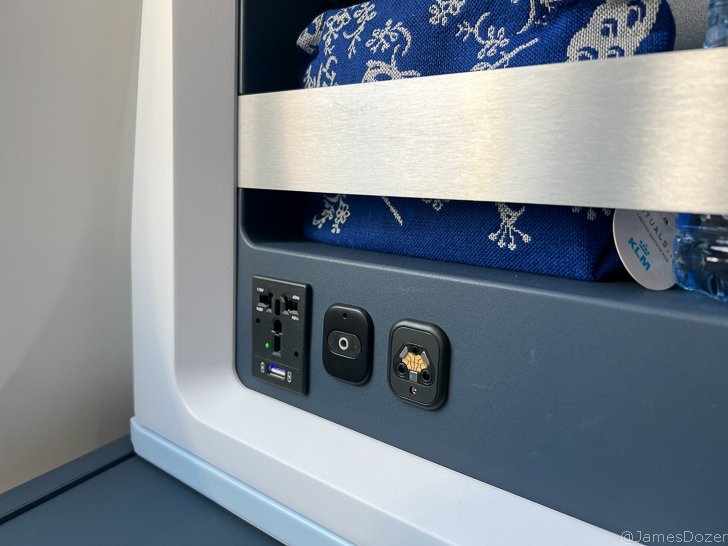 For storage, there's an open storage compartment by your inside shoulder to secure your headphones, water bottles and other personal items. There's also a shelf located directly underneath the IFE monitor for your laptop, iPad, books, etc., and another storage pocket down by your knee for your other small items. However, larger items such as laptop bags and backpacks will need to be stored in the overhead lockers.
Seat, lighting and IFE controls are simple to use and are located adjacent to the inside armrest.
The window seats are perfect for solo travelers and the center seats are great for couples traveling together. There is a center divider in between the two center seats but it can be tucked away to interact with your partner.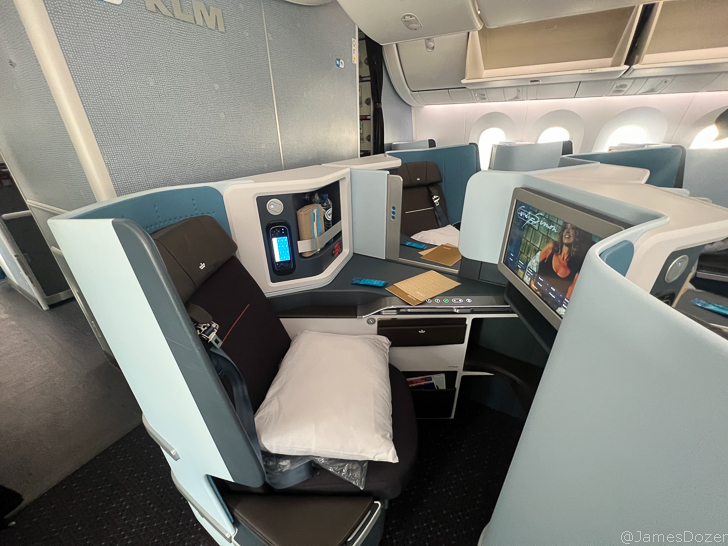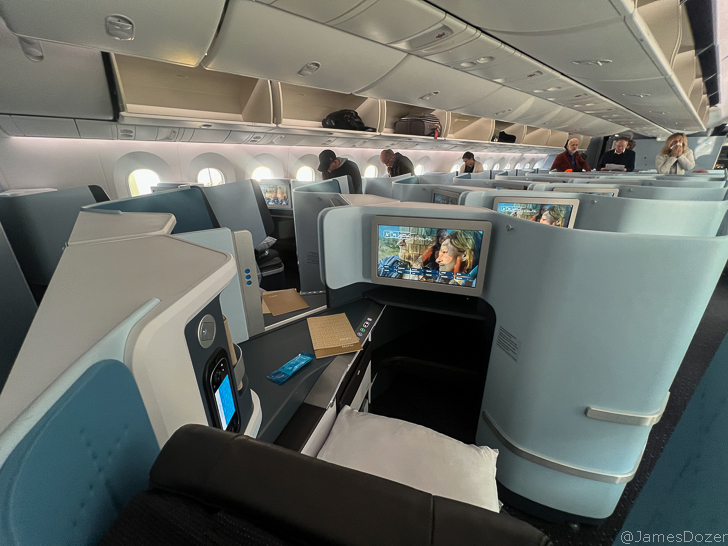 A bottle of water, amenity kit, and a pair of generic headphones were also provided at our seats. The KLM-branded, noise-canceling headphones were not great so bring your own. The Rituals branded amenity kit was very cute and it contained all the necessary items including socks, ear plugs, eye shades, and a dental hygiene kit. Rituals branded lip balm and face moisturizer from their limited edition Amsterdam collection were also provided in every kit. 
There are three lavatories for the 38 passengers in business class. There is one located in the front of the cabin and two located behind the cabin. The lavatories were stocked with the same Rituals Tulip and Yazu scented body lotion, body mist and hair gel.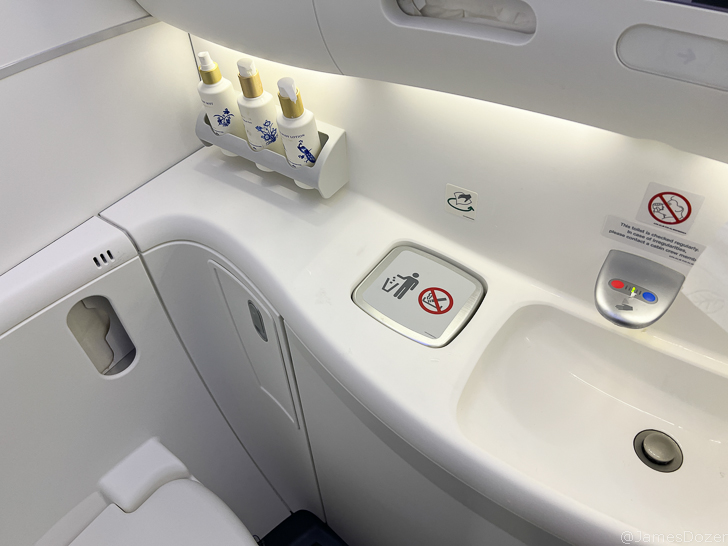 I also appreciated the full-size mirror in each lavatory and the cute Delft house design on the walls.
As passengers continued boarding, the flight attendants came by with hot towels and a pre-departure beverage of champagne or orange juice. Menus were then distributed in between passengers and the flight attendants came by later to take our meal order.
Here's the menu for today's flight.
And here's the drink menu.
With boarding completed and bags finally loaded, we then pushed back from the gate and taxied to the runway for our 10-hour flight to Amsterdam.
About 20 minutes into the flight, the beverage carts were rolled down the aisle for our pre-meal drink service. Drinks were served with your choice of either a small ramekin of mixed nuts or a mixed cheese plate.
An appetizer tray was then brought out with two options for starters, either a cup of chunky corn chowder or a crab salad with salmon caviar and shrimp in a lemon pepper oil. The starter tray was served with a cucumber and watermelon salad. Obviously, I went with the crab salad over the corn soup and it was delicious. The flavors were incredible and I could have had 10 more plates of it if I could.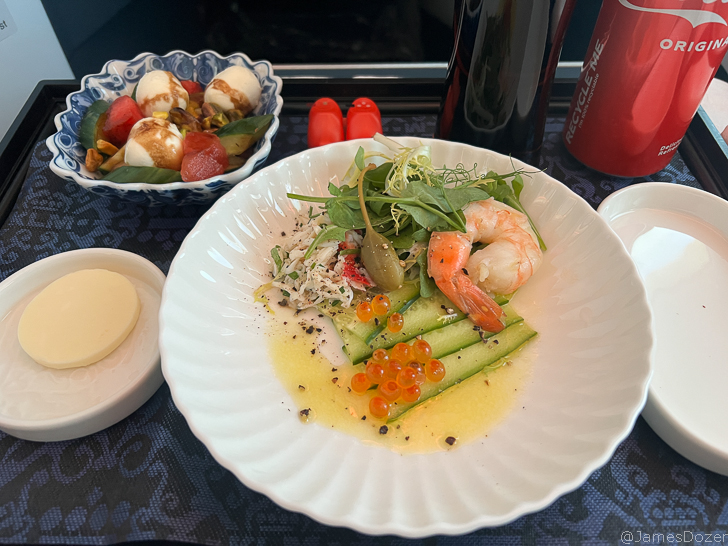 For my main course, I went with the grilled chicken, which was served with fingerling potatoes, carrots, and green beans. It was actually really tasty and again, I wished the portions were bigger here. 
The flight attendants then rolled down a dessert cart with either a cheese plate or a plate of petite desserts. I went with the dessert plate. Why are these portions so small??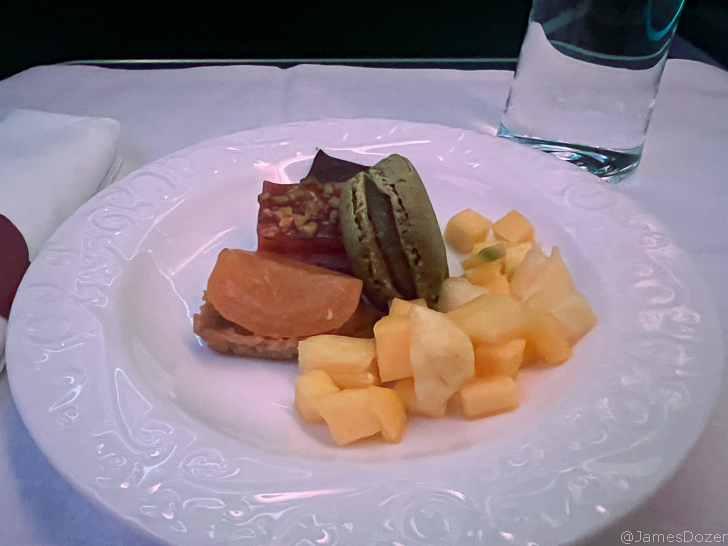 Dinner concluded with a coffee/tea service and a piece of chocolate.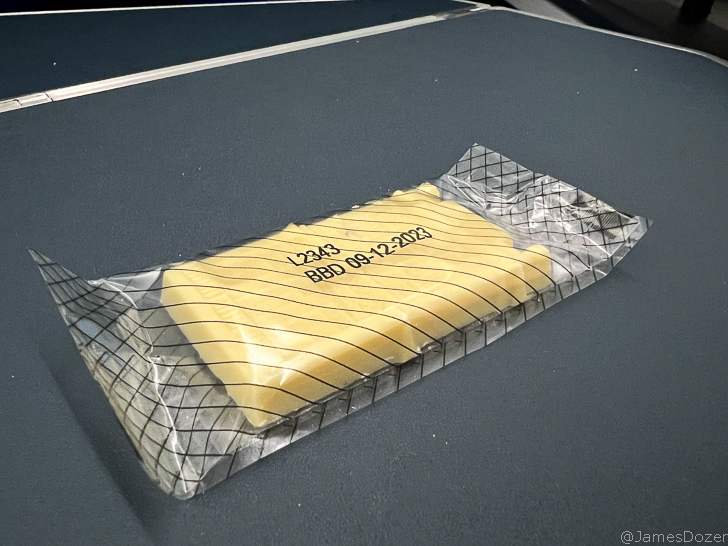 Unlike my last flight from Amsterdam, I have to give KLM credit here. Their catering departing Los Angeles and the service on this flight were top-notch. The food was delicious and the service was very attentive. The flight attendants came by several times with drink refills during dinner and nothing sat on my table longer than it needed to. I was very impressed with this crew.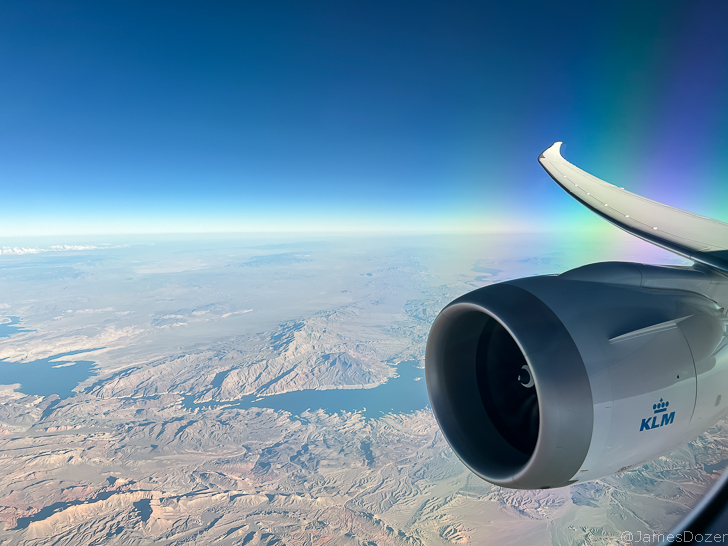 I didn't catch her name but I have to give one of the flight attendants some major kudos here. As she came by to clear out my dinner tray, she noticed my little USB fan plugged into the outlet. She asked me about it and I mentioned to her that most flights are kept too warm for me and this little guy helps keep me cool. Especially on aircraft without personal air vents, I need this little USB fan (Amazon affiliate link) to help keep me comfortable during flight.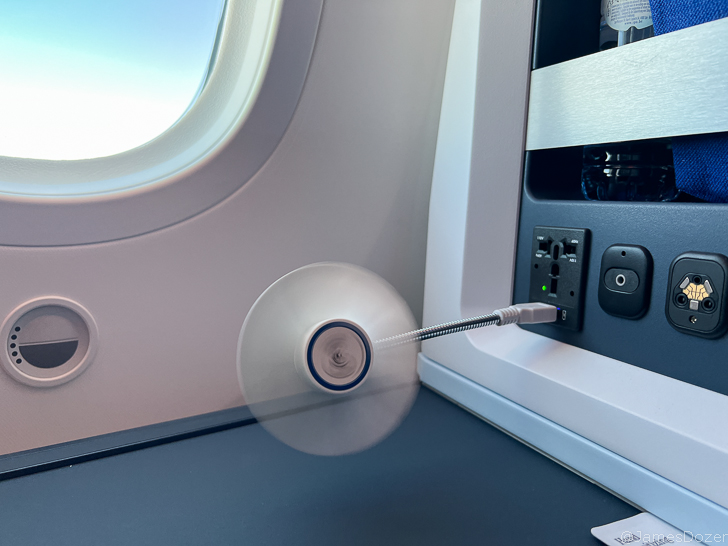 I didn't think much of our conversation and just assumed she was making small talk with me. I then put my seat into bed mode and napped for a few hours after the lights were dimmed.
After I woke up from my nap, I put my seat back up and worked on my laptop for a bit. In between meals, a small selection of snacks and drinks were put out in the galley for passengers to nibble on. I didn't have any on this flight but sandwiches and Stroopwafel ice cream were available in between meals.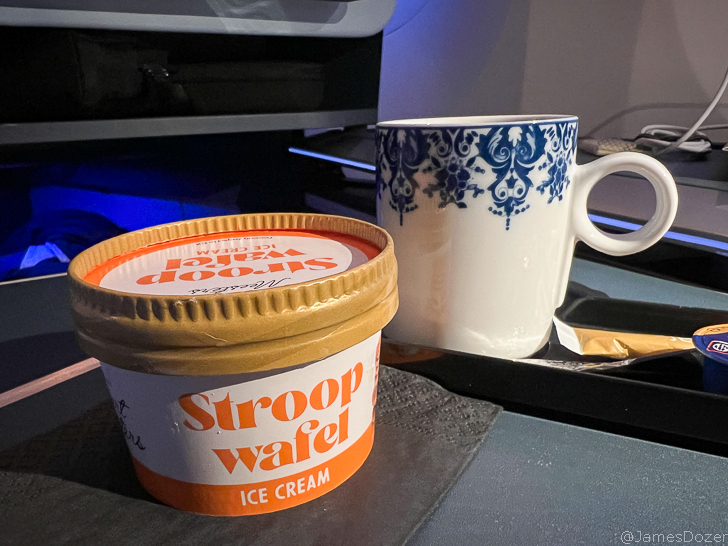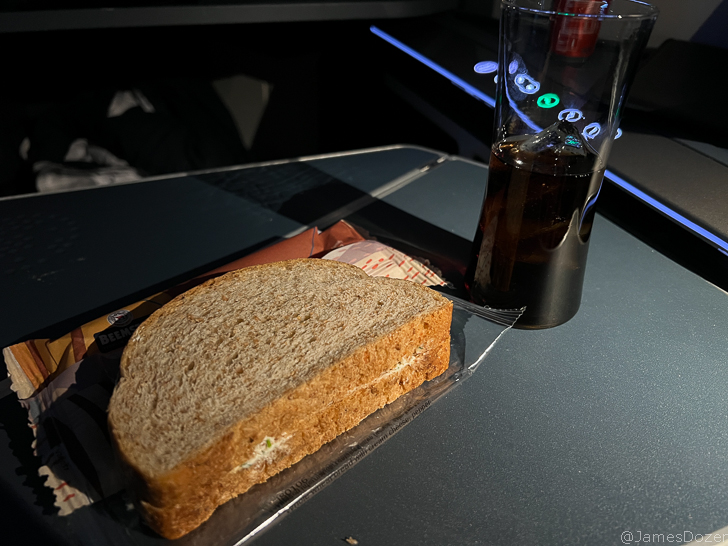 About two hours before landing, the cabin lights slowly came on and the flight attendants came by to prepare for our pre-arrival meal service. As the flight attendant came by, she asked me how well I slept. I told her the cabin was (surprisingly) kept really cool and I slept like a baby. And then it dawned on me, recalling our earlier conversation about my USB fan. I asked her if she purposely turned the temperature down for me and she just smiled and said she was glad I slept well. How incredible was that??!
For breakfast, there was a choice between a warm Denver sandwich or French toast. I went with the French toast and I did not regret it. It was served with a coconut chia oatmeal and a cold cheese and ham plate.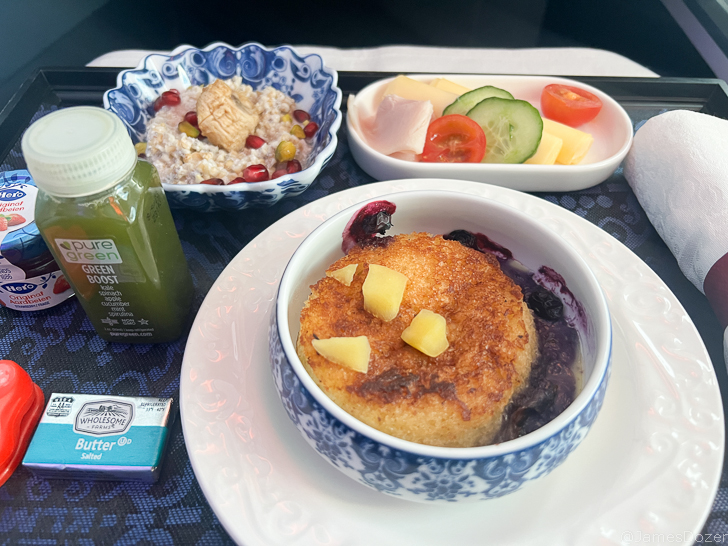 Our trays were then cleared and one of the flight attendants came by with a gin-filled Delft House gift for all business class passengers.
KLM Boeing 787-10 Business Class Bottom Line
Going into this flight, I didn't have high hopes but honestly, this flight was 10x better than my last KLM business class flight from Amsterdam. Service and catering are two of the most important aspects of any business class experience and this crew blew it out of the water. They were friendly, proactive, and attentive. And the catering departing from Los Angeles was so much better than the catering departing from Amsterdam. I had zero complaints about this flight and I wouldn't hesitate to splurge on KLM Business Class departing from LAX in the future. 
What are your thoughts? Have you flown KLM Business Class recently? If so, please share your thoughts with us in the comments section below. Thanks for reading!
The other related posts are: