At over 73,000 square feet, the recently-renovated, KLM Crown Lounge 52 is not just the flagship lounge for the airline but it's also the crown jewel of Amsterdam Schiphol Airport. This massive lounge spans across two stories and provides plenty of amenities such as complimentary food and drink, a coffee bar, shower suites, and dedicated zones for resting and relaxing. There's even an outdoor deck for some fresh air and views of the ramp and runway below. Compared to their old lounge, this is a huge improvement and there are many things to love about this lounge, but if I'm being completely honest, there's still some room for improvement.
KLM Crown Lounge 52 Location, Access, and Hours
The KLM Crown Lounge 52 is located in the non-Schengen zone, near the entrance to the F concourse. The lounge is open daily from 4:45 AM to the time of the last KLM flight, which is currently 10:25 PM (KL8990 to Mexico City). The lounge is accessible by:
Business class passengers traveling with KLM or any of their SkyTeam partner airlines.
Flying Blue Platinum and Gold members, and SkyTeam Elite Plus passengers traveling with KLM or any of their SkyTeam partner airlines.

May bring in one guest free of charge.
May bring in additional guests (up to nine) with a 25% discount.

All other passengers may purchase a day pass for 65 Euros.

Flying Blue Explorer members are entitled to a 10% discount.
Flying Blue Silver members are entitled to a 25% discount.
Day passes can be purchased at the lounge or online. Day pass purchases via KLM's website are entitled to an additional 10 Euro discount.
KLM Crown Lounge 52 Review
Because it's such a massive space, KLM has divided the lounge into four distinct zones: Polder (lockers, workspaces, food and drink), Dutch Mountain (entertainment and relaxation), Sea (sleep rooms, showers suites, and toilets), and Sky (Blue Bar and terrace).
As you exit off the escalator and scan your credentials for access, you will enter the Polder zone of the lounge. Here, you can store your bags, rest and relax, or seek assistance from one of the KLM agents.
This zone is the main seating area of the lounge. There are sofas and armchairs arranged around low tables, as well as single chairs along the windows. There is no dedicated business center but there are long communal tables you can plug in and work at if you can't snag one of the individual booths. Large floor-to-ceiling windows line the entire length of the lounge and they let in plenty of natural lighting to make the space feel bright and welcoming.
Password-protected WiFi is provided throughout the lounge and European electrical outlets are provided by most of the seating areas.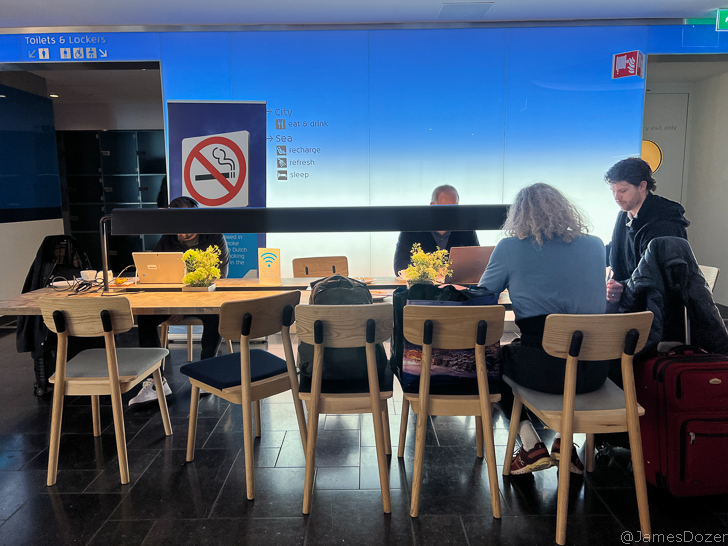 Walking to the back of the Polder zone, there is a small self-serve buffet station, a dining area, and a small section of semi-private booths along the wall. As you can see from my pictures, this lounge is massive but it can also get very CROWDED. These pictures are from a Thursday morning at about 10:00 AM.
The Dutch Mountain zone is a large multi-level sitting area with sofas and booths leading up to the second floor (Sky Zone).
Up on the Sky zone, you will find the outdoor terrace and another large seating area surrounding the Blue Bar. For some reason, the outdoor terrace was closed during my visit so I didn't get to go outside. But this area looked amazing and I would have spent all day out here.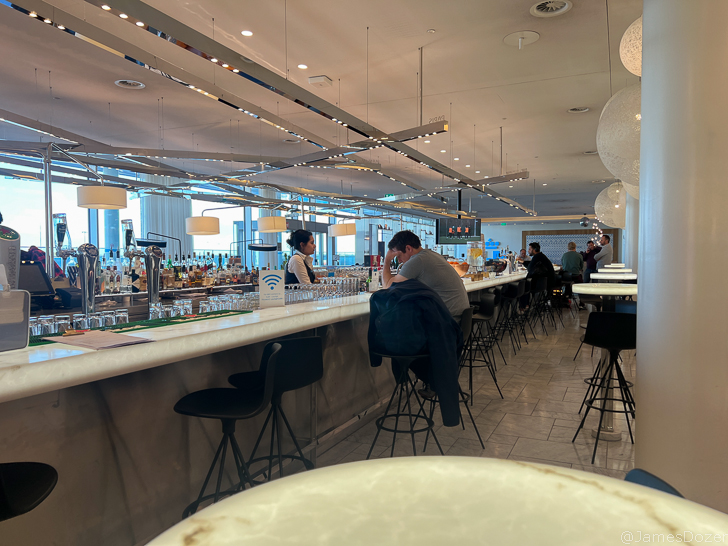 Now, here is my main complaint about the KLM Crown Lounge 52. I don't like being nickel and dimed and I hate it when things are not "all-inclusive." When I'm flying business class, I want a lounge where I can order whatever I want without having to take out my wallet. The KLM Crown Lounge 52 does have a complimentary self-serve buffet area and hosted bar (I'll cover that in a bit) but they also made this Blue Bar area a premium area where you have to pay for food and drinks. And the food and drinks aren't anything more special than what other airlines serve in their normal business class lounges so there's no reason to make this an upcharge area. But more annoyingly, there are no complimentary food or beverage stations located on the second floor. So if you are seated up here, and you don't want to pay for something at the bar, you will have to walk downstairs every time you want a drink or a snack.
For reference, here's the food and drink menu. Please tell me if I'm off-base here but I feel like these are all selections that can be provided complimentary.
Back on the first floor, the main dining room and a food station are tucked into the back corner. The food selection was fairly decent with a good mix of hot and cold dishes from cold cuts and yogurt to scrambled eggs and pasta. The buffet spread switched over from breakfast to lunch around 11:30 AM and I got to try out a little bit of both.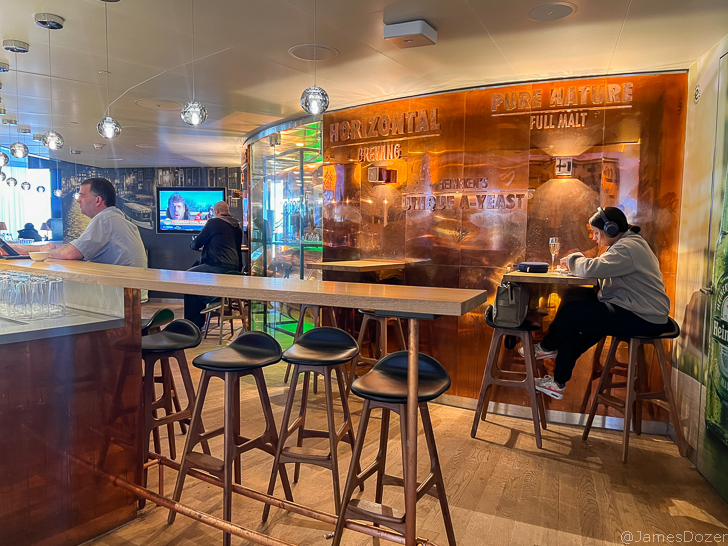 That being said, the drink selection was lacking with only a few bottles of spirits, some wine, and a handful of beers. I feel like they skimped out on this area so that people will go upstairs to buy a real drink from the Blue Bar.
Around the back side of the buffet area, there's a nice coffee bar with barista-made coffees and teas and a little sitting area with cafe-style chairs and tables.
And towards the back of the dining area, a small set of stairs will take you to the Sea zone, where you can freshen up with a shower, relax in one of the loungers by the windows, or rent a day room for a quick snooze.
There is a kiosk located at the entrance to reserve a shower suite or day room.
The shower suites are actually very nice with rainfall showerheads and Rituals branded bath products. Shaving and dental kits are also provided for your use. Notice there is no toilet, which is kind of odd.
Shower suites are provided complimentary but day rooms are not. You must rent them if you want to actually get some sleep. Prices are 49.50 Euros for 3 hours or 75 Euros for 5 hours. The day rooms are for individual use only and couples will need to book their own day rooms.
And interestingly, there's a room with several private VR experience booths that you can use to "recharge" your mind and body. These cost money so I didn't use them, nor did I take the time to learn more about them, as they seemed a little gimmicky.
KLM Crown Lounge 52 Bottom Line
Overall, the new KLM Crown Lounge 52 for non-Schengen passengers is a massive space and a much-needed improvement over the old lounge. But I do have some problems with it. The pros include great food options to fill your belly and plenty of shower suites to freshen up after a long-haul flight. The design is warm and welcoming and the large windows make the space feel bright and airy. That being said, the lounge is always packed and the space can feel a little chaotic at times. I also don't like the fact that you have to pay for certain things such as day rooms and decent drinks as it makes the experience feel less premium to me.
What are your thoughts? Am I being too critical here? If so, please share your thoughts with us in the comments section below. Thanks for reading!
The other related posts are:
KLM Boeing 787-10 Business Class, Los Angeles to Amsterdam