At LAX – Los Angeles International Airport, Air France operates from the Tom Bradley International Terminal. Their check-in counters are located in the B counter area and the counters open approximately four hours prior to their scheduled departure time. I arrived at approximately 3:30 PM for my 6:30 PM flight and the check-in area was a complete mess. They were clearly understaffed and only four counters were open to handle all the departing passengers. Even in the Sky Priority lane, it took me over 30 minutes to check in and drop off a bag.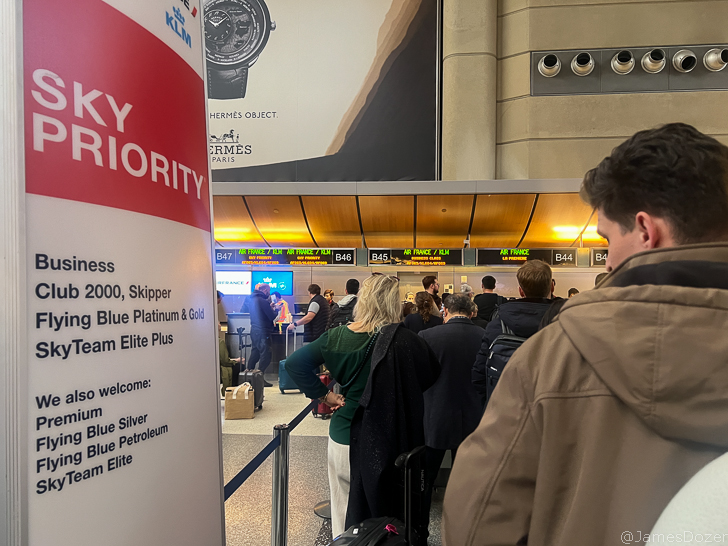 Pro tip: There are no priority security lanes for business/first-class passengers in the TBIT terminal but if you have CLEAR or TSA Pre, you can use the dedicated lanes to the left of the terminal for faster clearance. Just walk towards the back of the terminal, turn left and follow the signs for TSA Pre. Most airlines participate in TSA Pre now, including Air France, and this will save you a significant amount of time over the normal security lane.
In the international terminal, Korean Air operates a business/first-class lounge for their SkyTeam partners but it's not the best. It's always crowded, and the amenities provided aren't the best. Because of that, Air France has been contracting with the oneworld Lounge LAX for their premium cabin passengers. It's not common for airlines to contract with competing airlines for lounge services but in this case, it's a great move for Air France passengers as the oneworld Lounge is a much better lounge than the Korean Air/SkyTeam Lounge. This is only temporary as Air France/KLM is building its own lounge in the new TBIT West Gates area.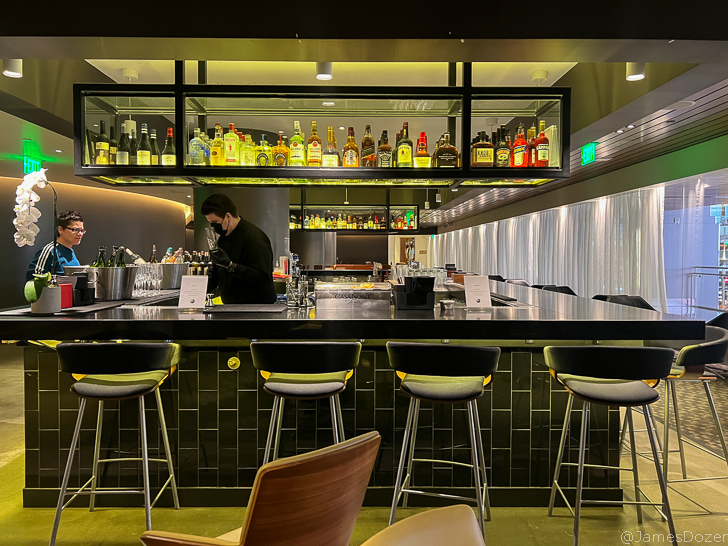 And speaking of the new West Gates area, this is where the majority of Air France/KLM flights depart from so prepare for a walk. From the main TBIT terminal, it will take you at least 15 minutes to walk to the new West Gates area (gates 201 to 225). The entire walk is covered and you won't have to clear through security again but it is a long walk. That being said, I don't recommend you walk over there too early either as services and amenities are rather limited in the West Gates area. There are bathrooms and a few restaurants but that's about it.
Flight: AF69
Aircraft: Boeing 777-300ER
Los Angeles (LAX) to Paris (CDG)
Depart: 6:40 PM on Sunday
Arrive: 2:19 PM next day (9 mns late)
Duration: 10hrs 39mns
Seat: 6L Business Class
Air France uses new biometric readers instead of boarding passes and the machines work very well. However, because no one was checking boarding passes, it was kind of a free-for-all when boarding was announced for priority passengers.
This flight was operated with an 18-year-old Boeing 777-300ER (registration F-GSQC). In business class, the seats are arranged in a 1-2-1 reverse herringbone layout. This Safran reverse herringbone seat is my favorite design as I think it offers the most space and privacy for all passengers. According to SeatGuru, these seats offer 21.5 inches of width and 61 inches of pitch.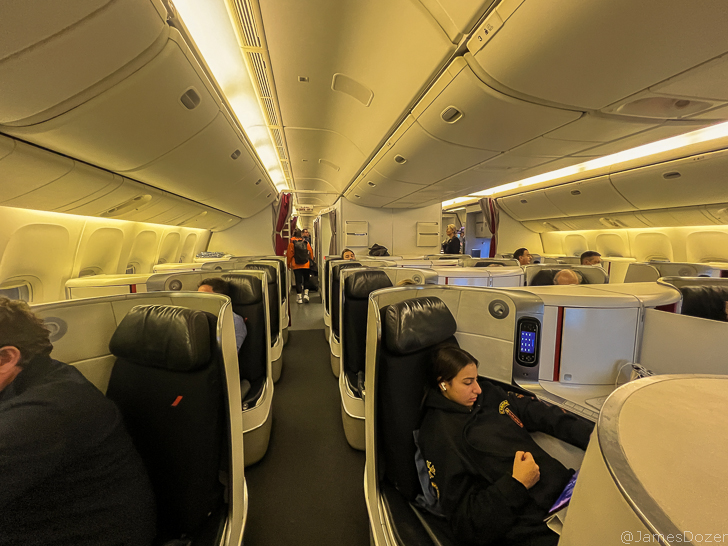 In the forward cabin, there are only 16 business class seats but in the rear cabin, there are a whopping 42 business class seats. If you want a quieter, more intimate experience, I would recommend seats in the forward cabin as the rear cabin felt like a zoo when I walked back there.
Each seat offers a large IFE monitor, a USB port, and an electrical outlet to keep your devices powered. The IFE monitors are bright and crisp and Air France's entertainment selection is decent, but not great.
WiFi was also provided on this flight. Air France provides free messaging (WhatsApp, iMessage, etc.) for all passengers but one hour of internet will cost you 8 Euros and a full flight pass will cost you 18 Euros. I didn't connect to it so I can't tell you how fast or reliable it is.
Storage-wise, I really love these seats. There's a storage compartment on the inside of the seat to store your laptop, iPad, books, etc., and another storage pocket down by your knee to store water bottles and other small personal items. Additionally, for seats in the last row, you can also store items above your storage compartment to keep them handy during flight.
Your larger personal items such as backpacks, laptop bags, and purses can be stored in the overhead compartment or underneath the ottoman.
Seat, lighting and IFE controls are simple to use and are located adjacent to the inside armrest.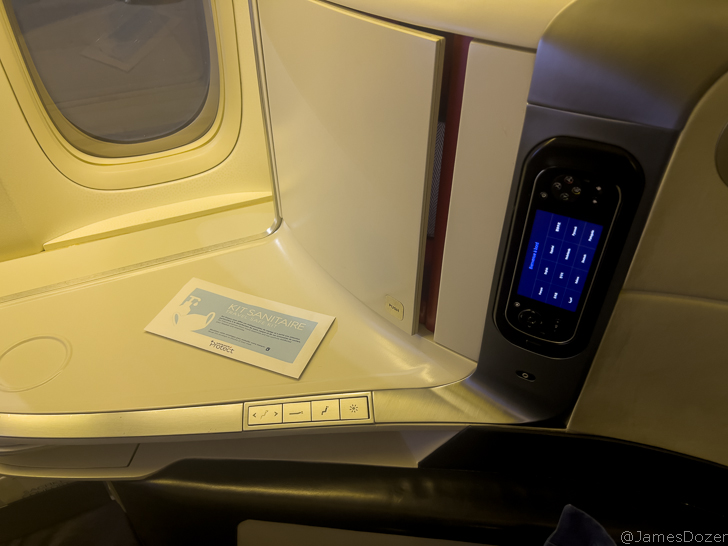 On this flight, I was seated in seat 6L, a window seat on the right side of the aircraft. SeatGuru warns this seat may be bothersome due to its proximity to the galley, but I really like this seat. I think it's the most private seat in the cabin and the noise coming from the galley wasn't bad.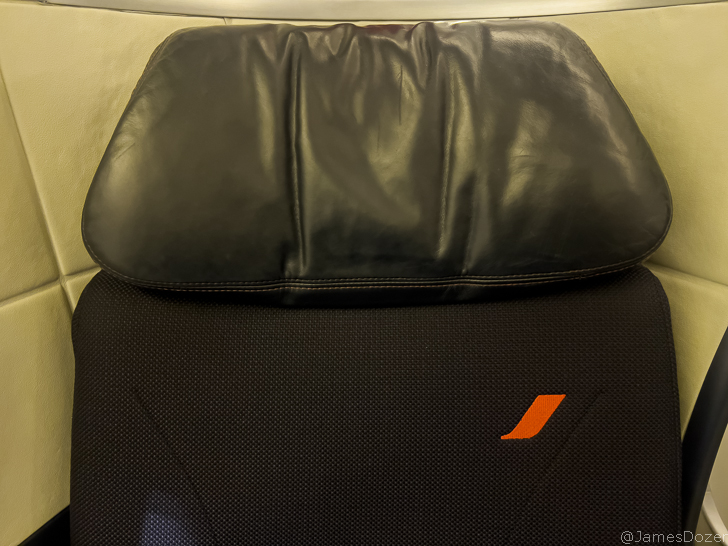 Waiting at our seats were a pillow and duvet. The pillow was okay, a little on the flimsy side, but the blanket was decent for the flight.
A bottle of water, an amenity kit, and a pair of generic headphones were also provided at our seats. The headphones were not great so bring your own. The Air France branded amenity kit was very chic and it contained all the necessary items including socks, ear plugs, eye shades, and a dental hygiene kit. Clarins branded face moisturizer and lip balm were also provided but man, these were the smallest tubes of products I have ever seen in an amenity kit.
There are three lavatories for business class passengers and they are stocked with Clarins branded facial products.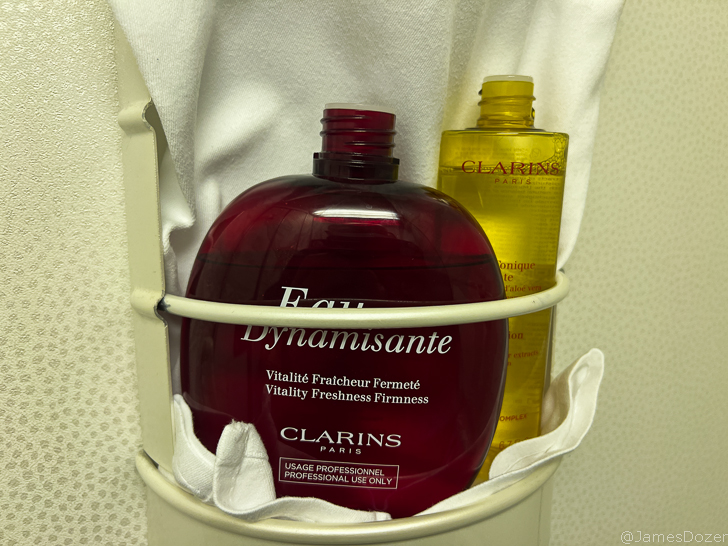 As passengers were still boarding, the flight attendants came by with hot towels and a pre-departure beverage of champagne or orange juice.
Menus were then distributed in between passengers and the flight attendants came by later to take our meal order.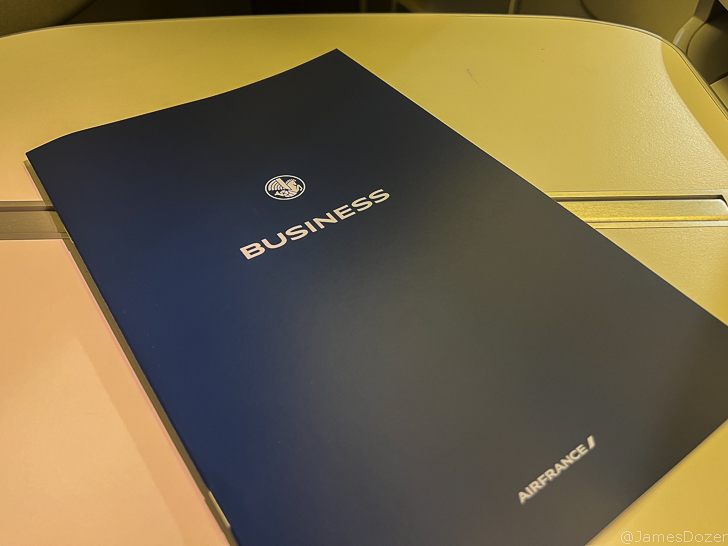 With boarding completed and bags finally loaded, we then pushed back from the gate and taxied to the runway for our 10.5-hour flight to Paris. About 20 minutes into the flight, the beverage carts were rolled down the aisle for our pre-meal drink service. Drinks were served with a shrimp and mango amuse bouche and a box of cheese crackers.
Our tables were then set with white linen and an appetizer tray was brought out with a scallop mousseline and a smoked salmon and tomato salad. The appetizer was served with a side garden salad and a warm bread roll.
For my main course, I went with the cod and red rice, which was excellent.
The flight attendants then rolled down a dessert cart with several options such as a cheese plate, a trio of dessert miniatures, and a fruit plate. I went with the fruit plate and the trio of desserts.
I have to give Air France credit here. Their catering and service were on-point on this flight. The food was delicious and the service was very attentive. The flight attendants came by several times with drink and bread refills during dinner and nothing sat on my table longer than it needed to. They were friendly and proactive.
After my tray was cleared away, I put my seat into bed mode and snoozed for about six hours. As I stated above, this is my favorite business-class seat. I love that my feet and legs don't fit into a small box and the wide surface allowed me to roll around.
If I had to critique anything about my flight, it would be the lack of personal air vents and how warm the cabin was kept. The bed was comfortable but I did wake up a few times just because it was so hot. If you like a cooler cabin, I would recommend you bring a personal USB fan like this one (Amazon affiliate link). This Arctic fan is one of the few travel gadgets I always pack with me to help keep me cool.
After I woke up from my nap, I put my seat back up and worked on my laptop for a bit. In between meals, a small selection of snacks and drinks were put out in the galley for passengers to nibble on.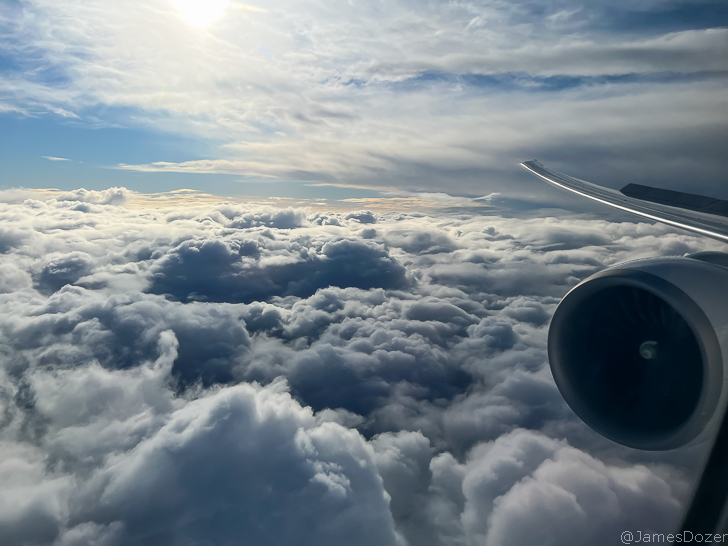 About two hours before landing, the cabin lights slowly came on and breakfast was served. Breakfast consisted of an omelet with potato croquette, a fruit plate, and a cup of yogurt.
Air France Boeing 777-300ER Business Class Bottom Line
This was my first flight with Air France and I can say that I was very impressed. Their service and catering on this flight were top-notch and I love these business-class seats. The food was delicious, the service was personable and the seats were great in both seat and bed modes. If I had to be hypercritical, I would say the amenities could be improved a bit (better pillows, bigger tubes of products, slippers, etc.) and the entertainment selection could be more robust but all things considered, I think Air France offers a stellar business class product. Compared to their regional competitors such as BA, Lufthansa, etc., I think Air France's hard and soft products blow them all out of the water. 
What are your thoughts? Have you flown Air France Business Class recently? If so, please share your thoughts with us in the comments section below. Thanks for reading!
The other related posts are:
KLM Boeing 787-10 Business Class, Los Angeles to Amsterdam