LAX is my home airport and it really is disappointing how much the Priority Pass network sucks here. There used to be some great lounge options but those have all since closed or canceled their partnerships with Priority Pass. The Virgin Atlantic Clubhouse was great for passengers departing from Terminals 2/3 and the Korean Air Lounge was a nice place to sit and relax while people-watching at TBIT. Heck, I even enjoyed the restaurant options for a real meal before those late-night departures to Asia and the pancake machine at the Alaska Airlines Lounge was perfect for my early morning flights up the coast. But those are all gone now and with the exception of the Be Relax Spa in Terminal 1, Priority Pass members are now relegated to these two Gameway Lounges at LAX.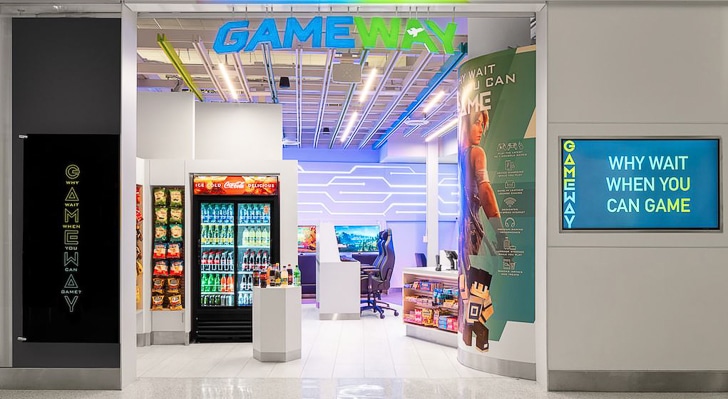 These Gameway Lounges are geared for a very small demographic of travelers, mainly families, and gaming adults. They feature gaming stations with PS4, PS5, and Xbox S consoles and Tomahawk Gaming PCs to keep you (or your kids) entertained for a couple of hours. Each gaming station features a large 43" 4K TV, leather chair, premium gaming headphones, custom gaming mouse pads, charging ports for your electronic devices, and space to store your luggage.
There are two Gameway Lounges at LAX. There is the new one located in T3, adjacent to gate 30B, and a smaller one, located in T6, across from gate 65A. The Gameway Lounges are open from 6:00 AM to 9:00 PM daily. LAX isn't the easiest airport to navigate but luckily, most of the terminals are now connected airside so passengers from TBIT to Terminal 8 can easily walk to the Gameway Lounge located in T6, and those traveling from T2 to T3 can use the Gameway Lounge located in T3 without having to clear security again.
The airside walkway between T1 and T2 (T1.5) is currently closed for construction but should be operational again sometime this summer. When T1.5 opens up, passengers from T1 will also be able to use the Gameway Lounge located in T3 without having to clear security twice. If you need help navigating LAX, you can read my guide on how to get from one terminal to another at LAX here.
Here are the rates for gameplay.
30 minutes – $15.99
60 minutes – $25.99
Unlimited – $45.99
For Priority Pass members, you can get one hour of free gameplay per lounge visit. If you have a Priority Pass membership that allows for guests, each game station will count as one guest. So swiping your card for you plus one guest will get each of you your own gaming station for one hour of gameplay. However, swiping your card for two people will not get one person two hours of gameplay. If you want to keep playing, you can buy additional hours of gameplay with a 10% discount, payable directly to Gameway.
Priority Pass members will also receive one bottle of water/soda and one sweet/salty snack for free per person, per visit (energy drinks and nut snacks such as Sahale are not included). And yes, you can just swipe your card for a free drink and snack without having to stay for your included hour of gameplay. That's what I did on my last visit and the employee didn't even think twice about it.
But keep in mind that this is a non-lounge option so those who receive Priority Pass membership through American Express or Capital One, will not qualify. Additionally, if you pay for lounge access on a per-visit basis, this may not be beneficial to you.
Gameway Lounge LAX Bottom Line
Overall, I appreciate that Priority Pass is adding new "lounge" options for their members but this one, in my opinion, won't be very useful for many people. I guess if you're traveling with kids, this would be a great way to keep them occupied while you grab a drink at the bar, but I don't really see this being all that useful for the average traveler. But then again, free is free, and I can't complain about dropping in for a free bottle of water and a bag of chips. So kudos to Priority Pass for adding this new lounge to the network and I hope that they continue to add more useful options for the rest of us.
What are your thoughts? Have you visited any of the Gameway Lounges? If so, please share your thoughts with us in the comments section below. Thanks for reading!
Here are some other reviews you might enjoy.