I have since updated this lounge review. My new oneworld Lounge LAX review (August 2023) can be found by clicking here. 
AT LAX – Los Angeles International Airport, Qantas operates the oneworld Lounge for their oneworld premium cabin passengers and elite frequent fliers. The massive lounge is located airside in the Tom Bradley International Terminal (TBIT). As you exit out of the security check, make a right-hand turn and take the elevator/escalator up to the fifth floor. The lounge will be located to your right, across from the P.F. Chang's restaurant. The lounge is open daily from 6:30 AM to the time of the last scheduled Qantas departure, which is currently QF 12 to Sydney at 10:30 PM.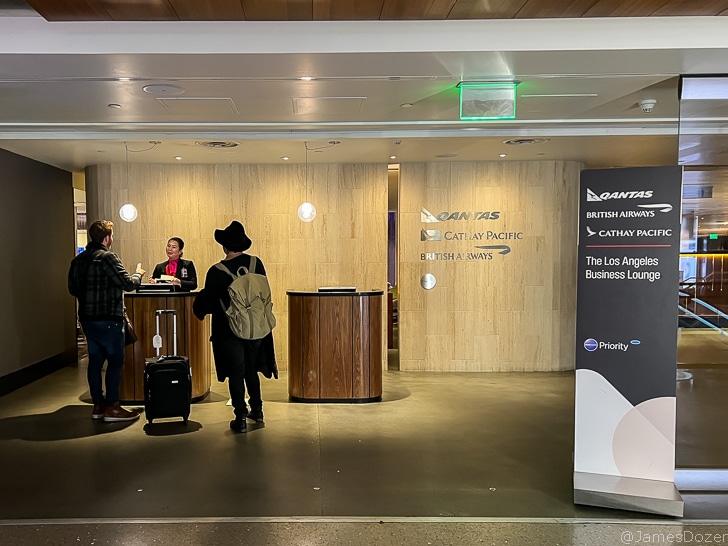 The oneworld Lounge LAX is accessible by:
International premium cabin passengers traveling with Qantas, British Airways, Cathay Pacific, American Airlines, or any of their oneworld partner airlines
oneworld sapphire/emerald members traveling with any oneworld partner airline. However, if your status comes from American or Alaska Airlines, then you must be traveling on an international ticket outside of North America in order to gain access. LAX to Dallas does not qualify, and neither does LAX to Mexico City.
Qantas Club members
Air France/KLM premium cabin passengers
For those traveling internationally with American Airlines, you can use the American Airlines Flagship Business Lounge in Terminal 4, or the oneworld Lounge in TBIT without having to clear security twice. From Terminal 4, just follow the signs for the airside connector to TBIT. The walk will take you approximately 6 minutes. More information about changing terminals at LAX can be found here.
At 42,000 square feet, the oneworld Lounge is massive with plenty of space to spread out and relax. There's enough room for up to 600 passengers and that's not even including the separate Qantas/oneworld First Class Lounge next door. The oneworld Lounge is a square-shaped space centered around a colorful, indoor atrium. The lounge is an "interior" lounge in the sense that there are no windows that face the outside world but the natural lighting from the indoor atrium does let in enough natural lighting to make the space feel open. Aesthetically, the warm colors and ambient lighting create a very comfortable and inviting space but I must admit, the furniture is showing its age a bit.
The other focal point of the lounge is the circular seating area around the indoor fireplace located on the right side of the lounge. If you just want to sit back and relax with a glass of wine and a book, this is the place to be.
There are plenty of seating options from comfortable lounge chairs and recliners to work desks and tables located throughout the lounge. During my visit at 4:00 PM on Sunday afternoon, I had no problem finding a table to eat at, a chair to relax in, and a desk to work at for the hour and a half I was there.
I didn't use the shower room on this trip but there are 16 showers for passengers to use. The shower rooms are beautifully decorated with rainfall showerheads and are stocked with Aspar bath and body products.
For dinner, there was a good buffet spread of both hot and cold dishes from different types of salads and pasta to Jasmine rice, grilled vegetables, and curry. I had a bite of almost everything and I can say the food was good, especially the cauliflower soup. When the lounge first opened a few years ago, there used to be a make-your-own smoothie/juice bar with fresh fruits and vegetables. I didn't see it on this trip so I'm not sure if it's only a morning thing or if it's a victim of recent cost-cutting measures.
For alcohol, there is a hosted bar with a fine selection of top-shelf beers, wines, and spirits. Not only is the bar a beautiful focal point of the lounge, but it is also a good place to interact and socialize with the other passengers.
There were plenty of employees working the lounge. They were busing tables, cleaning and replenishing the buffet spread. The lounge was kept clean at all times and used dishes did not sit on tables longer than necessary.
If you need to get some work done, WiFi is provided throughout the lounge and electrical outlets are located by all the sitting areas. But if you need a private workspace, you can find a dedicated business center located on the left-hand side of the lounge.
oneworld Lounge LAX Bottom Line:
Overall, the oneworld Lounge LAX is a great lounge. At LAX, I think it's my second favorite lounge after the Star Alliance Lounge. The oneworld Lounge has a much better food spread but I just love the Star Alliance Lounge's outdoor terrace. With an interior space and no views of the outside world, it's hard for the oneworld Lounge to compete with the fresh air and runway views of the Star Alliance Lounge. That being said, the oneworld Lounge LAX is still a great lounge with plenty of spaces to sit, relax and enjoy a drink/meal before your flight. For oneworld (and Air France) passengers, this is a great way to start your premium cabin experience from Los Angeles.
What are your thoughts? Have you visited the oneworld Lounge recently? If so, please share your thoughts with us in the comments section below. Thanks for reading!
The other related posts are:
KLM Boeing 787-10 Business Class, Los Angeles to Amsterdam