At Copenhagen International Airport, SAS (Scandinavian Airlines) offers two lounges for their frequent flier and premium cabin passengers. Both lounges occupy the same two-story space with the SAS Business Lounge located on the first floor of the building and the SAS Gold Lounge occupying the second floor. The main entrance for both lounges is located on the first floor and automated kiosks will provide you with access to whichever lounge you qualify for. The SAS Business Lounge is intended for business class and SAS Plus (premium economy)  passengers and the SAS Gold Lounge is reserved for Star Alliance Gold members and other Euro Bonus elite fliers. However, due to reduced demand, only the upstairs SAS Gold Lounge is open for passenger use at the moment.
The SAS Gold lounge is open from 5:00 AM to the time of the last scheduled SAS departure of the day, except on Saturdays, when the lounge closes at 9:00 PM. The lounge is accessible by Business Class passengers traveling on any Star Alliance partner flight, SAS Plus passengers, and Star Alliance Gold passengers traveling on any Star Alliance partner flight, regardless of class of service. If you're traveling in SAS G0 (economy class), you can add a day pass for $32 USD by managing your booking online. If you're traveling in economy class with any other Star Alliance partner airline, you can buy a day pass at the lounge for $46 USD.
The SAS Gold Lounge is located in the Schengen zone, in between the C and D gates, closer to gate C10. If you are connecting from or departing to the United States, keep in mind that you have to clear passport control to get between the Schengen and non-Schengen zones. That means that if you're departing Copenhagen on your way to the United States, or to any other destination outside of the Schengen zone, you should save at least 15 minutes to clear passport control before walking to your gate. If you're departing from the non-Schengen zone and have a Priority Pass membership, I actually recommend you spend your time at the Eventyr Lounge instead. It's a Priority Pass contract lounge with much better food and drink options than the SAS Lounges. You can check out my review here.
SAS Gold Lounge Copenhagen
Both the SAS Gold and Business Lounges are beautifully decorated in simple Scandinavian décor with light colors, clean aesthetics and bright lighting. The lounges offer a warm and inviting environment with comfortable seating options for dining, lounging and working. To the right of the main entrance, there are two spacious rooms for lounging and relaxing. If you need a quiet place to hang out, this is the best place to be as the majority of people will be in the upstairs portion of the lounge.
Upstairs, you'll find a large open space set up like a living room. This space appears to be intended for families, large groups traveling together, or for those looking to socialize with others.
Adjacent to the living room, you'll find a dining room with plenty of tables and chairs to sit down and enjoy your meal.
On this trip, I arrived from Los Angeles and was connecting to Stockholm. I got to the lounge around 7:30 AM and my connecting flight was not until 10:00 AM. For breakfast, the self-serve buffet offered a very basic continental breakfast with cereal, cold-cut meats, hard-boiled eggs, etc. I really wished there were some hot food options such as scrambled eggs, oatmeal or something but I understand this is a very typical European breakfast so I can't complain too much.
And for drinks during the morning hours, there was a coffee machine and a small selection of juices and wines.
Interestingly though, there was a coffee station that looked like there should have been a barista there but it wasn't open during my visit.
In the back, you'll find another seating area and some lounge chairs if you want to kick your feet up and relax for a bit. I wouldn't really call this a sleep area as it's not very quiet. There are some curtains set up in between the lounge chairs but I wouldn't exactly call it private either.
If you need to get some work done, there are plenty of individual workspaces located throughout the lounge. Business travelers can work at any of the dining room tables or in the dedicated work area located in the front of the lounge. Password-protected WiFi was provided throughout the lounge and electrical outlets were located by all the work stations and a majority of the seating areas.
It should be noted that there are no showers in the SAS Gold Lounge. However, there are showers in the downstairs Business Lounge that can be used. All you have to do is go back down to the lounge attendant and ask to use the showers. They will give you a key to the shower room and buzz you into the Business Lounge.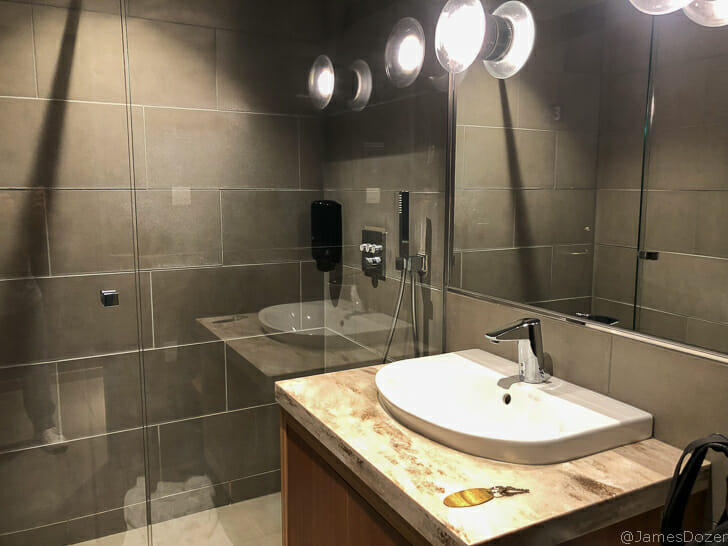 As far as the view goes, this is an interior space so there's no direct sunlight into the lounge nor are there views of the ramp or runways. There are windows to look outside the lounge but it's just a view of the inside of the airport.
SAS Lounge and SAS Gold Lounge Copenhagen bottom line
Just like their onboard experience, I find SAS's lounges to be perfectly acceptable. I don't think any of their lounges are incredibly amazing by any means but they do offer comfortable spaces for their passengers to rest and relax before flight. Overall, I enjoyed my time at the SAS Gold Lounge in Copenhagen. The lounge was spacious and beautifully decorated and it provided a functional space for me to eat, work and relax. The food spread during the morning hours was minimal but acceptable and the lounge attendants were friendly and polite.
Have you visited the SAS Gold Lounge in Copenhagen? If so, please share your thoughts with us in the comments section below. Thanks for reading!
The other reviews included in this series: