At Copenhagen International Airport, SAS operates a once-daily flight to Los Angeles International Airport with an Airbus A330 aircraft. All departures for the United States, and other non-Schengen destinations, leave from the C gates of terminal 3. If you're connecting from another flight in the EU, or coming from the SAS Lounge, be advised that you will need to clear immigration before being allowed into the non-Schengen zone.
If you have Priority Pass, you can use the Eventyr Lounge, located adjacent to gate C26. The lounge offers a comfortable space for passengers to rest and relax before their flight with plenty of seating, great views of the ramp and runway, and a delicious hot buffet. It really is the best lounge at Copenhagen Airport and I'm so glad it's part of the Priority Pass network of lounges for us plebs to use.
Keep in mind that flights to the United States do require additional security questioning and forms to fill out at the gate so bring a pen and give yourself some extra time. And once you get through to the secured waiting area, you won't be allowed back out so don't bother getting here too early. This really is a stupid process and I hate that they do this as there are no shops, restaurants, or even water fountains in the secured waiting area. Fortunately though on this flight, a secondary security screening of your luggage was not required and it didn't take long to complete the passenger form and answer the additional security questions.
Flight: SK931
Aircraft: Airbus A330-300
Copenhagen (CPH) to Los Angeles (LAX)
Depart: 12:45 PM on Wednesday
Arrive: 3:15 PM same day
Duration: 11hrs 45mns
Seat: 35H Economy Class
I got through to the secured area at approximately 12:00 PM for my 12:50 PM flight and waited around for a little bit before boarding was called. After business class and premium economy passengers boarded, economy class passengers boarded by rows, back to front. Since I was seated in row 35, I was one of the last passengers to board. If I had to guess, I would estimate there were probably a hundred passengers or so on this flight. It was very empty, and boarding was completed in less than 20 minutes. After the doors were closed, everyone just moved to their own row.
SAS Airbus A330 aircraft offer 32 seats in business class, 56 seats in premium economy (SAS Plus), and 174 seats in economy class (SAS Go). Seats in economy class are arranged in a 2-4-2 layout, offering 31 inches of pitch and 17.3 inches in width. These numbers are fairly standard industry-wide. But the one positive of these seats – when reclined, these seats are slightly better than their American counterparts as the seat pan slides forward in addition to the seatback reclining back, to give you an additional inch of recline.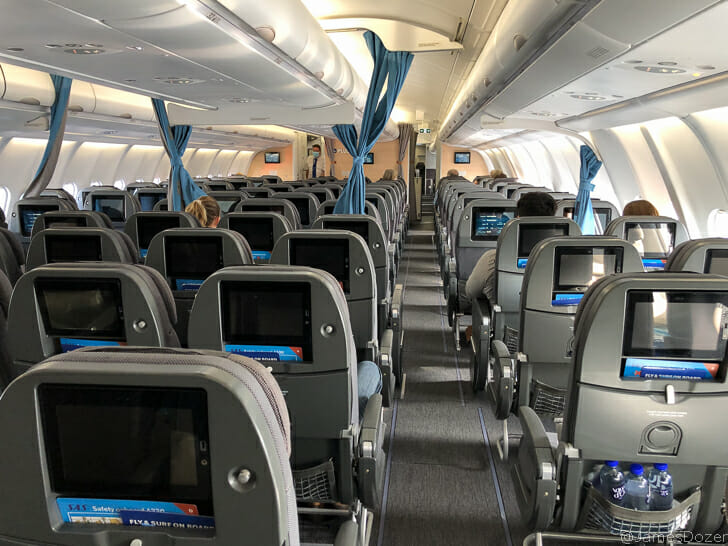 Each seat comes with a personal in-flight entertainment monitor, USB adaptor, coat hook, adjustable headrest, and a universal electrical outlet located underneath the seat. Entertainment-wise, SAS has a terrible selection of in-flight movies and TV shows. It's surprising how lacking their selection is with only 38 movies and 35 TV shows in their entire collection for some of their longest flights.
Here's the "new release" section for September 22, 2021; a whopping five movies. Pretty ridiculous, right?
Also, none of SAS' aircraft are configured with personal air vents so if you like and find aircraft cabins to be hot and stuffy, then I would recommend you bring a personal USB fan like this one. I love this little USB fan. It's small, powerful, quiet, and fits in my carry-on bag. You can find it on Amazon here (affiliate link).
Waiting at our seats were a pillow, blanket and a bottle of water and even though this flight was barely a third full, SAS had pillows, blankets and water bottles laid out on every single seat. I found this was kinda wasteful (but also convenient) as people just grabbed what they wanted from the other seats. I ended up using two pillows and several water bottles from seats nearby.
Once all the passengers were boarded, we then pushed back from the gate and made our way to the runway for our 11-hour flight to Los Angeles.
About 20 minutes after takeoff, the flight attendants came by with a beverage service. One non-alcoholic beverage was provided free of charge with each meal service. Alcoholic drinks and any subsequent beverages were charged extra. SAS took a page out of Norwegian's playbook here… Lunch was then served shortly thereafter. No menus or further descriptions were provided and there was only one option for economy class passengers, which was a chicken rigatoni served with a side salad, some rye bread, cheese, and a chocolate brownie dessert. It didn't look all that appetizing, but I can honestly say it tasted better than it looked. The pasta had a good flavor to it and the meal was very filling.
The flight attendants then came by with a coffee/tea service and bused our tables. After my tray was taken away, I did some work on my laptop and zoned out with a movie. WiFi was provided on this flight but just like my outbound flight, I wasn't able to connect to the WiFi to see how fast or reliable the internet was. I don't know what my problem was but after I connected to the WiFi, I couldn't get the popup window to come up for me to select the plan. If anyone out there knows what my problem is, feel free to drop some suggestions in the comments box.
When I originally booked this flight, I selected one of the free seats in the back of the aircraft but at check-in, there were plenty of open seats available closer to the front so I moved myself to 35H, right over the wing. If you like a good window seat view, I don't recommend seats in this area as you're just looking at a very large wing.
However, I did sneak up to one of the open premium economy seats for a little bit to snap some pictures. Much better view, right?
On other daytime flights I have been on, the flight attendants usually come around and shut all the window shades after the meal service but for some reason, they didn't do that on this flight. All the windows shades stayed open, and the cabin lights were never dimmed. The whole cabin stayed pretty bright the entire flight and there was never an opportunity to rest your eyes for a bit. I'm not sure why they did this but I'm assuming it's because we were landing so early in the day that it made sense for our bodies to adjust to the natural daylight?
Service-wise, the flight attendants were nice but not incredible like my outbound flight. They didn't really walk the cabin that often nor were they very proactive in offering anything. Luckily, there were plenty of water bottles left on all the empty seats and I just helped myself to those mid-flight.
About an hour before our arrival into Los Angeles, a light breakfast was served with two cheese rolls and some juice.
SAS Economy Class Bottom Line
Overall, SAS offers an acceptable economy-class product for getting across the Atlantic but the overall experience does teeter on what you would expect from a low-cost carrier. Their in-flight entertainment options are unacceptable for a long-haul carrier and no one likes being nickeled and dimed for drinks and snacks mid-flight. But it makes financial sense for airlines to go this route as Lufthansa recently announced that they would also eliminate complimentary alcoholic drinks and snacks on economy class flights.
That being said, SAS is known for having super cheap trans-Atlantic fares so I can't complain too much. This roundtrip flight from Los Angeles to Tallinn, Estonia cost me a whopping $495 total (regular economy including free seat selection, carry-on bag, and one checked bag). That's an incredible deal which means I should expect to get what I paid for.
The other reviews included in this series: