At LAX – Los Angeles International Airport, SAS, otherwise known as Scandanavian Airlines, operates a once-daily flight to Copenhagen, Denmark with an Airbus A330-300 aircraft. This route used to be operated with an Airbus A350 earlier this year but it has since been downgraded to an A330. This is sad news for us here in California as the A350 offers better humidity control, larger windows and better WiFi connectivity for all passengers, and wider, more comfortable seats for business class passengers. I really hope the A350 makes a return to Los Angeles once passenger numbers pick up again.
On this trip, I was traveling to Tallinn, Estonia with two connections in Copenhagen and Stockholm. The only requirement I needed for travel to Estonia were a CDC vaccination card and an Estonian health declaration form and both documents were verified at check-in. Everything was handled very efficiently and I was on my way within five minutes of walking up to the counter. Security was also quick and easy and I was through in under 10 minutes.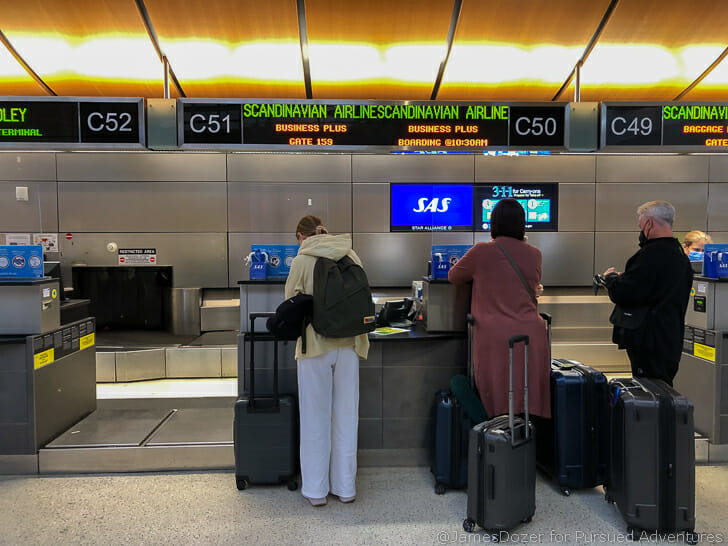 Lounge services for business class passengers and Star Alliance Gold passengers are provided at the Star Alliance Lounge. This is one of my favorite business class lounges and I'm so happy that it re-opened just in time for my trip. The good news is the lounge has resumed a hot breakfast buffet but the bad news is the lounge is only open from 7:00 AM to 1:00 PM daily, so it only benefits a handful of morning flights. Masks are required in the lounge except when actively eating or drinking.
After some food and an opportunity to send off some last-minute emails, I left the lounge and made my way to the gate area to take some pics of the plane. With a fairly light passenger load, boarding started at approximately 10:30 AM (30 minutes prior to our departure time) with business class passengers and SAS/Star Alliance elite members, followed by SAS Plus and then economy class passengers. Overall, I think there were only 100 or so passengers on this flight and 10 of us were in business class. All passengers boarded through door 2L.
Flight: SK932
Aircraft: Airbus A330-300
Los Angeles (LAX) to Copenhagen (CPH)
Depart: 11:00 AM on Thursday
Arrive: 07:10 AM next day
Duration: 11hrs 10mns
Seat: 6A Business Class
On their Airbus A330 aircraft, SAS has their business class located in the forward-most cabin. There are 32 Thompson Vantage XL seats configured in a 1-2-1 layout across 8 rows. These seats offer direct aisle access for all passengers and can be converted into a fully flat bed that measures nearly 6′ 5" in length.
For window seat passengers, the even-numbered seats are located closer to the window with the side table protecting you from the aisle, and odd-numbered seats are located closer to the aisle. If you're traveling solo, go for the even-numbered seats for the added privacy but if you're a bigger passenger and want some extra foot space in bed mode, go with the bulkhead seats located in row 1.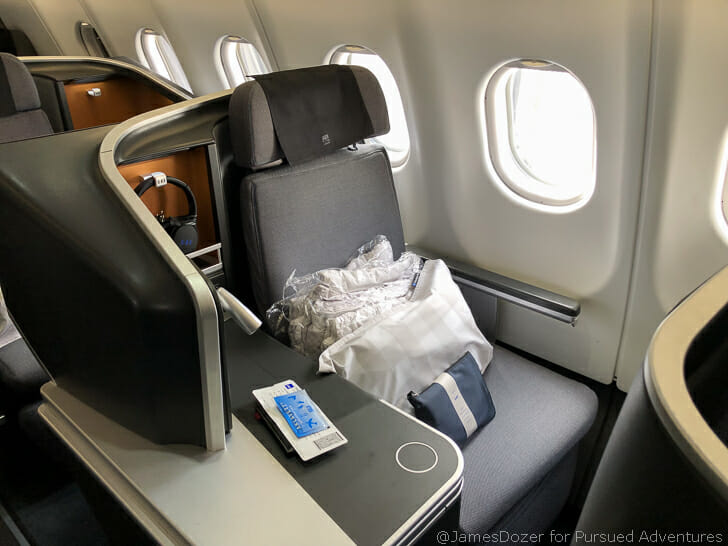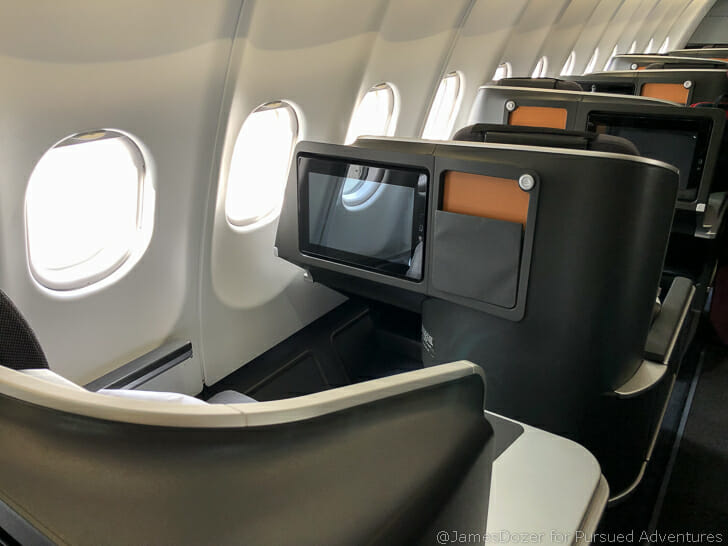 In normal seat mode, I really like this seat. The seat cushion is comfortable; you can raise the leg rest independently of the seat and the storage layout allows you easy access to your personal belongings during flight. However, one of my biggest complaints about this seat is the very narrow footwell. This is just my personal opinion but I don't think this seat is the most comfortable in bed mode.
For couples traveling together, the middle seats are best but unfortunately, they are still staggered from each other. No love for love seats here.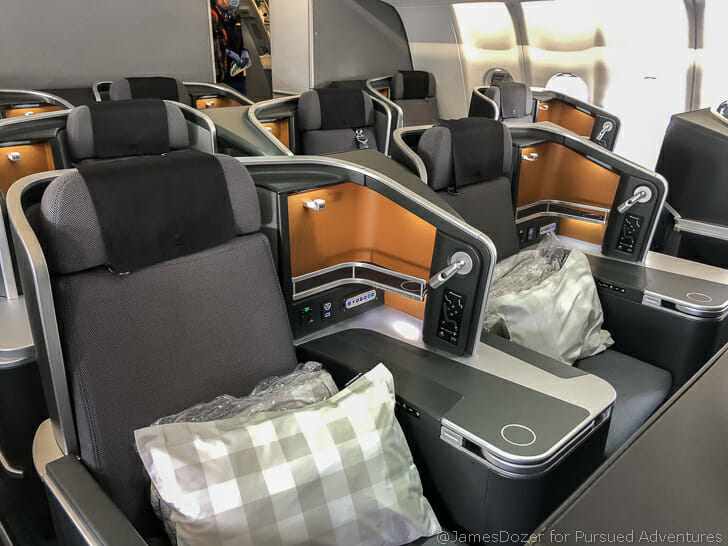 Waiting at our seats were a pillow, bedsheet, amenity kit, SAS branded headphones and a bottle of water. The blanket was fine but the pillows were very flimsy so try to grab an extra one if you need more support. The SAS branded amenity kit contained all the usual items including socks, facial moisturizer, lip balm, earplugs, eyeshades and a dental hygiene kit. It was nothing special but it had everything you needed to make for a comfortable flight.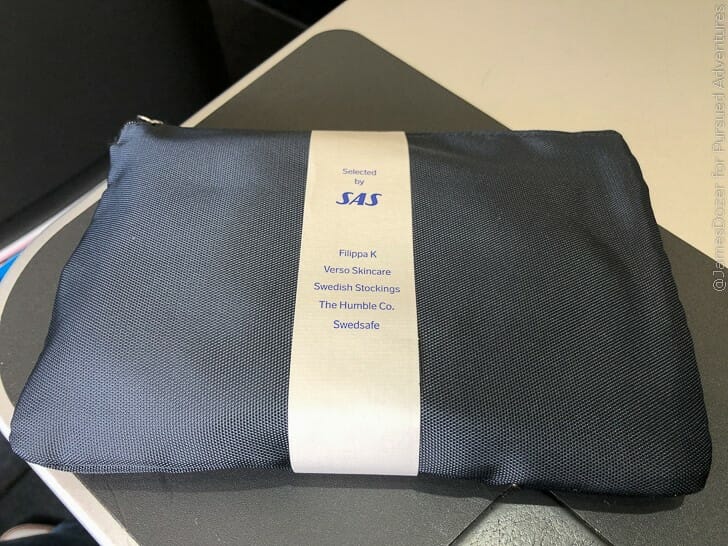 Seat and lighting controls are located next to the privacy divider and along the edge of the side table. This is a terrible place for seat controls as I found my elbow bumping these controls constantly throughout the flight.
Storage-wise, the shelf adjacent to your seat offers a very useful place to secure your items. Everything is within reach and you don't have to worry about losing anything mid-flight.
Each seat offers a large IFE monitor and individual USB/electrical outlets. The IFE monitor is bright and crisp but unfortunately, SAS' IFE selection is seriously lacking. It's ridiculous that they only have 38 movies (5 new release titles) and 35 TV episodes on demand for their longest flights.
There are three lavatories located in the business class cabin: one upfront and two behind. If you need a little more room to move around, the accessible lavatory located on the right side of the plane is nearly double the size of the other two located on the left. The lavatories were not stocked with any special amenities but they did have a supply of alcohol wipes and a bottle of air freshener.
As expected, boarding was completed fairly quickly. We then pushed back from the gate and made our way to the runway for our 10-hour flight to Copenhagen.
A pre-meal drink and a package of salted cashew nuts were served about 30 minutes after takeoff. Lunch was then served about 20 minutes after that. For a very empty flight, that felt unusually long.
For lunch, no menus were provided but there were three options: a short-rib beef dish with sweet mashed potatoes and veggies, a chicken tandoori with rice and a vegetarian enchilada. I went with the short ribs dish and it wasn't bad. The beef was tender and the sauce was delicious but the veggies were soggy and the mashed potatoes were way too sweet for my taste. The mashed potatoes didn't taste like sweet potatoes; more like mashed potatoes mixed with sugar. It was very odd.
The meal was served with a salad (meh), smoked salmon appetizer (very tasty) and a cold bread roll (meh) but oddly, there was no dessert provided afterward.
After my tray table was cleared away, I put my seat into bed mode and snoozed for a bit. I was very grateful for the fully flat bed but like I said earlier, I'm not the biggest fan of these Thompson Vantage XL staggered seats and I wasn't able to stay asleep for very long. Don't get me wrong. They aren't bad by any means but in the world of business class seats, these are not my favorite. I much prefer a reverse herringbone or even an open staggered forward-facing seat as these seats just feel very constricting to sleep in. Just look at how far the seat slides under the TV monitor.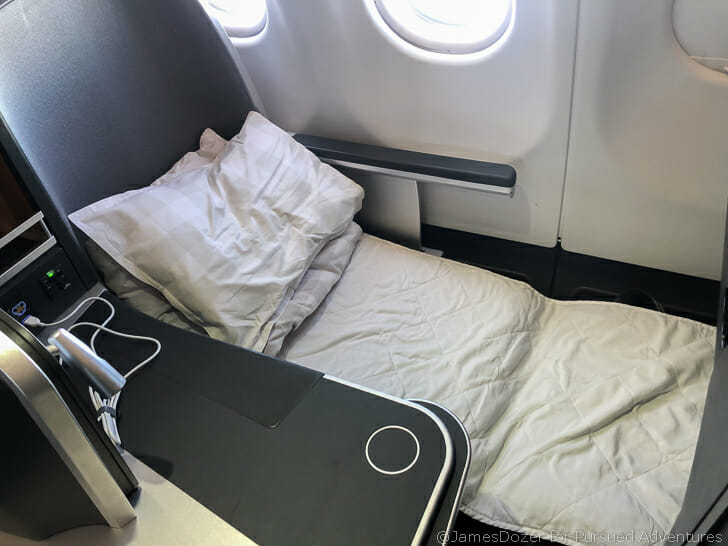 Despite the limited leg space, I managed to get a couple of hours of sleep, thanks to the cool cabin temperature. Service-wise, this was one of the friendliest crews I have ever encountered on a flight. They were all so nice and proactive. After I woke up from my nap to get some work done, three different flight attendants came by to check on me and offered to get me anything I needed. One even proactively just brought me nuts and gummy bears just because. I was so impressed with this crew and they totally made the flight.
That being said, I do have to warn you. I have heard that SAS crews tend to talk loudly in the galleys and I can confirm that is true. If you are a light sleeper, use earplugs and don't select seats near the rear of the cabin.
Halfway through the flight, I ordered a turkey sandwich, chips and a coke to snack on while I enjoyed the sunset.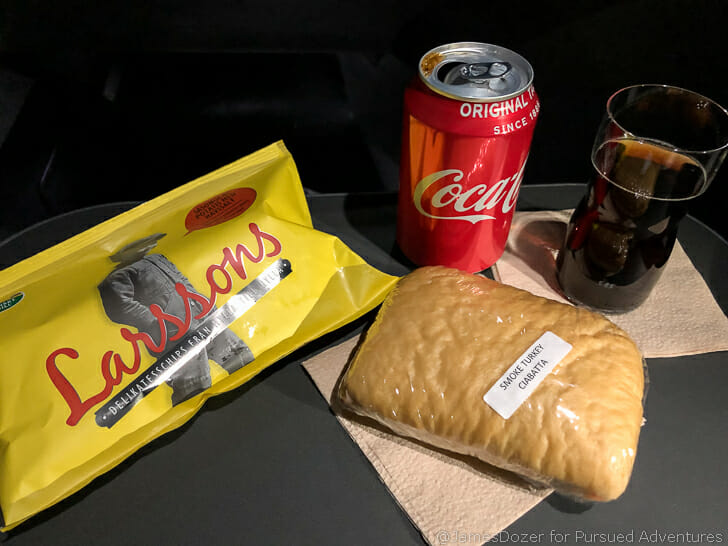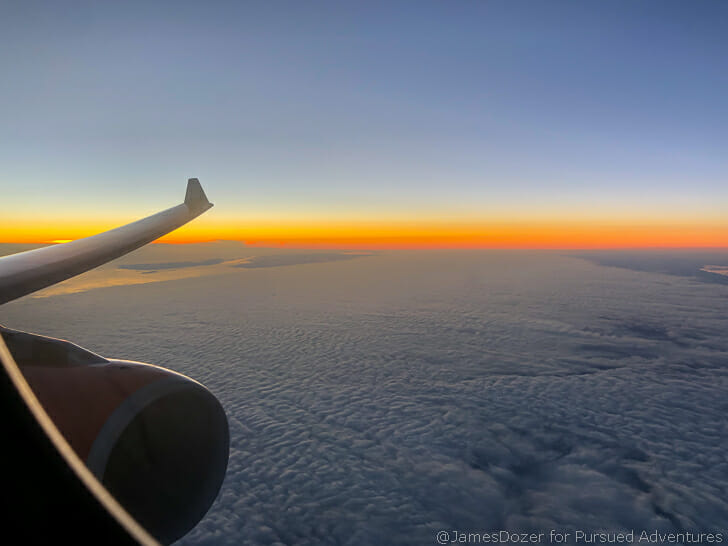 About an hour and a half before landing, the lights slowly came on and a light breakfast was served (yogurt parfait, bread roll, cheese and deli meats). This wasn't the most filling meal and I was glad I had a mid-flight snack.
WiFi was provided on this flight and it's free for business class and SAS Plus (premium economy class) passengers but for whatever reason, I was unable to connect to it with my Macbook or my iPhone. We'll call it operator error as I did see other people using it.
How I paid for this flight
I paid cash for this flight, but it was a really cheap fare. My roundtrip flight from Los Angeles to Tallinn, Estonia was $495 roundtrip for regular economy class (SAS Go Smart – seat selection and one checked bag included). And then a week prior to my trip, I made a bid up to business class via the SAS website. The minimum bid was $815. I figured most people would bet the minimum so I added $10 for good measure, and it was accepted 48 hours prior to departure. All in all, I paid $1,320 for business class on the outbound and economy class on the return. Not a bad deal if you ask me as my fare was upgraded to J fare class, which provided me with lounge access and additional qualifying and redeemable miles.
SAS Business Class Bottom Line
Overall, SAS offers a perfectly acceptable business class product. They are not amazing by any means but they do offer a competitive product compared to their European counterparts. I'm not the biggest fan of these Thompson Vantage XL seats in bed mode but I do appreciate the direct-aisle access for all passengers and the usable storage spaces. The food and amenities could have been better but I would say they are on par with other airlines such as Lufthansa, TAP Portugal, etc.
Have you flown with SAS Business Class? If so, please share your feedback with us in the comments section below. Thanks for reading!
The other reviews included in this series: