This represents another trip originally planned for spring 2020, but postponed 2 years due to…well, you know. I made it a mission several years ago to review more Premium Economy products. United, along with American, operates some domestic routes on internationally-configured aircraft, which makes it easier to sample PE while short on time. I already checked American's Premium Economy off the list, so I looked for options on United for this one. That brought me aboard United B787-10 Premium Plus on their flagship Newark – Los Angeles route. I paid $478 cash for this ticket, which included a coach flight from Dallas to Newark.
United Airlines (UA) Flight 2674
Thursday, April 21, 2022
Depart: Newark Liberty International Airport (EWR), Terminal C, Gate C136, 16:58, 2m early
Arrive: Los Angeles International Airport (LAX), Terminal 7, Gate 77, 19:35, 23m early
Duration: 5 hours 37 minutes
Seat: 21L
Equipment: Boeing 787-10
Yeah, I know, I live a charmed life. I managed to find a flight that actually departed Newark on time…
Check-In and Boarding
My flight from Dallas arrived at Gate C96 just before 2 pm, giving me a 3-hour layover in Newark. With no Priority Pass options at Newark at the time, I grabbed some food at Saison instead. (You can now use the British Airways lounge with PP, but only until 2 pm.) The croque monsieur was so-so, though if you like Old Fashioneds, they have quite a mix-and-match selection. You can pick any whiskey from their large menu to use as the base.
As an aside, I also like the mobile ordering system they have at EWR. Find a seat, order off your phone, and your food and drink appear when ready.
Anyway, after sipping a second Old Fashioned, I headed to the gate a little before 4. Our Dreamliner was ready and waiting, having arrived from Frankfurt several hours earlier.
Boarding began on time, and I crossed over the aisle to head to the right side of the Premium Plus cabin.
United B787-10 Premium Plus – Seating and Interior
I've flown both the 787-8 and 787-9, but never the stretched 787-10 variant. United's B787-10 Premium Plus layout isn't any different from the -8 or -9. Seating consists of three rows in a 2-3-2 configuration. Seat pitch is 38″, and width is 19″. While pitch bests Economy Plus by 3″ and standard coach by 7″, the seats measure 1.7″ wider than all Economy seats. The brown leather seats with purple trim look do look nice, I must say.
One thing you will notice about the 787-10 are the oversized windows, sort of along the lines of Delta's Airbus A220.  The big windows really give the cabin an airy, open feel when fully brightened during daylight hours.
On the way out, I snuck a photo of the Polaris cabin. Functionally, it's the same as the Polaris cabins on other 777 and 787 aircraft. You can check out my transcon Polaris review from 2017 here.
Premium Plus seats include a movable footrest, similar to American's Premium Economy seats. As someone who tends to slouch when sitting, I'm not a huge fan of these footrests in general. It makes discomfort in the lower legs when I slide down. But nearly all Premium Economy products offer them.
With the footrest stored, the seats feature ample legroom.
As a point of comparison, here's legroom in American's Premium Economy seat. It's quite comparable.
Seat controls are simple, controlled by two buttons on the oversized armrest. One controls recline, and the other extends the legrest. The IFE controller also stows in the armrest next to the seat controls, and I think this represents a design flaw. Notice the lack of gap between the armrest and the seat cushion; this made it difficult to remove the controller without it getting stuck. Finally, the seats also have a small storage compartment for phones, headphones, etc. on the other side of the controls.
With the adjustable legrest and generous seat padding, the Premium Plus seats are very comfortable. I purposely avoided sleeping on this daytime flight, but I certainly wouldn't mind dozing off in these for a few hours. I found these seats more comfortable than American's PE seats. The adjustable legrest helps, as does a more comfortable headrest, which provides superior neck support.
As for the rest of the cabin, there is a small plaque at the front notating that you are in Premium Plus.
The lavatories are decent sized, with Sunday Riley toiletries on tap. Premium Plus passengers are permitted to use either the rear Polaris cabin lavatories (at the front of the PP cabin), or the first set of Economy lavatories by the galley.
Speaking of Sunday Riley, you likely noticed this in the seat pictures, but Premium Plus passengers received Sunday Riley amenity kits. I certainly didn't expect amenity kits on a domestic transcon, so color me pleasantly surprised. (Going forward, Premium Plus will also sports pouch versions of the new Away amenity kits.) Not a huge fan of the plastic pouch, but it's very well equipped for a Premium Economy kit. (The face cream, lip balm, and hand cream are a sample of what's inside.)
United B787-10 Premium Plus – In-Flight Entertainment
United's Premium Plus seats come equipped with large, 13-inch IFE screens, which provide excellent resolution. The screens also helpfully display the seat number on the home screen. Helpful when someone appropriates your assigned seat and then magically can't speak English…
Premium Plus features the same "United Private Screening" entertainment system.  There's a large selection of movies, TV shows, and games; I settled in for a few X-Files reruns between getting some work done.
There is, of course, a moving map features. I found this one rather bare bones as far as moving maps go. It's possible it was user error, but I couldn't find the zooms and views you see on American's A321 and Delta's A220 systems, for example.
United provides Premium Plus passengers with basic noise-cancelling headphones. The headphones themselves are of average quality. Not the best out there, but far from horrible. My main complaint with the headphones is that United uses a nonstandard jack. That means not only can't you use the headphones with your equipment, but you also can't plug in your own headphones into the IFE.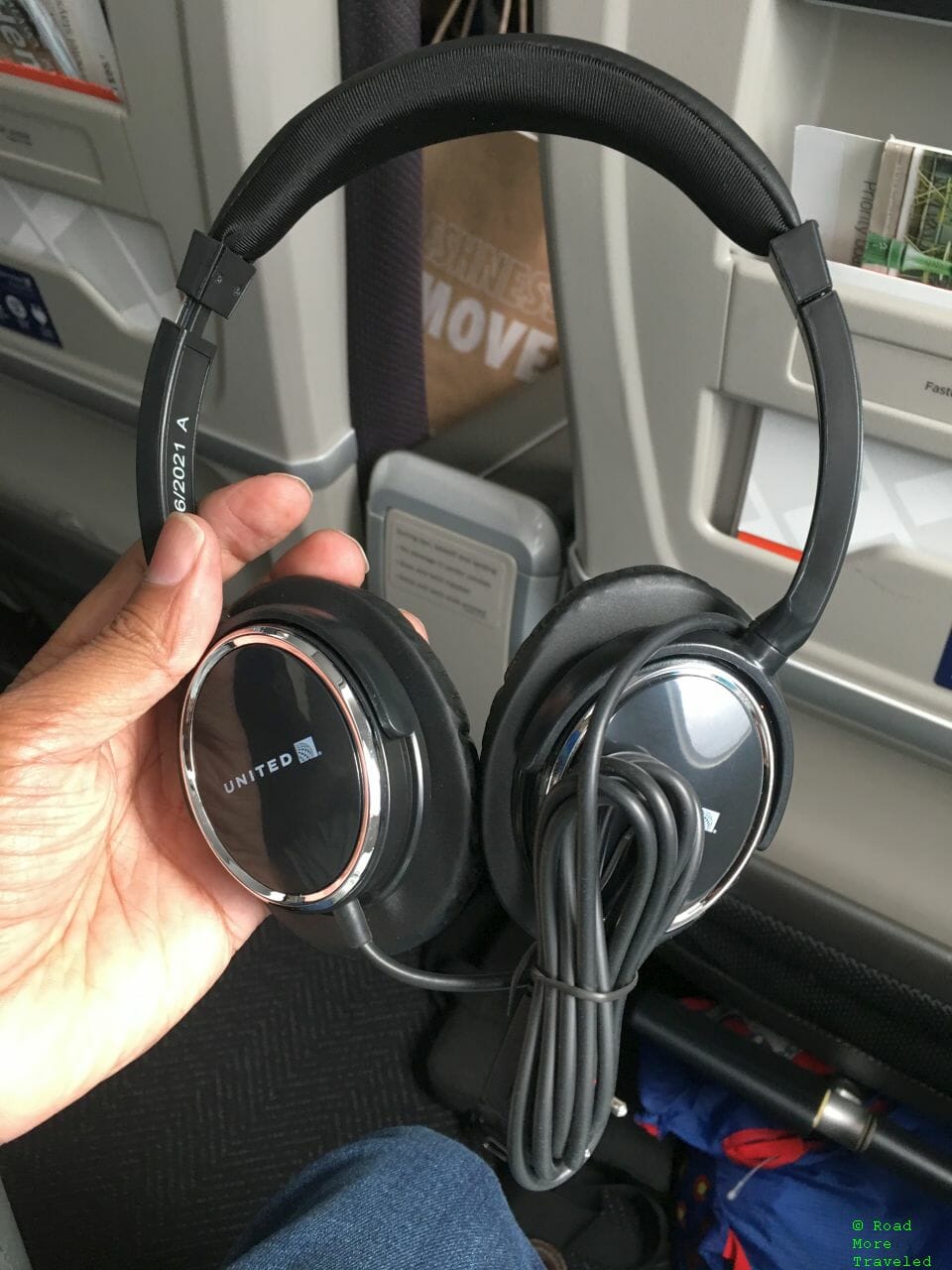 A 110-V plug and USB outlet are at the back of the seat, by the storage compartment. The location is good for plugging in a phone, as you can easily store it in the compartment while charging. I also find this a superior plug location to under the seat, as you don't have to guess where to plug in your laptop.
I needed to get some work done, so I purchased a WiFi pass for this flight. United recently reduced prices to a flat $8 for Mileage Plus members, or $10 for non-members. Or you can purchase a day pass if you need it for connecting flights. It was reasonably fast on this flight; not great, but sufficient to upload/download files on our cloud-based file storage system.
United B787-10 Premium Plus – Food, Beverage, and Service
First the bad news – I apparently deleted my photos of the Premium Plus menu. So while I have photos of the meal, I don't have the entire selection documented.
Meal service began quickly, about 30 minutes after takeoff. Service more closely resembled Economy, with drink and main course orders taken at the same time. I ordered the ravioli (I think pumpkin and squash) and a glass of white wine. The meal also included a side salad, bread roll, pretzels, stroopwafel, and cheesecake. Though served on a single tray, United does use real tableware in Premium Plus.
I found the meal pretty tasty overall. The salad was fresh, and the ravioli decently cooked, with a nice level of sweetness to the sauce. And of course, there's a stroopwafel, which automatically makes any meal a winner. The dinner roll earns a demerit, though. It was packaged and stale. Meanwhile, I can find absolutely no information about the wine, a South African chenin blanc. But I found it decent enough, with a nice tartness that cut through the sweet pasta sauce well. Overall, a perfectly decent meal for Premium Economy.
About an hour and a half before landing, the FAs offered a pre-arrival snack and drink. The snack was a fixed offering of hummus, grapes, crackers, and tabbouleh.
This meal was less successful than dinner. I'm not a fan of tabbouleh to begin with (I truly hate mint), and the hummus was too grainy.
I did enjoy a Buffalo Trace with the snack (plastic cup notwithstanding).
The mask mandate ended two days before this flight, so I also enjoyed a proper beverage selfie for the first time since February, 2020.
As for service flow, on one hand, I appreciated the efficiency of both meal services. Both offerings took just over 30 minutes from start to finish. The Premium Plus flight attendants were also friendly enough. But I rate the service mediocre overall, mainly due to the lack of service between meals. Nearly three hours passed from the end of dinner service until the FAs began snack service. And in all that time, I didn't see the flight attendants out and about once. By contrast, on a recent Alaska Airlines flight from Love Field to San Francisco, the crew managed to serve drinks twice in coach.
Flightseeing
Despite the cloud cover, it was a nice late afternoon weather-wise in Newark. Our location in the terminal, along with our taxi route to the runway, made for some great planespotting with the New York City skyline in the background. First up, a butt shot of a couple of United jets seemingly taxiing towards Lower Manhattan.
Panning out a little, nearly the entire Manhattan skyline came into view.
Next, a United Triple Seven photobombs the set, with a United tail parade for good measure.
As we began taxiing, we passed a 737 seemingly on its way out of Midtown.
And finally, up close and personal with another Dreamliner.
Once airborne, the low cloud cover remained persistent for much of the first 2/3 of the flight. That unfortunately limited flightseeing opportunities much of the way. Over southwestern Kansas, though, we did pass some interesting thunderstorm formations off to the north.
Later, we passed some pyrocumulus from a forest fire over northern New Mexico.
About an hour and 15 minutes before landing, we passed just south of Humphrey's Peak, the highest point in Arizona. The lowering sun and some clouds surrounding it gave it an almost ghostlike appearance.
We began our descent into Los Angeles not long after crossing the Colorado River. And I soon found myself on a very familiar flight path. Flights from Dallas to LA usually pass just south of Lake Arrowhead on descent, and this flight followed the same one. The setting sun set the San Bernardino Mountains aglow on this descent.
Soon enough we found ourselves slicing through the Inland Empire, with Mount Baldy off to the north.
Then we made a close pass to Ontario Airport, with a full view of the airfield below.
Our flight path took us just south of downtown LA, providing an awesome view of the skyline. Unfortunately, the low light made it impossible to get a good photo. But we did a close enough fly-by of SoFi Stadium for a decent shot.
Thanks to some decent tailwinds, we arrived in LA early, reaching the gate 23 minutes ahead of schedule. I'd spend the night near the airport before heading home the next morning.
United B787-10 Premium Plus – Final Thoughts
United's Premium Plus product has a lot of promise, thanks largely to a good hard product. This is a really comfortable Premium Economy seat, one that I think would hold up well on a longer Transatlantic or Transpacific flight. The problem, as is too often the case on domestic carriers, is that service needs to step up a notch. It wasn't objectively bad, but it wasn't particularly good, either, with a flight crew that was friendly but not at all proactive. The end result is a product that seems good, but not particularly special.
As for pricing, an off-peak, midweek (mid-September) flight on this route commands a $200-250 price premium for Premium Plus over Economy. When flying Transatlantic, Premium Plus generally costs $200-400 more than Economy on a roundtrip basis.  That's a reasonable price for what you get, in my opinion.