I have flown Air Canada several times now and each time, I'm always left a little disappointed. I think they have so much potential but I find their service and catering to be consistently unacceptable. On my last flight from Frankfurt to Vancouver, I was so disappointed with the sub-par catering and lackluster service, that I didn't really expect much from this short hop to Los Angeles. But I have to admit, this was one of the best flights I have ever flown with Air Canada. The Airbus A220 is a great aircraft. The business class seat was comfortable and the service and catering on this flight were top-notch.
Airbus has two variants for the A220 aircraft, the -100 and the -300. Air Canada has elected to purchase the longer version and thus, they fly these aircraft on some of their longest domestic and trans-border routes. But that's no problem because the Airbus A220 is one of the best aircraft in terms of passenger comfort. If I had to pick, I would choose the Airbus A220 over any other narrow-body jet as it offers a quieter, more comfortable cabin; larger windows, which are set higher (more at eye level), larger overhead bins to secure all your belongings, and wider seats in every class. Business class seats are 21 inches wide and check this out, economy class seats offer a whopping 19 inches of width. That's unheard of for a narrow-body aircraft.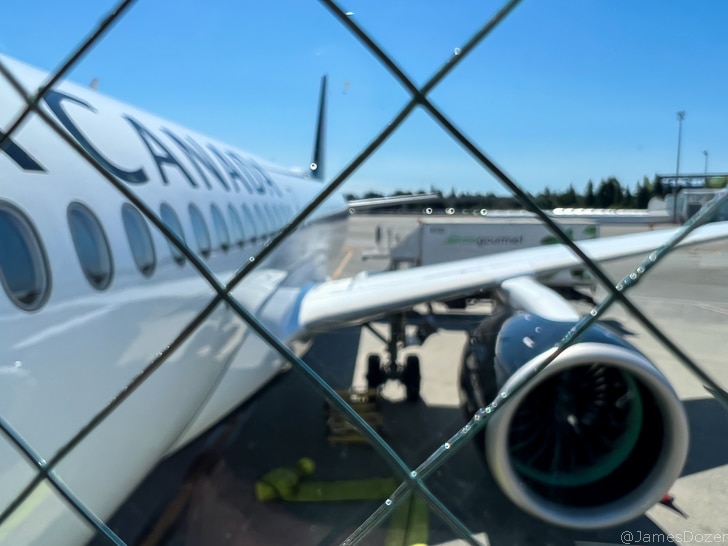 Flight: AC554
Aircraft: Airbus A220-300
Vancouver (YVR) to Los Angeles (LAX)
Depart: 12:05 PM on Wednesday
Arrive: 3:05 AM same day
Duration: 3hrs 00mns
Seat: 3A Business Class
On these Airbus A220 aircraft, Air Canada's "North America Business Class" is configured with 12 recliner seats in the forward cabin. There are three rows of seats in a 2-2 configuration.
In terms of comfort, these are the best recliner seats you will ever get on a narrow-body aircraft. Each seat provides 21 inches of width, 37 inches of pitch, and 4 inches of recline. These seats are also equipped with individual air vents, adjustable headrests, and both leg and footrests to provide you with maximum comfort during flight.
Seat controls are located in the center armrest and there's also a pull-out drink tray for additional surface space.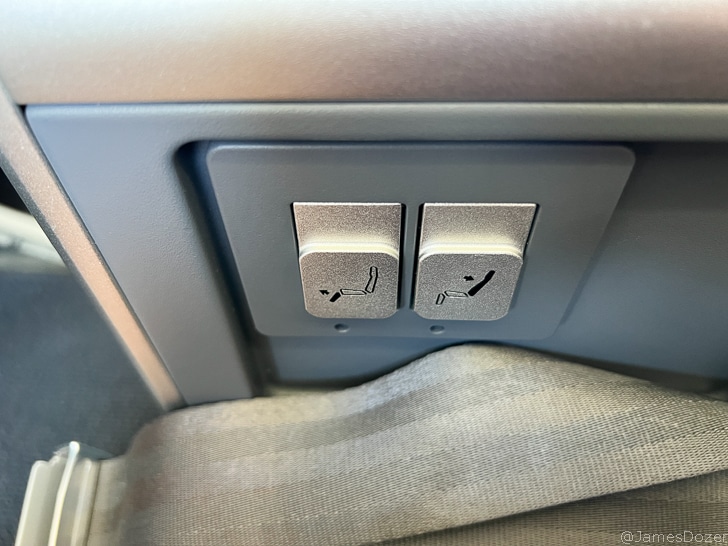 For storage, the large overhead bins can accommodate all your carry-on bags and the space underneath the seat in front of you can hold all your personal items. There's also a small pocket on the inside portion of your seat and two literature pockets to store your laptop, Kindle, iPad and other small personal items.
Personal IFE entertainment systems, USB C/A outlets and a universal electrical outlet are also provided at each seat. The IFE monitors are crystal clear and the systems are loaded with an impressive selection of movies, TV shows and other entertainment.
On this flight, I was seated in seat 3A. As I settled into my seat, the Cabin Service Manager, Hugo G., came by to introduce himself and hand out bottles of water, Covid kits, and printed menus.
There is one lavatory located in the front of the aircraft for business class passengers. It's a decent size (much better than the Boeing 737MAX lavatories).
Once all the passengers were boarded, we then taxied to the runway and prepared for our 3-hour flight to Los Angeles. I seriously love how big these windows are.
I mean, just look at this engine view from my seat. It almost looks like I'm on an A330.
About 20 minutes into our flight, Hugo came around with drink orders and a package of roasted almonds.
Lunch (appetizer, main course and dessert) was then presented all on one tray. My chicken tagine was served on a bed of pasta pearls, with a mixed salad appetizer and a carrot cake dessert.
I don't know if I was just starving from my last flight but this was the best meal I have ever had on any Air Canada flight. The chicken was tender and the sauce was flavorful. The pasta was cooked perfectly and it was the right amount of food. I really enjoyed this meal and the service provided by Hugo was spectacular. He was on his feet the entire length of the flight. He remembered our drink orders and was constantly taking care of all the passengers. Nothing sat on my table longer than it needed to and my drink was never empty.
After my tray was taken away and I had a few drinks in my system, I settled in for a movie, enjoyed the views outside and actually dozed off for a bit. Seriously, I had zero complaints about this seat (or this flight) and I don't think you will either.
Air Canada A220 Business Class Bottom Line
Overall, I was really impressed with this flight. The Airbus A220 really is a game-changer in the narrow-body jet market. I love the extra-wide seats and larger windows. The IFE was crystal clear and loaded with an impressive collection of movies and TV shows. The cabin was comfortable and the catering was delicious but the star of the show was really our flight attendant. He was so personable and professional. He was on his feet throughout the whole flight and he made us feel like we were the only passengers, even though the cabin was completely full. This flight delivered in all categories and I could not have asked for anything more.
Have you flown Air Canada's A220 Business Class? If so, please share your thoughts with us in the comments section below. Thanks for reading!
The other posts in this series include: