At Frankfurt International Airport, Air Canada operates from the B concourse of Terminal 1. Air Canada has several flights a day that depart at the same time so their counters can be a little hectic during the morning hours. If you're departing on one of their flights to Vancouver, Montreal or Toronto, I would show up at least 2.5 hours prior to departure time to ensure you have enough time to check in, clear through security and immigration and enjoy the lounge.
All in all, it took me about 45 minutes to check in, drop off a bag and clear through customs and immigration. I then made my way to the Air Canada Maple Leaf Lounge for a quick bite to eat before boarding my flight. The breakfast buffet wasn't anything amazing but I did appreciate the eggs and bacon to fill my belly. And I would recommend you do the same as (I later found out) the catering onboard this flight was terrible.
Flight: AC847
Aircraft: Boeing 777-300ER
Frankfurt (FRA) to Vancouver (YVR)
Depart: 09:20 AM on Wednesday
Arrive: 10:20 AM same day
Duration: 10hrs 00mns
Seat: 9A Business Class
Boarding for our 9:20 AM flight started a full hour prior to departure time and they definitely needed it. And even then, our departure was delayed another 40 minutes due to late arriving passengers getting through security and bags still needing to be loaded onto our plane. All German airports are a mess right now so expect some delays.
On this 15-year-old Boeing 777-300ER (registration C-FIUR), business class, or as Air Canada calls it, "Signature Class," seats are arranged in a 1-2-1 reverse herringbone layout. There are 26 seats in the larger, forward cabin and 14 seats in the smaller, rear cabin. According to SeatGuru, these Collins Aerospace Super Diamond seats measure 21 inches in width and provide 75 – 78  inches of pitch. But to be honest, these seats feel much wider than the stated 21 inches.
The window seats are best for solo travelers and the center seats are better for couples traveling together. There is a center divider in between the two center seats but it's not very high and it can be lowered to allow the two center passengers to converse with each other.
Directly behind the rear business class cabin, there is a small premium economy class cabin with 20 seats arranged in a 2-4-2 layout.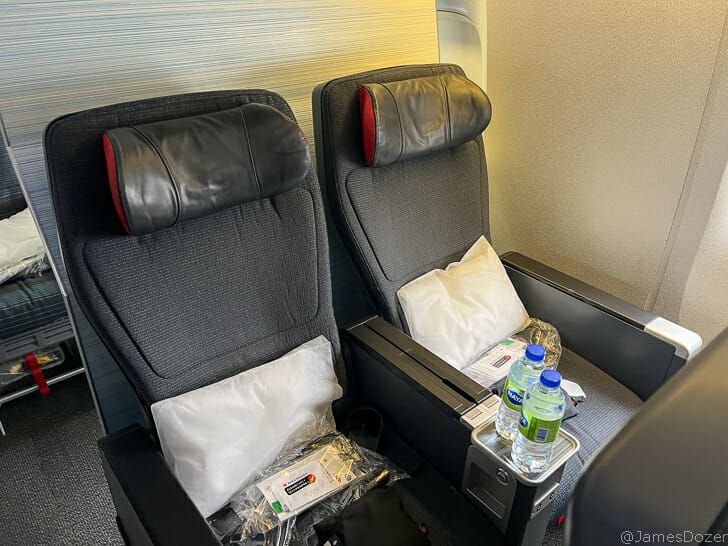 And behind the premium economy class cabin are three large economy class cabins with a whopping 336 seats arranged in a 3-4-3 layout.
On this flight, I was seated in seat 9A, the first seat in the rear business class cabin. Waiting at our seats were a full-size pillow, mattress pad, and a duvet. The pillow was large and full and the mattress pad did a great job of adding some additional padding to the seat. The duvet had a good weight to it and it was perfect for this flight.
Each seat offers a large IFE monitor, several personal reading lamps, plenty of storage spaces, universal electrical outlet/USB ports, and a fully flat bed in sleep mode. The IFE monitors are bright and crisp and Air Canada's entertainment selection is pretty impressive with plenty of movies and TV shows to keep you entertained.
Storage-wise, I really love these seats. There's a storage bin adjacent to the seat that's large enough to store your passport, wallet and other personal items, and another small storage pocket down by the other side of the seat to store water bottles, headphones, etc.
There's also a literature pocket down by your knees where you can keep a tablet or laptop and the side table is large enough to keep all your other belongings.
Seating and lighting controls are located adjacent to the inside armrest.
Seatguru warns that this seat is not ideal due to its proximity to the lavatory but I actually like this seat. The lavatory doors open up to the galley (and not to the aisle) so noise and smell are non-existent. If there's any noise at all, it's from the galley but on this flight, it was kept to a minimum. The biggest advantage of this seat (and 9K) is your feet do not fit into a footwell in bed mode. Unlike the other seats, the space behind the IFE monitor is open and exposed and the large wall adjacent to your seat provides additional privacy.
However, if I had to be completely critical of this seat, I would say that they could have done a much better job of tucking the tray table away. You can fold it in half and push it forward and backward but in sleep mode, you do have to fit your legs/body underneath it.
An amenity kit, bottle of water, and a pair of generic headphones were also provided. The headphones were decent but I would recommend you use your own. The "WANT Les Essentials" branded amenity kit contained all the usual items including socks, hand cream, lip balm, ear plugs, eye shades and a dental hygiene kit. It was nothing special by any means, but it had everything you would need to make for a comfortable flight. It also came with a coupon code for 20% off purchases at WANT Les Essentials and Vitruvi.
WiFi was provided on this flight for $19.25 CAD for a full flight pass. I didn't connect to it so I can't tell you how fast or reliable it was.
There are three lavatories located in the business class section: one up front by door 1L and two in between the two business class cabins. The lavatories were stocked with Vitruvi liquid soap and lotion.
Menus were then distributed and the flight attendants came by later to take our meal order. Here are the food and beverage menus.
With boarding complete and bags finally loaded, we then pushed back from the gate and taxied to the runway for our 10-hour flight to Vancouver. No pre-departure beverages, hot towels or anything else were provided prior to departure.
About 45 minutes into the flight, the beverage carts rolled down the aisle for premium economy passengers. And about five minutes after that, a pre-departure beverage and a small bag of salted almonds were finally served to business class passengers.
Lunch started a full hour after departure with an appetizer tray of smoked fish over quinoa, a side salad and a cold bread roll. The salad was wilted and tasteless, and the smoked fish quinoa thing was barely edible.
For my main course, I went with the salmon, which was served with a side of rice and vegetables. I hate to say it but this was one of the worst dishes I have ever had on a flight. The salmon was overcooked and the two sauces were overwhelming. It was sitting in one sauce and covered in another sauce. I don't even know what I was tasting but it wasn't good.
Dessert was then served with a choice of either chocolate crumble cake, a fruit plate or some cheese. I chose the chocolate crumble cake and the fruit plate. The cake was just a dry chocolate brownie, and the fruit plate was just a basic plate of diced apples and grapes.
I really have to say that the catering on this flight was the weakest part of this business class experience. The entire meal was just so underwhelming. Everything from the starter to the main meal and the dessert was just so basic and tasteless. As a fat kid, eating is one of my favorite things and it's so disappointing when airlines don't invest more in this part of the experience.
After my tray table was cleared away, the flight attendant asked everyone to pull their window shades down. I then put my seat into bed mode and snoozed for a few hours. I love this seat and it was so comfortable. The outside armrest can be lowered to give you some additional width and the large pillow was perfect for me as a side sleeper. I really have to give Air Canada credit here. There's already a cloth padding over the leather seat and the addition of the mattress pad made for a really comfortable sleep surface.
After I woke up from my nap, I put my seat back up and worked on my laptop for a bit. In between meals, a small tray of snacks (chips and chocolate) was put out in the galley for passengers to nibble on.
Now, here's my second gripe about this flight. This wasn't the best crew and the service provided was disappointing. They weren't rude by any means but they weren't polished or professional and they made this flight feel like an economy class experience. They didn't introduce themselves, didn't address any of us by name and they weren't service-oriented. They walked the cabin several times but not once did they ask me if I needed anything. They didn't proactively pick up trash and glasses at my seat and I had to stop them and ask them to take things away for me.
One time during the flight, I walked into the galley to ask for a drink. There were two flight attendants working in there, so I stood by patiently until one of them acknowledged me. One of them looked up, saw me, and continued on with what she was doing. She didn't acknowledge me and just kept doing what she was doing. The other one then looked up and asked if I needed anything. I don't know about you but I think this is unacceptable for business class service. On any other airline, they would have stopped what they were doing and taken care of the passenger. Do you guys think I'm being overly critical here? Let me know in the comments section if you would or would not agree with me.
About an hour and a half before landing, the lights slowly came on and a light "breakfast" was served. Breakfast consisted of some cold cut meats over a pasta summer salad, a fruit cup, and a packaged bread roll. Needless to say, it wasn't great either.
The flight attendants then came around to clear out trash and collect the headphones about 30 minutes prior to arrival to Vancouver.
Air Canada Business Class Overall Thoughts:
Overall, this flight experience had some highs and lows. The positives included a great hard product with plenty of space and privacy; a robust entertainment system and amenities that made the flight comfortable and enjoyable. The large pillow, mattress pad and duvet were very much appreciated.
However, the negatives included terrible catering departing Frankfurt and a lackluster crew. Catering and service are two major components of any business class experience and I was really disappointed by how terrible the food and service were. The crew just didn't seem like they cared and they did the bare minimum required of them. This may seem small by some standards but in my opinion, a great crew can really make (or break) a flight experience, and unfortunately, in this case, they really missed the mark.
Have you flown Air Canada Business Class recently? If so, please share your thoughts with us in the comments section below. Thanks for reading!
The other posts in this series include: