I have flown LOT Polish Airlines a few times now and for the most part, I think they are an average airline. LOT Polish doesn't have the newest or greatest business class seats, nor do they provide the best amenities, but on this flight, I had a GREAT experience flying LOT Polish Airlines business class from Los Angeles to Warsaw. The service and catering on this flight were top-notch and I hope to see LOT Polish continue on this upward trend to become a great European carrier.
LOT Polish Business Class, Los Angeles to Warsaw
Flight: LO22
Aircraft: Boeing 787-8 Dreamliner
Los Angeles (LAX) to Warsaw (WAW)
Depart: 4:45 PM on Monday
Arrive: 1:10 PM next day
Duration: 11hrs 25 mns
Seat: 3A Business Class
At Los Angeles International Airport (LAX), LOT Polish Airlines operates from the Tom Bradley International Terminal. Their counters are located in the C check-in area and they open up three hours prior to departure. I arrived at the airport about 2.5 hours prior to departure and it took me about 10 minutes to check in and drop off a checked bag. It then took me another 30 minutes to clear through security.
Lounge services for business class/Star Alliance Gold passengers are provided at the Star Alliance Lounge, which is one of my favorite lounges in the network. The food and drink options are great and the outdoor terrace is incredible. Click here to read my full review of the Star Alliance Lounge at LAX.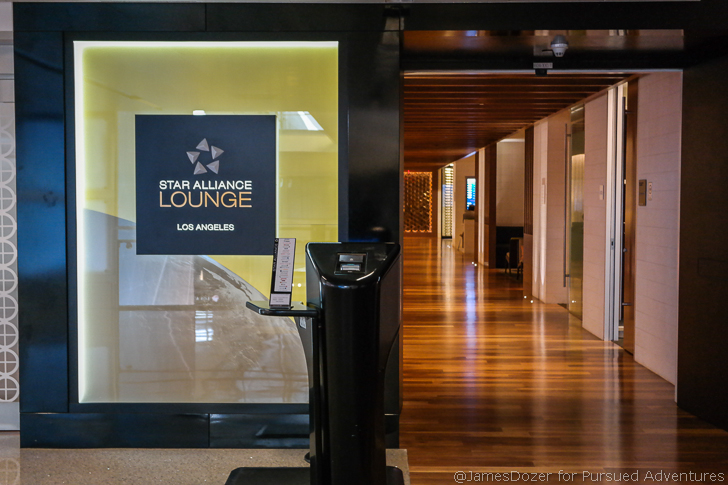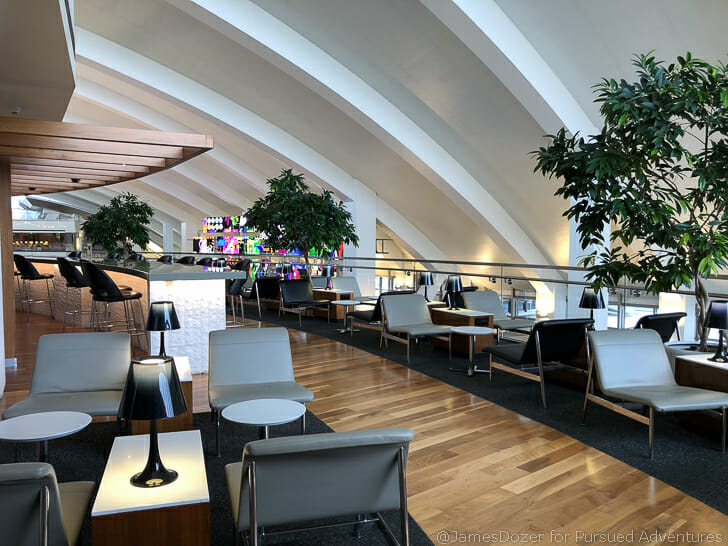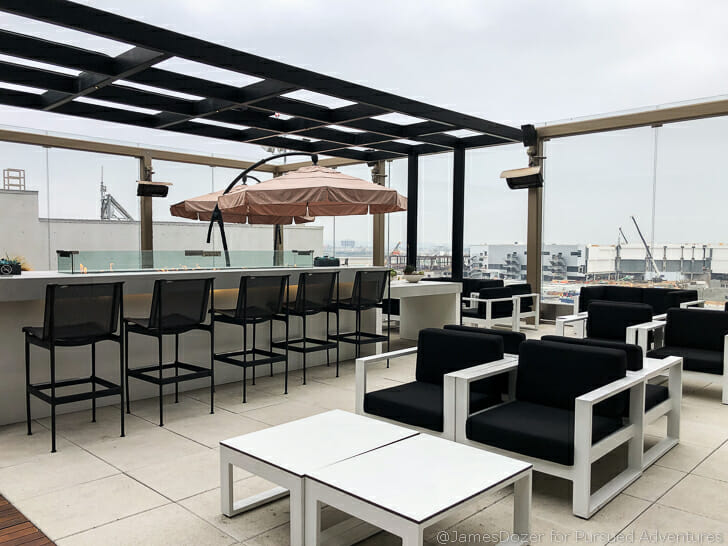 At approximately 4:00 PM, I left the Star Alliance Lounge and made my way to gate 153, where my 9-year-old bird, SP-LRD, was waiting. I took a couple of pictures of the baby Dreamliner and grabbed a seat with everyone else.
Boarding started with passengers with disabilities/needing special assistance, followed by business class passengers, HON Circle, and Star Alliance Gold members. All passengers boarded through door 2L.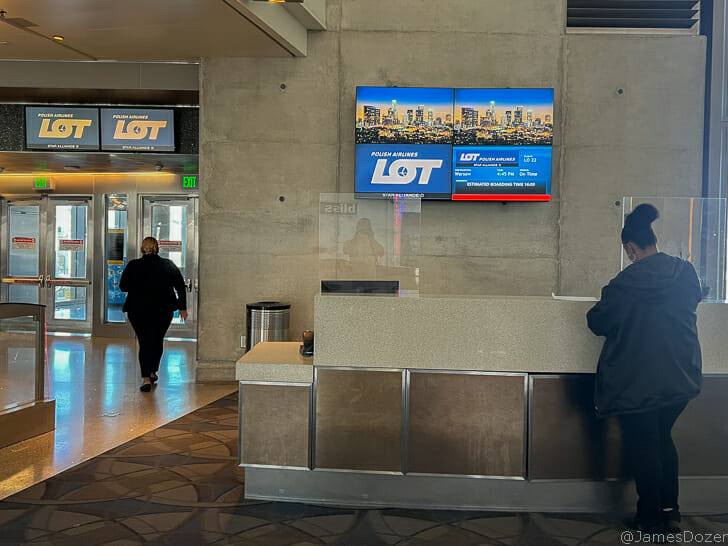 On their Boeing 787-8 fleet, LOT Polish operates a very small business class cabin of just 18 forward-facing, lie-flat seats. There are three rows of seats configured in a 2-2-2 layout. These seats measure 23 inches in width and provide 78 inches of pitch. On this flight, I was seated in seat 3A, a window seat located on the left side of the aircraft. This was a completely packed flight and every seat was taken.
If these seats look familiar to you, that's because they are the same seats used by several other airlines including Air India (Boeing 787) and Air China (Airbus A330). Turkish Airlines used to have these seats many, many years ago but they have since upgraded to a newer version with increased storage and better ergonomics.
Each seat is configured with a personal in-flight entertainment (IFE) system, two reading lamps, a USB port, universal electrical outlet, coat hook and overhead air vents.
Entertainment-wise, these IFE systems are loaded with 24 newish movies and another handful of classic movies; TV shows, games, etc. It's not the most robust selection by any means but if you haven't seen any movies lately, you should be able to find a movie or two to watch.
Seat controls and the tray table are located on the inside armrest.
Storage and privacy-wise, these seats are not the best. They aren't terrible by any means but they are very open and exposed. They lack privacy and usable storage spaces and they don't provide direct-aisle access for all passengers. Your carry-on bags can fit in the large overhead bins and you can keep your backpacks/laptop bags underneath the ottoman in front of you. However, there are no pockets at the seat to secure any of your personal items such as laptops, glasses, or cell phones, etc. I had to keep everything secured in my backpack, which was rather inconvenient.
The inside armrest can be raised to create a privacy divider between you and your seatmate but it's pretty marginal. It doesn't go up very high and it only protects you in bed mode.
There are no overhead bins located above the center seats so those passengers will need to use the overhead bins above the outside seats. But don't worry, these overhead bins are massive so even with a packed flight, there were no issues with overhead storage space.
There are two lavatories for business class passengers with LOT Polish branded hand soap, lotion and air freshener provided. I really appreciate the air freshener in a lavatory and I don't know why more airlines don't provide this.
Waiting at our seats were a bottle of water, antibacterial wipe, pillow, blanket, bedsheet, amenity kit, slippers and a set of headphones.
I'm gonna give LOT Polish some crap here as their new "eco-friendly" amenity kit is a joke. It's a plain cardboard box with a pair of eyeshades, socks, earplugs and a bamboo, dental hygiene kit. This is not something I will ever reuse and the contents were very subpar. Just look at how sad this kit looks.
As I settled into my seat, the flight attendant came by with a pre-departure drink (choice of water or orange juice) and a small amuse bouche. I'm not sure what it was; some sort of roast beef and onion on a piece of toast, maybe? It wasn't that tasty and the toast was a little soggy from the dressing but I did appreciate it as part of the pre-departure service. A for effort.
Menus were then distributed and the flight attendant came by later to take our meal orders.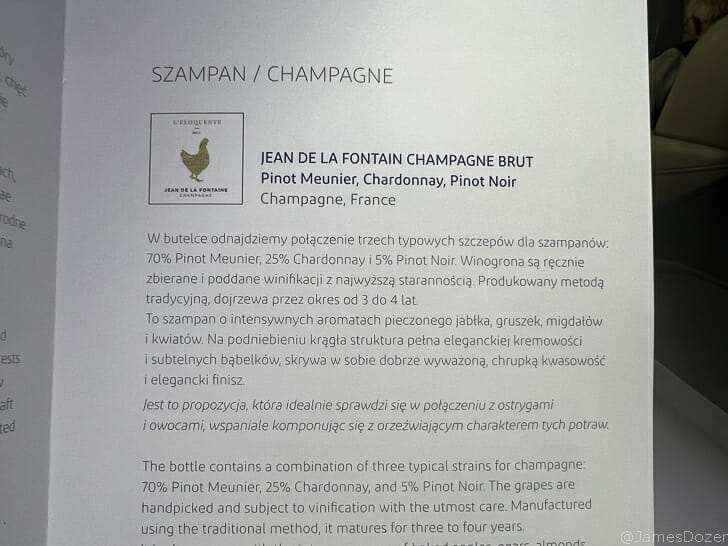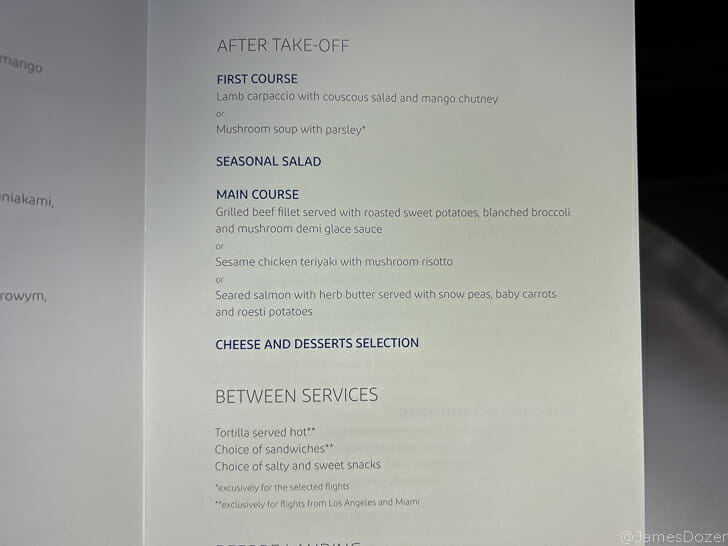 It should be noted that something interesting happened on this flight. The passenger seated next to me, an older gentleman, informed the crew that he was not feeling well. They called for paramedics who came onboard to assess him. But instead of assessing him at the seat, they actually got a wheelchair and took him off the plane to the gate area for their assessment. Because of that, our flight was delayed a little bit as they had to wait for him. But he was ultimately taken to a nearby hospital and the seat next to me became free. Once everything settled down, the boarding doors were then closed and we taxied to runway 24L for our 11-hour journey to Warsaw.
As we reached our cruising altitude, the seatbelt signs were turned off and the flight attendants prepared for our dinner service. Service started with a pre-meal beverage and a package of salted nuts.
For my appetizer, I went with the lamb carpaccio. It was served with a side salad, some couscous, and mango chutney.
For my main dish, I went with the salmon, which was served with a side of vegetables and a potato cake thing. The salmon was seasoned well and cooked perfectly and the potato cake thing tasted a lot better than it looked.
A dessert cart with a selection of fruit, cheese, and cakes was then rolled down the aisle and you could choose anything and everything you wanted. I went with a raspberry cheesecake and a side of fruit.
I must say this was such a great meal. The lamb starter was so good and I wished I could have had a second serving of it. The salmon was perfectly cooked and the dessert cart reminded me of a Turkish Airlines dessert cart. This was such a treat considering the catering on my last long-haul flight with LOT Polish from Warsaw to Los Angeles was so subpar. I'm really hoping this was not a "one-off" but rather a taste of positive things to come for LOT Polish Airlines Business Class.
After dinner, my tray table was cleared and the flight attendants dimmed the cabin lights and electronic window shades. I'm a huge fan of these Boeing Dreamliner windows. They are large and provide excellent views outside, even when darkened. I love watching the outside world from an airplane window and I'm always bummed when I have to close the window shades on daytime flights. However, keep in mind that if you are trying to get some sleep, they don't fully block out all lighting as direct sunlight will still shine in your face.
Service-wise, I was very impressed with this crew. They were friendly, professional, and attentive. They were personable with every interaction and they walked the cabin frequently. They were fantastic and I couldn't have asked for anything more. Of all the European carriers, I think LOT Polish has some of the best flight attendants out there.
After dinner, I finished watching a movie and got some work done on my laptop. Comfort-wise, these seats are just okay. They are good for relaxing and lounging but they are not great for sleeping. The bedsheet provided did not add any additional comfort (I think it's only for hygiene purposes) but I was able to snag an extra blanket and use that under my bedsheet. This really helped make the flat surface a lot more comfortable and I was able to get a few hours of sleep. The cabin was also kept at a very cool temperature, which made a difference as well.
In between meals, the flight attendants came around with sandwiches, beverages, and other snacks. The snacks were also available in the galley for those who slept through the mid-flight service. The sandwiches were nothing special but were appreciated to help hold me over until breakfast.
Approximately 90 minutes outside of Warsaw, the cabin lights were turned on and our pre-arrival meal was served. There was only one meal option and it was a spinach quiche, served with cold cuts, fresh fruit and a crab salad. It was an interesting combination but it was good enough. It wasn't as good as dinner but then again, airplane breakfasts are rarely amazing.
LOT Polish Business Class Overall Thoughts:
I didn't have the best things to say regarding my last LOT Polish Business Class experience but I have to say, this flight was significantly better. The lounge options and catering departing Los Angeles were fantastic and the service provided on this flight was top-notch. Catering, service and seats are three of the most important aspects of any business class experience and on this flight, LOT Polish knocked two of them out of the park. The only area left for LOT Polish to improve is their hard product. These seats are very open and spacious but they are outdated and lack the privacy and direct-aisle access needed to truly be a competitive product.
Have you flown LOT Polish Airlines Business Class? If so, please share your thoughts with us in the comments section below. Thanks for reading!
The other posts in this series include: