The Seabourn Antarctica expedition voyage deal is back again at its lowest prices in nearly a year! For those with flexibility and looking for something to do this holiday season, consider an 11 day great white continent adventure on the world's newest expedition vessel. Prepare yourself to explore penguin colonies, view international research stations, and see the whales migrating through the southern ocean on your journey from South America to Antarctica.
The Seabourn Pursuit just launched. The ship is nearly identical to the  Seabourn Venture.. I traveled to Antarctica on the purpose built expedition ship in February 2023 with a group of 50 friends and it was life changing!
The limited time deal is valid on either the Venture or sister ship Seabourn pursuit. This deal is better than the $9,999 deals I've previously blogged about. We have to return to June 2022 to find a Seabourn Antarctica expedition price this low! Consider booking your Antarctica expedition via my Travel agency Scott & Thomas Travel and benefit from my own insider knowledge from travel with Seabourn and to Antarctica recently.
Antarctica Expedition Deal
The best deal currently available is $8,998 per person for a Veranda Suite sailing November 27- Dec 8, 2023 or over Christmas, December 17 – December 28, 2023 on the new Seabourn Pursuit. I can hold your suite for $0 for up to 7 days. You can lock in your deal by contacting me today. Final payment is due 90 days before departure. 
These 11 days ultra luxury expeditions are a fantastic way to experience Antarctica. Enjoy 2 days crossing the Drake Passengers and then 5 days exploring the Antarctica Peninsula. Actual destinations in the Peninsula will depend on weather.
| | | | |
| --- | --- | --- | --- |
| Antarctica Expeditions | Veranda Suite | Panorama Suite | Penthouse |
| Nov 7 – Nov 28, 2023 | $13,049 | $14,999 | $19,349 |
| Nov 17, 2023-Nov 28, 2023 | $14,039 | $14,309 | $16,649 |
| Nov 27, 2023-Dec 8, 2023 | $8,998 | $12,998 | $14,998 |
| Dec 7, 2023-Dec 18, 2023 | $10,499 | $17,999 | $15,299 |
| Dec 9, 2023-Dec 20, 2023 | $12,599 | $12,599 | $15,299 |
| Dec 17, 2023-Dec 28, 2023 | $8,998 | $12,499 | $14,499 |
| Dec 27, 2023-Jan 7, 2024 | $10,298 | $14,759 | $22,409 |
| Jan 18, 2024-Jan 29, 2024 | $17,099 | $24,299 | $26,999 |
| Jan 20, 2024-Jan 31, 2024 | $10,999 | $19,498 | $19,999 |
| Feb 9, 2024-Feb 20, 2024 | $10,999 | $19,349 | $21,599 |
| Feb 11, 2024-Feb 22, 2024 | $9,999 | $18,498 | $19,999 |
There is also an amazing 21 days from Rio for just a few thousand dollars more which includes stops in Uruguay and the Falkland islands. The 21 day expedition is by far the best value in the market at just $13,049 departing on Nov 7, 2023
13 day options start at just $10,999. An amazing deal for two additional days in Antarctica. 
| | | | |
| --- | --- | --- | --- |
| 13 Day Expeditions | Veranda Suite | Panorama Suite | Penthouse |
| Nov 27, 2023-Dec 10, 2023 | $10,999 | $16,498 | $17,999 |
| Jan 8 – Jan 21, 2024 | $12,998 | $23,939 | $24,999 |
| Jan 28 – Feb 10, 2024 | $12,498 | $23,939 | $24,999 |
| Jan 30 – Feb 12, 2024 | $11,998 | $21,998 | $25,999 |
Added bonus – $150 onboard credit per person on select sailings for booking with Scott and Thomas Travel!
Why This is a Great Deal
Antarctica is HOT right now. It's a bucket list item for many people. With more companies exploring the Antarctic peninsula it's making it easier for more people to visit. I took a group in Feb 2023 and we all paid between $12,000 and $15,000 each for Veranda Suites. We booked in 2022 and at that point, $12,000 was a great deal.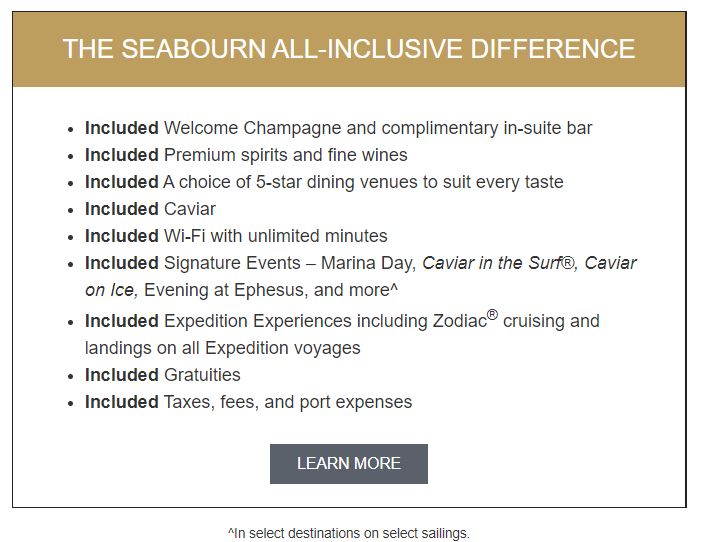 This year we've seen pricing as low at $6,200 during Hurtigruten's BOGO sale, but that was on a  HUGE ship with 500 people. Also, Hurtigruten is NOT luxury nor all inclusive. To see pricing below $10,000 on a luxury ship is rare! This pricing is nearly in par with Atlas Ocean Voyages pricing and honestly, any well traveled person knows that Seabourn is several steps above Atlas. 
Seabourn Venture & Seabourn Pursuit Veranda Suites
One of the most compelling things to me about traveling with the Seabourn Venture and Seabourn Pursuit is the level of luxury they bring to the expedition segments. The Seabourn Venture launched in July 2022. The Pursuit, launched in the summer of 2023. Both ships are new Polar Class 5 luxury polar expeditions designed and built for these remote regions–unlike the older ships that have been refurbished and utilized by most of the competition. Silversea expeditions watch out, Seabourn offers a ship built specifically for Antarctica. Also, EVERY room on Seabourn is a Verandah Suite or better. Lindblad Expeditions is one of the few other operators with ships this nice. 
For $8,998 per person, you get an ocean front suites with a Verandah on. These suites are 355 sq. ft. (33 sq. m.) and include a 75 sq. ft. (7 sq. m.) private balcony. Larger than nearly every competitor. 
All suites features a comfortable living area which includes a table for two and a couch. Featuring ground to ceiling windows with a private veranda, these suites are perfect for taking in the views and wildlife spotting.
Rooms feature a queen-size bed or two twin beds; an extra-large walk-in closet plus a heating closet to warm your expedition gear. Other features include a personal safe; interactive flat-screen TV with music and movies; and a fully stocked bar and refrigerator. Guests can also request up to two bottles of top shelf alcohol for their rooms to reduce trips to the bar.
Seabourn cuts no corners on their rooms and offers more than 150 sq feet more personal space than most ships. Even the bathrooms are over the top. Seabourn is the only expedition company where each suite features a full five piece bathroom including a large soaking tub, a separate walk-in shower, and a large double sink.
Seabourn Expedition – All Inclusive Pricing
On Seabourn, nearly everything is included in the cost of the Sailing. All you have to do is purchase your flights to Buenos Aires. Once on the ship, all your food, premium alcohol and daily excursions are included. Even Wifi, all dining options, gratuities are built into the cost! These are the features that have made Seabourn ships so successful–trie all inclusive pricing.
Each cruise to Antarctica includes the following amenities:
Pre-cruise Hotel in at the 5 star Alvear Icon Hotel

Round Trip Charter flight between Buenos Aires and Ushuaia

Daily Zodiac tours and landings on one of the 24 zodiacs

Digital photography workshops & professional photographers

Expedition log to view after sailing
Expedition Video by professional photographers and videographers. Here's mine

Helly Hanson Parka and day pack

24 hour room service

Opportunities for frequent wildlife sightings from the ship and on shore

Onboard expedition team providing narration and insight to all aspects of the experience

Special guest speakers onboard
Unlike other cruise lines,*cough* Hurtigruten, Seabourn includes nearly everything in the cost. More in line with Swan Hellenic Antarctica operations and other true luxury carriers. 
Everyone is an ultra luxury expedition traveler on Seabourn and you can choose between two excursions which are not inclusive. Take a dive on a submersible For just $999 per person. Experience Antarctica underwater. The custom built submarines allow for excursion to explore the depths of the Weddell Sea going up to 300 meters below the surface. Kayaking in Antarctica is also an added expense. A guided Antarctica Kayak adventure cost $199 per person. Otherwise, enjoy the multiple daily complimentary Antarctic excursions including hiking, zodiac rides, and exploring all that the Antarctic Peninsula has to offer.
Other Current Noteworthy Expedition & Cruise Deals
Looking for something else? Check out these deals
Bottom Line
I absolutely love sailing Seabourn. I've written about Seabourn's Antarctica deals several times. Providing additional information about the Zodiac tours and naturists onboard. Seabourn's expeditions are taking on Lindblad, Ponant, and other major expedition operators while upping the luxury game. 
Seabourn Venture and Pursuit offer a world class experience to the most remote destinations on a ultra luxury purpose built cruise ship or better said on an luxury purpose built expedition ship. Other deals we've seen at this price point require you to pay in full 10-16 months in advance. Yet now, Seabourn is bringing you the best prices to Antarctica without that hurdle. Offering the best deals on upcoming departures.
Book your $8998 expedition today
If you are considering an Antarctica Expedition, email me. Even if you don't want to cruise with Seabourn, I work with nearly every operator in Antarctica. I'll happily find the perfect expedition and dates for you.