For an economy class flight, this flight with KLM on their Boeing 787-9 Dreamliner was actually a pretty good experience. The seat was comfortable. The service was friendly and I definitely enjoyed this flight more than my previous economy-class flights with Lufthansa and SAS (Scandinavian Airlines). With their frequent Flying Blue award promotions and credit card transfer bonuses, KLM can be an affordable, yet comfortable, way to cross the Atlantic. For example, this one-way trip from Venice to Los Angeles only cost me 18K AmEx Membership Reward points, which is a pretty good deal in my book for an end-of-summer trip.
At Amsterdam Schiphol International Airport, KLM operates the KLM Crown Lounge 52 for their business class and SkyTeam Elite Plus passengers. At over 73,000 square feet, the recently renovated lounge is not just the flagship lounge for the airline but it's also the crowning jewel of Amsterdam Schiphol Airport. This massive lounge spans two stories and provides plenty of amenities such as complimentary food and drink, a coffee bar, shower suites, and dedicated zones for resting and relaxing. Economy class passengers can purchase a day pass for 65 Euros.
If you have a Priority Pass membership, then you can use the Aspire Lounge in T2. The lounge is currently closed for renovations but they have set up temporary spaces in two nearby restaurants. These lounge visits still count as lounge visits and not restaurant visits, per the cardmember agreement, so American Express and Capital One cardmembers are still able to access them. But don't get your hopes up as the temporary lounge spaces are nothing special. They are oftentimes crowded so expect a wait and the food selection is very limited.
I had a couple of hours to kill so I hung out at the lounge for a bit and then made my way to gate E2. I took some pictures of the beautiful blue livery and waited for my boarding group to be called. As an economy class passenger in zone 5, I knew I wasn't going anywhere anytime soon so I just took a seat and waited for my turn to board. All passengers boarded through door 2L.
KLM Boeing 787 Economy Class
Flight: KL609
Aircraft: Boeing 787-9 Dreamliner
Amsterdam (AMS) to Salt Lake City (SLC)
Depart: 5:30 PM (5:33 PM actual) on Wednesday
Arrive: 7:30 PM (7:17 PM actual) on Wednesday
Duration: 9hrs 44mns
Seat: 26G Economy Class
In KLM's Boeing 787 fleet (both the 787-9 and 787-10), there are two economy-class cabins with seats arranged in a 3-3-3 layout. The forward cabin is always the smaller of the two and this is my preferred cabin to be seated in. If you're able to, I would select seats in this cabin as it tends to be quieter and less chaotic than the much larger rear cabin. According to SeatGuru, these seats provide 17 inches of width, 31 inches of pitch and a whopping 5 inches of recline. The width and pitch are fairly standard but the recline is very generous for an economy class seat.
On this flight, I was seated in seat 26G, an aisle seat in the center column of seats. This seat is located in the last row of the forward economy class cabin, which is my favorite economy class seat in the KLM Boeing 787 fleet. These seats are located in the last row so there are no passengers behind you to pull or push on your seat but you still get a full recline. I really like this as I do feel bad reclining my seat into the passenger behind me. But since there's no one behind my seat, I can recline all I want without feeling guilty.
That being said, these seats are located directly in front of the lavatories so they may not be for you. You do hear the flushing of the toilets all flight long and people do occasionally congregate in the aisles next to you while waiting for the lavatories. If this bothers you, I would recommend sitting somewhere else.
Waiting at my seat were a pillow and blanket. The flight attendants then came by later with complimentary earbuds. The earbuds were rather basic so don't forget to bring your own earphones. The pillow was also a little thin and the blanket was long enough but not very wide.
The seat itself was decently padded but if you have sciatica issues or problems with leg numbness during flight, I would recommend this inflatable seat cushion to provide you with some additional comfort. This self-inflating seat cushion is perfect for economy class seats and it will give your rear end a bit of relief from the hard seat. When I'm flying in economy class, I always pack this in my bag as it can be inflated in seconds and it does wonders for my seat comfort. You can click here for more information. 
Each seat features a four-way, adjustable headrest and overhead reading lamps. However, no individual air nozzles or foot/leg rests are provided. USB outlets are provided at every seat but only two universal electrical outlets are provided for every three seats.
Entertainment-wise, each seat offers a large, personal entertainment monitor with a good selection of new Hollywood movies, TV shows, music and games. It wasn't the most robust selection by any means but it definitely had enough variety to keep me entertained during this flight. WiFi was provided but I didn't connect to it so I can't tell you how fast or reliable it was. One hour of internet costs 8 Euros and a full flight pass costs 18 Euros. In-flight messaging was provided complementary for all passengers and I did connect to that but I found it was very unreliable. I'm hoping the paid internet was better than that. Otherwise, I would have been very disappointed.
Once all the passengers were boarded, we then pushed back from the gate and made our way to the runway for our 9-hour flight to Salt Lake City. Approximately 30 minutes into the flight, the seatbelt signs were turned off and the flight attendants came around with a bottle of water and a hand sanitizer packet.
Dinner was served about one hour into the flight. Individual menus were not provided but the selections were either chicken or a cheese ravioli plate. I went with the chicken, which was served with potatoes au gratin and some broccoli. The meal was accompanied by a bread roll, a piece of Beemster cheese, and a Mediterranean appetizer plate. I didn't eat the appetizer plate but the chicken dish was actually really tasty. It was a little on the small side but the flavors were fantastic.
After dinner, our trays were cleared and the flight attendants came around with a coffee/tea service and a piece of coffee cake. Both were very good.
After dinner, the cabin lights and windows were dimmed and I settled in for a movie and some work on my laptop. In between meals, the flight attendants walked the cabin frequently to offer passengers cups of water, which was appreciated. I always like it when the flight attendants are proactive in providing service and not just congregating in the galleys to talk loudly. Cheese sandwiches, cookies, and drinks were also available in between meals.
If you have a hard time sleeping on airplanes because your head bobs back and forth, I would recommend this GoSleep 2-in-1 travel sleep mask. It looks a little funny but trust me, you will get more restful sleep with this mask than with anything else. It's a simple eye mask that attaches to the back of your headrest to gently support your neck and head during sleep and it prevents your head from bobbing back and forth.
With the lights dimmed, my GoSleep mask, and my seat cushion, I was able to snooze for a solid four hours. By the time I woke up, the flight attendants were already preparing for our second meal service.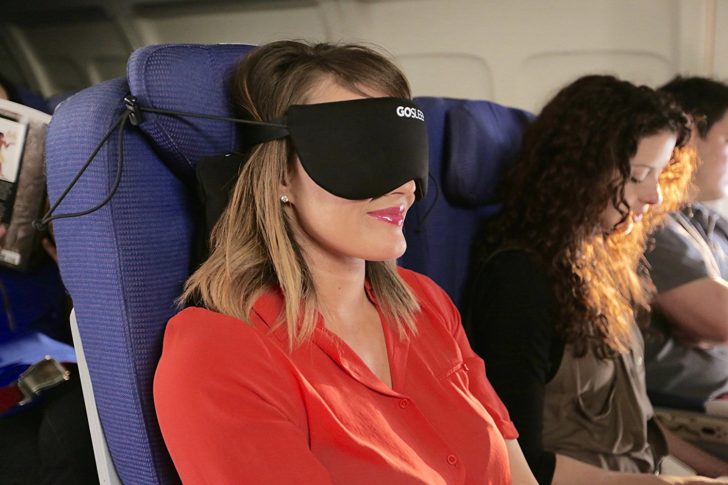 About an hour and a half outside of Salt Lake City, the cabin lights were turned on and the flight attendants prepared for our pre-arrival meal service. The lights were slowly turned on and the flight attendants came around with a tray for all passengers. There was only one option available and it was a piece of pizza, served with a cold macaroni salad and a peach cream dessert.
This was actually a good piece of pizza and I enjoyed it. About 30 minutes later, the flight attendants came around to collect our trays and prepare the cabin for our arrival into Salt Lake City.
KLM Boeing 787 Economy Class Bottom Line
Compared to other world-class airlines such as Singapore Airlines and Qatar Airways, KLM doesn't provide the best economy-class experience by any means but I did enjoy this flight. The seat was average for an economy class seat but I did appreciate the extra couple of inches of recline and the service was friendly and personable. The entertainment system was good and the catering was tasty. Overall, this was a pretty good experience and I wouldn't hesitate to fly with them again in the future.
Have you flown KLM economy class lately? If so, please share your thoughts with us in the comments section below. Thanks for reading!
The other posts in this series include:
YotelAir Paris, a Priority Pass Lounge
NH Hotel Santa Lucia, Venice
This post contains references to products from one or more of our advertisers. We may receive compensation when you click on links to those products and as always, we appreciate your support.